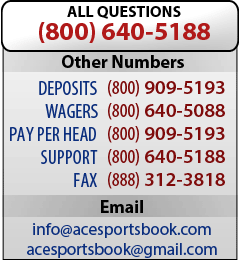 Gambling Rules for Football Gambling Rules
Below are the complete football gambling rules for American Football-related wagers with Ace Sportsbook.
Are you looking for football gambling with Ace?  Read more about our Sportsbook »
For NFL and NCAA Football games, action becomes live only if no less than 55 minutes of play are completed. If a game is termination prematurely for any reason, all action is cancelled, and your wagers will be refunded.
In the event a game goes into overtime, the final overtime scores count for both side bets, and total bets.
"NCAA Season Win Totals" only includes Regular Season Games. Each team must play their full regularly scheduled season (12 Games), which means specifically that all teams must play each of their scheduled opponents. As a result, Championship Games and Bowl games do NOT count for this bet offering.
PROPS
Game must go at least 43 minutes for wagers to stand.
Second half props will include OT unless specified.
4th Quarter props does not include OT unless specified.
ODDS
All Straight Wagers lay -110/100 unless other otherwise specified.
Buying points
Point(s)
You Lay
1/2
12/10
1
13/10
1 1/2
14/10
2
15/10
2 1/2
16/10
3
17/10
Note: When buying off, on or through the three and seven in football the cost is 20 cents for each half point.
Parlays
Teams
Pay
2
2.6/1
3
6/1
4
10/1
5
20/1
6
35/1
Note: In case of a tie or no action, the parlay is reduced to the next lowest number of plays. A two-team parlay becomes a straight bet. The max win on any parlay is $10,000.
Teaser
Points
6
6.5
7
2 teams
-110
-120
-130
3 teams
+170
+160
+150
4 teams
+300
+250
+200
5 teams
+450
+400
+350
6 teams
+700
+600
+500
Note: In case of no action or a tie on any game in a three-team teaser or more, the teaser automatically reverts down to the next lowest number of teams (four-team teaser with a tie becomes a three team teaser). Any two-team teaser with a winner and a tie or no action is considered a PUSH. Any loss in a teaser is a loss.
Super Teasers
3 Team
10 points
120/100
side and totals
4 teams
13 points
130/100
sides ONLY
Note: A tie in any Super Teaser is considered a loss.