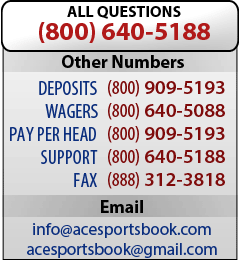 Parlays and Sample Calculator
Parlays are a single bet that links together anywhere from 2 to 15 individual plays. Parlays can be comprised of a series of bets on a team, over/under bets, or any mixture of the two. For parlays to be a winning wager, every one of its individual plays must win. If any of the individual plays is not a winner, then the entire parlay wager loses.
This calculator shows the "natural" payouts, which means the amount you would make if INSTEAD of a parlay you made a straight bet, and put the entire winnings into another straight bet (and so on). For details on our parlay payouts click here
Note: if one of the individual plays is a "push," then parlays revert to the next amount of teams. For example, a three play parlay would become a two play parlay; a two play parlay would become a straight bet, with corresponding reductions of the payoff. Here is a link to wizard of odds which goes into depth about parlays and odds!