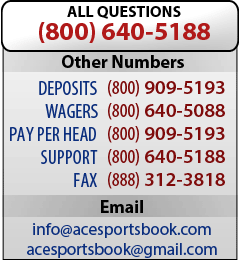 Frequently Asked Questions
Presented below is a list of our most frequently asked questions. If you still have questions then please use e-mail or call us, and we will be happy to assist you.
What are your hours of operation?
We are open for wagering 9AM EST until the last game goes off the board, 7 days a week.
How do I get started?
To register, fill out our free registration form to the right, or give us a call at (800) 640-5188.
What is the minimum deposit?
There is no minimum deposit! Although in order to benefit from some of our free-play and deposit bonuses, you will need to deposit at least $100.
What are the betting limits?
For new players, the max bet is $300 in the sportsbook, and the max win in the casino is $250/day ($500/week). Once you have been a member for over 30 days, you can call and request a limit increase.
Do you offer comps or bonuses?
Yes, we offer a wide variety of incentives to new and existing customers! For a list of current promotions visit our bonus information page.
Are there any age restrictions to wager?
Yes: all customers of AceSportsbook.com must be 18 years of age or older.
How can I make a deposit or withdrawal?
Please visit our banking center for full details on methods of deposit and payout we support.
Is the money in my account U.S. dollars?
Yes, all customer funds are maintained in United States currency.
Can I bet on credit?
No, all wagering requires funds to be posted to your account in advance.
What wagering services do you offer?
Currently, we are offering a full featured sportsbook, lottery and 2 complete internet casinos featuring: blackjack, video poker, slot machines, roulette, craps, baccarat, 5-stud, pai gow poker, keno and more.
How do I contact the manager?
There is always a manager on duty to resolve any issues. Call (800) 640-5188 and ask for a manager.
Are my winnings reported to any government agency?
No.