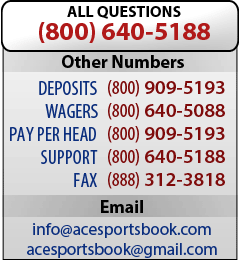 Pay Per Head Services
Attention Agents!
Expand your Sports Book with Ace Pay Per Head Services!
Are you looking to grow your business? Agents everywhere are turning to Ace Sportsbook Pay Per Head to successfully scale their business and attract new customers. Ace offers a variety of pay per head services to sports agents looking to back their book with an enterprise class call center and an online web presence.
Pricing as low as $10 per head!
We can provide the software and utilities to manage your clients all online! We can get you setup with your own website, and even provide 24/7 customer support via toll-free 800 numbers. Call us and we would be happy do discuss your requirements!
(800) 909-5193
Or, feel free to Email us at INFO@AceSportsBook.com if you have any questions or would like us to call you.