4 High Stakes Casino Games with Huge Rewards
May 25, 2022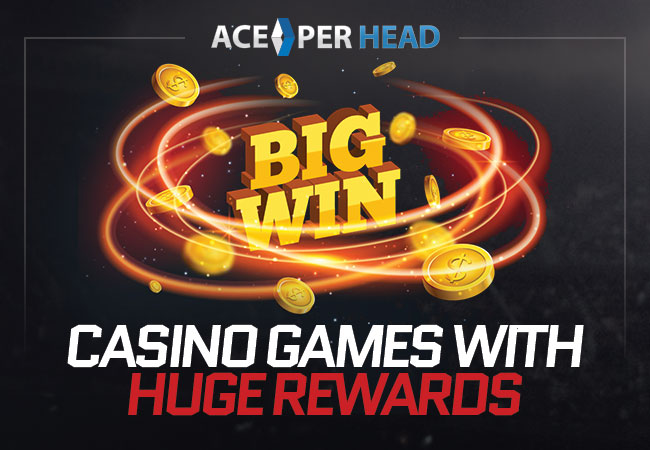 Everyone loves playing slot games. But there's a lot more the casino world offers than just slots. Even though casinos have now shifted online, there's still a wide variety of games to enjoy. While you can always choose to play safe, if you want huge rewards, you have to invest in high stakes.
Here are some high-stake casino games worth all the trouble due to the huge reward (payout) they offer.
Blackjack – Up to 99.5% RTP
When it comes to the rich and famous, blackjack is their favorite casino game. Everyone loves it since it attracts exclusivity; it can be played with a casino dealer, and no one else has to be around you at the table. However, those interested in socializing can join a multiplayer game of Blackjack that hosts a maximum of 9 players.
The objective of a blackjack game is very simple; beat the dealer when it comes to forming a hand with a value equal to or close to twenty-one. If your hand exceeds the number, you're busted. But if you tie with the croupier, it ends in a draw (also called a push).
If you want to be considered a high roller, you must bet at least $10,000 to $250,000 at the online casino on every game. However, the limit varies from casino to casino since some have set higher limits, such as $5 million, with rewards only being for those who bet $250,000 or more per game.
Baccarat – Up to 98.98% RTP
Baccarat is currently one of the world's most popular card games and ranks right after toppling blackjack. This game is popular due to the Chinese high rollers who used to wager millions of dollars at the top casinos in Macau. It's also one of James Bond's favorite games.
For those who don't know anything about baccarat, it might look like a quicker version of blackjack. Its main objective is to form a hand of nines without getting busted. But in reality, baccarat is quite different from blackjack. For starters, the dealer begins by dealing two hands: The Banker and The Player.
Keep in mind that a banker is not the same as a dealer. The game comes with two hands, and you have the option to choose either. The 10s and royal cards are counted as zero points, with cards 2 to 9 having their face value. Whoever forms a hand of nine first wins the game.
What makes baccarat fun is that you can place a wager on the player, banker, or tie.

Roulette – Up to 97.3% RTP
Roulette can be a very addictive game that keeps the high rollers digging in their pockets to get a chance to magnify their profits somehow. This game requires no skills whatsoever. All you need to do is place a wager and then hope for the best.
Remember, in roulette, the house wins more often than you might think. But once you win, you hit a jackpot, which is why high rollers keep trying their luck. Moreover, it's a short and fun game where the spin lasts a couple of minutes, packed with excitement and anxiety.
However, there are some tricks to maximize your chances of winning, such as playing the European roulette rather than American. Doing so automatically brings the house advantage down from 5.2 to 2.8 percent.
Texas Hold'em – Up to 99.47% RTP
Even though the poker boom has come to an end, high rollers continue to splurge thousands of dollars at this game. Texas Hold'em first started in Las Vegas and soon took over other parts of the world. Now one of the biggest high roller poker events is held every year at the World Series of Poker Championships. The highest poker prize pool was recorded at $82 million at the 2006 WSOP. However, you can easily find up to $1 million in prize money poker tournaments online.
If this seems too hard for you to believe, look at Daniel Negreanu and Chris Ferguson, the most talented and richest poker players today, with a net worth of $50 million and $80 million, respectively.
Even if you're not a high roller, poker can be very fun and rewarding for regular players. This is one game where you can learn to win consistently with the right tricks and strategies. And soon, you'll be playing as one of the high rollers at the casino in no time.
Tempted to Start Your Own Online Casino?
If you're enticed already, we'd be happy to inform you that this is just the tip of the iceberg. Just like these four games, many other high-stake games offer huge rewards and are quite an attraction for high rollers. If you're wondering how bookies make money, you're in the right place.
Get in touch with Ace Per Head to get your hands on the best casino software. We are the oldest and most experienced bookmaking service providers and have helped establish some of the most trusted brand names in the pay-per-head industry. From horse racing betting software to bitcoin casino software and football betting software, we can assist you with them all.
And if you're wondering why us, we offer a 6-week promo with unmatched customer service. Our experts will be with you throughout the journey to help you become the finest online casino there ever is.