AcePerHead $4 Promo Until the End of the Final Four
February 14, 2022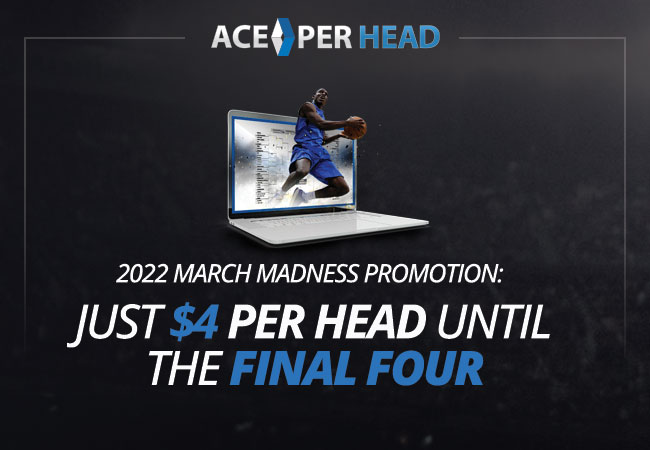 There are always various types of initial startup promotions when someone is looking to become a bookie, or just looking to switch websites and try a different pay-per-head service. This current promotion from AcePerHead.com is currently the best promo on the market for agents looking to use a premium pay-per-head company.
AcePerHead is offering just $4 a player per week, and only if the player is active do you get charged for that player, and the promo starts the day after the Super Bowl on February 14th and extends all the way until the Final Four in College Basketball completes. The Finals is on April 4th which means this promo is valid for a total of 8 weeks of getting a premium site at a super low introductory price.
Highest Hold Percentage
AcePerHead is regarded as one of the top bookie website software providers in the industry because they have more overall betting options than other sites, and sharper faster-moving lines, which all leads to them having an average hold percentage of 14% compared to the industry average of 5%. This simply means that players lose almost triple on AcePerHead.com, because of the more available betting options and sharper lines. The difference between a half a point and a point in a game is often the difference between someone winning or losing a wager, which is why having a service with sharp and fast-moving lines is the key to earning even more money in the bookmaking business.
Take Action on March Madness
So if you are just starting a brand new bookie website to take action from your friends or family, or if you are currently booking action on another site and are looking for a change, or not satisfied with your current provider, or are a subagent that is looking to finally go own their own, then making a switch after the NFL season is the best time of year. It's a great promotion that can lead to lots of savings in a long period of time, and during the busy and heavy volume betting time of the March Madness College Basketball tournament.
So not only can you save a bunch of money on fees for two months, but you can also do that on a premium site that will additionally earn you even more money due to their superior product. It is rare to be able to save money and also earn more money in the bookmaking business because high quality generally comes at a higher cost. However, this is a unique promotion by a premium service to allow new agents to get a very cheap starting price, which will allow them to earn even more money.
For new agents, it's a great way to build up your bankroll in those first two months, and allow you to grow your amount of players and solidify yourself as a long-term bookie. For current bookies, they can get a great deal and also have AcePerHead copy overall players, settings, and open wagers so the transition to a new site is easy and seamless.
So give AcePerHead.com a call today at 1-800-909-5193 and get set up with this special promotion.