Baby Bookie?
July 25, 2021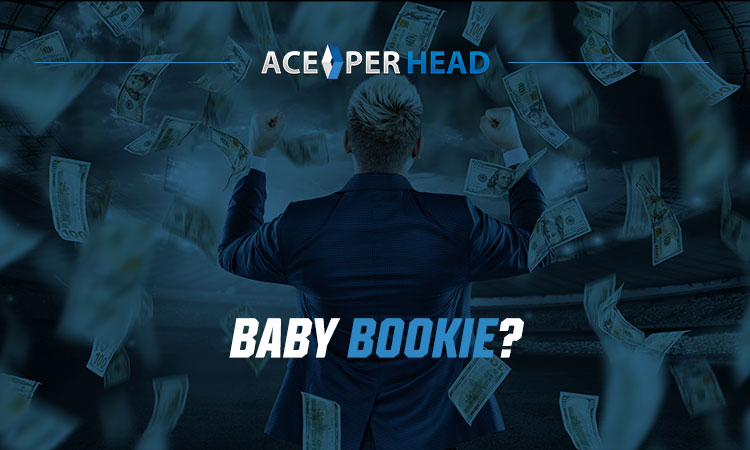 Do you want to make an extra few thousand dollars per week from the comfort of your couch or dorm room?
You and your buddies have found a passion for spreads, overs, and parlays. Maybe you've made a little money and you want more. Maybe you've lost some money, and you want to get it back.
Becoming a bookie is your answer.
Starting your own book and being a baby bookie might seem intimidating at first, but Ace Per Head makes the process easy and painless.
Financial freedom and the spring break you always dreamed about are around the corner. If that is something you want, then keep reading to learn how to become your own college bookie.
Baby Bookie – Big Bucks
Before starting your own sportsbook, it's important to understand how a bookie makes money.
Unlike sports gamblers, bookies do not place any bets themselves. The bookie provides the odds for the sports gamblers and takes their bets. The odds are constantly changing so that money will be dispersed evenly between two choices, and then the bookie pays out winnings and keeps the losses.
The bookie always has the advantage, because he or she is the one setting the odds, and those odds don't payout at even amounts for the gambler.
Typically odds are set so that if the money is evenly dispersed, a bookie takes home at least 10 percent of the total amount wagered.
The trick is knowing how to set good odds. Luckily, with new software, the bookie does not have to worry about that difficulty. Things Like Becoming a Bookie Require Too Much Time and Knowledge?.
Use Pay Per Head Software
Running a sportsbook used to be difficult, time-consuming work. Now, with online gambling and pay-per-head software, anyone can do it.
Forget about making lines and keeping a notepad with hundreds of bets. Let a reputable pay-per-head service do the hard work for you.
Pay-per-head is when a company provides online sports lines and casino games to a bookie for a set fee per player. That means that the bookies will have their own websites available to all of their players with up-to-date sports lines.
Since pay per head takes care of creating and adjusting lines, all the bookie needs to do is sit back and collect the money. A good Bookie.weebly.com.
Build the Book
Sports gambling is one of the fastest-growing industries in the United States, and it has generated hundreds of billions of dollars in the last year.
With the addition of online gambling, there has been a massive increase in college gamblers. Nearly one in five college students place a sports wager weekly, and three out of four have placed a wager this year.
That means the college campus is one of the best places to start your sportsbook. Tell your buddies about your book, and get them on it. Tell them to tell their buddies.
Free play is one of the best ways to entice new gamblers to join your book. You're the bookie, so you set the terms.
One of the most convenient parts of a pay-per-head system is that most of the players on the book will be local. You are in charge of who gets to be on your book. Everyone will love having a bookie they know and trust.
Have a Bankroll
Just like all business expenditures, it takes money to start a sportsbook. Over time, a sportsbook is going to make money, but there will be weeks where the book loses money. PPH Bookie Doodlekit.
It is essential to have enough money put away that you can cover any short-term losses.
Sometimes it can be beneficial to have a partner that will help you fund any losses. However, keep in mind that the partner will want a cut of the winnings as well.
Getting too many players on your book before you've made enough money to cover potential losses can be dangerous. It is important to be patient, but don't worry. It won't be long before you've built enough savings to cover hundreds of bettors.
Grow the book as your income grows. The money will come — the odds are literally in your favor.
Set Credit Limits
So, now you are your very own baby bookie. You have your book and some players that are ready to start placing wagers. You also have your bankroll, and you know how much you can handle in losses. More on Sports Betting Mystrikingly.com.
Now, you need to set credit limits for each of your players. This can be a set number for each player, or it can fluctuate depending on what you know about the player.
To maximize profit and ensure that the book gets paid, it is best to have a different credit limit for each player.
It is best to start each new player out with a low credit limit until they build trust with you. As time goes on and they pay their debts, you can increase their credit limit.
If you know a player has rich parents funding their endless spending, and they have paid all of their past debts, then raise their credit limit.
If you know a player does not have a job or source of income, it will be best to keep a tight credit limit on that player.
Get Your Money
Once you have credit limits set with all of your players, you need to have a regularly scheduled settlement date.
As a baby bookie, it is best to settle up every week so that things don't get overwhelming.
Of course, it can be inconvenient to collect or pay out small amounts of money. If a player is only up or down a few dollars, it is likely not worth your time to bother with settling up.
That is where settlement figures come into play.
A settlement figure is a set dollar amount, up or down, that has been set by the bookie to be paid at the end of each week. Always be clear and upfront with your players, so they know when they can expect to be paid or when they should pay the book. Agoodbookie.my-free.website.
Don't Cheat the System
The words "bookie" and "honesty" don't typically go together in the same sentence. However, if you want to build a long-term, successful book, it will require honesty and transparency with your players.
If you have been gambling with a bookie for any amount of time, odds are you or someone you know has not paid a debt. You also probably know someone who has not received payment for winnings.
That does not lead to good repeat business.
In a world where there are limitless online gambling options, repeat business is perhaps the most important component to making a lot of money.
If you fail to pay your players on time, they will take their business elsewhere, and likely ruin your reputation with all of their friends.
On the flip side of that, if you become known as the bookie who always pays out on time, you'll find yourself with plenty of eager new fish wanting to swim in your pond. Sports Betting for College Students.
Don't Get Cheated by the System
There will be players who will try to avoid paying you. When this happens, do not let them back onto your book.
There is no shortage of sports gamblers. Be patient, and don't settle for anyone that you do not trust. It does not matter how much money they can potentially pay you.
If you don't trust them, don't let them in.
It's your book, and you make the rules. You have to be able to stand up for yourself if you want to collect your money.
What Matters the Most
Choosing the right pay-per-head service will make or break your book. Your service needs to be reliable if you want your players to keep using you as their bookie.
There are many things to look at when choosing the right pay-per-head service for you and your book.
Customer service matters. It's not only annoying when you can't get help with your website, but it can be costly.
Cost matters. You don't want to spend a fortune on outrageous software, but going cheap can be even worse. A good pay-per-head service is difficult to find for less than $10 per head.
Services matter. The more gambling options you have, the more enticing your site will be. Find a pay-per-head that gives you a casino as well as an abundance of sports lines that are updated in real-time.
If you can do all of these simple steps, it won't be long before you move from a baby bookie to a big-money bookie. Choose the service that will give you everything you need.