Phillies vs. Nationals
April 25, 2016
MLB season is well on its way signaling that spring is in the air and summer is only a few steps away. This season some teams jumped the gun right from the start distancing themselves from the pack with a string of wins that took some by surprise and gave endless joy to others. Such is the case of the Washington Nationals.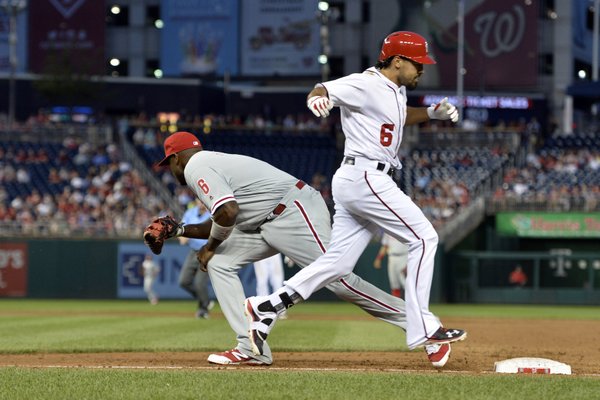 Series Winner
The Nationals host the Phillies starting on Tuesday, April 26th for a 3 game series. These two teams met 10 days ago in Philadelphia where the Nationals won 2 out of 3 games, both wins by ample margins.
Having the home field advantage will surely give the Nationals an edge in this meeting, this coupled with the rush of being the National League East leader will add momentum to their franchise.
Several statistical probability models give the Washington Nationals a 60% odds to win this series, so it seems like a no brainer to bet them both on the series and at least the first two games, for the third game pitches have yet to be announced so at this time we cannot predict a clear sweep, but definitely a series win.
Tuesday's game features Velazquez pitching for the Phillies vs. Scherzer for the Nationals. Vince Velazquez is currently # 5 in the ERA standings with 0.93 while Max Scherzer ERA is at a disappointing 4.32. When you consider this it seems like the advantage should be for the Phillies but I will give this win to the Nationals because the team as a whole is better and they are playing at home which automatically increases their odds to win. Because of Velazquez's impressive ERA, the total should go under 8.
For Wednesday's game, Philadelphia is listing Hellickson who is 1-1 at the moment with an unimpressive 5.21 ERA, and Washington will showcase Gonzalez who is 1-0 with an ERA of 1.42. I predict the money line for this game will be somewhere around -160 in favor of the Nationals, I don't feel it will be higher than this at least for the opening line because although an ERA of 1.42 for Gio Gonzalez might sound impressive the truth is he has not played much this season and out of 3 starts he has only been credited with one win. Regardless of this Washington has a good enough team to be able to carry itself to another victory in this game.
If you want to make some sure money this week, do yourself a favor and bet the Nationals to win this series at Ace Sportsbook Software.
Best Pay Per Head Service
Since 1998, www.AcePerHead.com has been one of the pioneers in the pay per head business, enables bookies agents to set and operate their sports betting business online.
If you are looking to be a successful bookie agent then you should give a call to the free bookie software provider in the industry, Ace Per Head, at 1-800-909-5193 and get set up immediately for a cost as low as $10 per active player a week.