Baylor Bears vs Oklahoma State Cowboys
March 4, 2021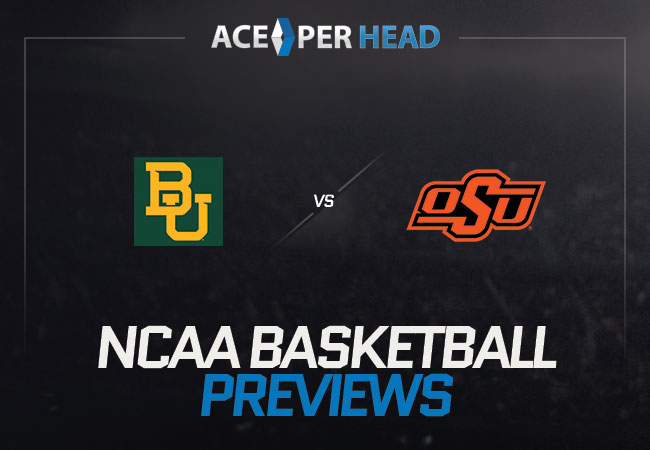 The Oklahoma State Cowboys head to Waco, Texas to tip-off against the Baylor Bears for some Thursday night NCAA Basketball.
The Baylor Bears are going into this game as the favorites, and they are playing with a record of nineteen and one so far this season. As March Madness is approaching this Baylor team is committing seventeen fouls a game and are hitting sixty-eight percent of the shots they take from the line. They are dishing the rock seventeen times a game which has them ranked twelfth in division one hoops.
Unfortunately, this team is turning the ball over an average of twelve times a game. They have tallied 1,708 points so far with an average of eighty-five a game and are grabbing thirty-six rebounds as well. On offense, Baylor is shooting forty-nine percent from the floor, which locks them in at twenty-fifth in the nation for that. Then on defense, they are giving up sixty-five points per game, thirty-three rebounds, and twelve assists on average. They are giving up 125 from three-point land, forty-two percent from the floor, and sixty-eight percent from the free-throw line.
Lastly, the Baylor Bears is on fire by forcing opponents to turn over the ball. In doing so, they are killing it at an average of eighteen per contest. The last time the Baylor Bears took the court, they beat West Virginia University ninety-four to eighty-nine. The Bears grabbed twenty-nine rebounds and gave up possession of the ball thirteen times but stole the ball from West Virginia eight times. The Baylor Bears drained nine out of their fourteen attempts from the free-throw line. The Bears made thirteen shots from downtown and shot thirty-six for seventy from the field. On defense, the Bears let West Virginia knockdown twenty-six of fifty-six tries and nine from beyond the arc.
What's surprising is Baylor relinquished thirty-four rebounds which is way too much. In retrospect, Baylor needs to do better grabbing at the glass. Also, Baylor sent the Mountaineers to the free-throw line thirty-two times which is over twice the number of trips they took to the line. In other words, if they can send teams to the line less and stop committing so many fouls, it'll be a game-changer because West Virginia put up twenty-eight points just from free throws. A star for this Baylor team was Jared Butler, as he had a stunning performance for the Bears. He went ten for twenty-one, putting up twenty-five points, six assists, and three rebounds in a total of thirty-nine minutes on the court.
Another key player for Baylor is Davion Mitchell who amassed five assists, three rebounds, and twenty points shooting seven for fourteen. The Oklahoma State Cowboys are playing with a record of seventeen wins and six losses in Division one so far. Oklahoma State has drained 149 three-pointers and is averaging seventy-seven points per game as a team, in which they are sixty-first in the nation. They also shoot seventy-one percent from the free-throw line. This OSU team is turning the ball over sixteen times a game and is committing seventeen fouls nightly. Oklahoma is grabbing forty rebounds, 302 assists, and is 132nd in the division for passing the ball. On defense, the Cowboys are forcing fourteen turnovers a night and are drawing eighteen fouls a game as well. They allow seventy-two points per game while giving up thirty-two percent of shots from downtown and 586 from field goal range. Lastly, they gave up 285 assists and thirty-six rebounds so far in this NCAA season.
The last time the OSU Cowboys played, they took on the Sooners and won seventy-nine to seventy-five. Oklahoma State shot twenty-seven out of fifty-one from the field and drained five three-pointers. From the free line, the Cowboys hit twenty out of twenty-seven. As a unit, they grabbed thirty-five rebounds, fifteen assists, seven steals, and forced the turnover twelve times. Oklahoma State allows opponents to go twenty-six for sixty-four shooting from the field, thirteen from beyond the arc, and ten from the free-throw line. Lastly, they gave up thirteen assists, nine steals, two blocks, and twenty-seven rebounds- twenty being on defense. A start for the Oklahoma State Cowboys was Kalib Boone who had a day, putting up seventeen points going eight for nine, grabbing nine rebounds, and having one assist in twenty-four minutes of playing time.
Another player who made a major impact in this game was Cade Cunningham, who amassed fifteen points going three for eight in shooting, as well as earning seven rebounds and four assists in forty minutes of playing time. These two teams are giants in College Basketball, and it can go either way; it'll come down to whoever is ready to play, but as March Madness approaches these teams are going to want to stay hot.
At AcePerHead.com our pick to win this game against the spread is going to the Oklahoma State Cowboys.
With the best lines and client service in the bookie betting business, Ace Per Head is your one-stop-shop for all things pay per head sportsbook.
Oklahoma State:
Baylor: