Bet Game 1 of #WarriorsThunder
May 15, 2016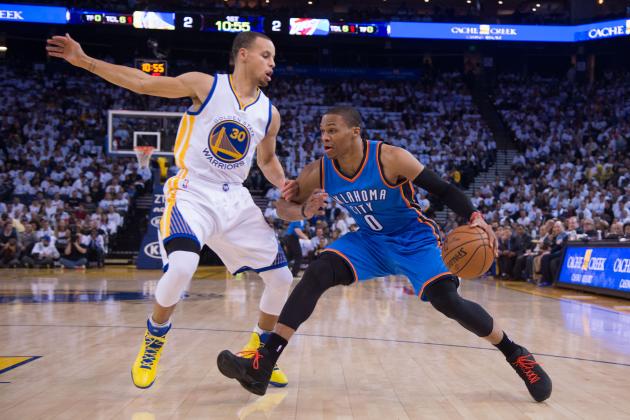 Game 1 of the Western Conference Finals between Oklahoma City Thunder and Golden State Warriors takes place Monday, May 16, 9PM EST at the Oracle Arena, this is the first of two-straight games to be played at the Warriors' home before transitioning to Oklahoma City for games 3 and 4.
You can't ask for a better matchup than Warriors vs. Thunder:
Both teams come in highly motivated, the Thunder, after impressively beating the Spurs, will now seek to get revenge over the regular season losses suffered against the Warriors, they want that title bad, and the chance to prove they not only belong in the final but also deserve the title, and with the involvement of talented key players Kevin Durant and Russell Westbrook, a strong defense, and a combined team effort they are going to give the Warriors a good run for the money.
The current title holders are not going to make it an easy task for OKC, their versatility and great shooters makes them the favorites to win, certainly MVP Stephen Curry, who is well recovered from his injury, and  Klay Thompson who is having a great momentum, are two of the weapons held by the Warriors.  Curry and his three pointers have given Oklahoma City a lot of trouble before. Warriors have averaged 114 points per game in the postseason; which leaves no doubt offensively they are the better team.
#WarriorsThunder is a match with star power and with a contrast of styles, with the Warriors having advantage on the outside while Oklahoma City's strength is on the inside.
Best odds to bet on Warriors vs. Thunder
If you want to bet the Warriors vs. Thunder game, current odds in most online sportsbooks show:
Golden State point spread -7.5 Moneyline -330 / +270, total 223.5 approximately 59% of bets are on Oklahoma City +7.5 and 88% bets placed on the total are on the over.  Our prediction: Warriors win and the total goes over/
The best odds to bet on Golden State Warriors vs. Oklahoma City Thunder can be found  at AceSportsbook.com, if you have an account already, check out the different prop bets and get your bets in for this first game  of the series.
If you are new to AceSportsbook.com don't miss out on this great opportunity to win some additional money, opening your account is fast and easy, an agent can guide you through the process step by step and help you get familiar with their simple software; also, remember to request your bonus.
The next games of the series are scheduled as follows:
Game 2 — May 18 at Golden State, 9 p.m.
Game 3 — May 22 at Oklahoma City, 8 p.m.
Game 4 — May 24 at Oklahoma City, 9 p.m.
Game 5* — May 26 at Golden State, 9 p.m.
Game 6* — May 28 at Oklahoma City, 9 p.m.
Game 7 *— May 30 at Golden State, 9 p.m. *If necessary