Charlotte Hornets vs Los Angeles Lakers
April 13, 2021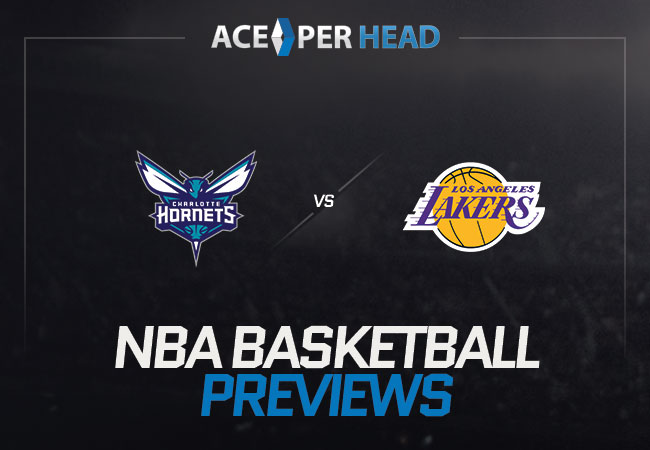 8:00 p.m. @ Spectrum Center
The Charlotte Hornets play host to the reigning champions the Los Angeles Lakers for some Tuesday night NBA action.
The Charlotte Hornets are currently playing with a record of twenty-seven wins, and twenty-five losses, they also go into this contest as the favorites to win. The Hornets are committing eighteen fouls nightly, and are hitting seventy-seven percent of their shots from the free-throw line. Charlotte is also sixth in the NBA for assists averaging twenty-seven assists per game, while they are losing the ball fifteen times a game to their opponents. Charlotte has amassed 5,766 points so far this season, averaging 111 points a night. They are also collecting forty-four rebounds per game, and are giving up forty-five rebounds a game. On offense, the Hornets are connecting on forty-six percent of shots from the field, which is the twenty-first best in the NBA. The Hornets are ranked fifteenth in the NBA for points allowed with an average of 111 a game. The Charlotte defense has given up 770 three-point shots and has hit seventy-four percent from the free-throw line. They are also giving up forty-six percent of shots from the floor against them, as well as twenty-seven assists. On defense, they are forcing fifteen turnovers nightly on their opposition, the last time the Charlotte Hornets took the court they lost to the Atlanta Hawks 105-101. Essential Bookmaker Software for Gambling Businesses.
The Hornets recorded thirty-eight rebounds, twelve turnovers, and five steals. The Hornets went twelve for fourteen at the free-throw line, then in regards to three-pointers, they hit fifteen, and went thirty-seven for eighty from the field. The Hornets have a shooting percentage of forty-six percent, while they let the Hawks go thirty-eight for eighty-four from the field, they drained seventeen from three-point land, and finished twelve for sixteen from the free-throw line. Lastly, the Charlotte Hornets let Atlanta collect forty-one rebounds. A key player for the Hornets was Miles Bridges, he went nine for seventeen in this game. Bridges also put up twenty-three points, grabbed seven rebounds, and recorded two assists in his forty minutes of playing time. Sports Betting Rules: 5 Key Things to Know About Sports Betting. Another key player in this matchup for Charlotte was Terry Rozier. He put up eighteen points, collected six rebounds, and recorded four assists for the Hornets. When all was said and done Rozier went seven for seventeen from the floor in his thirty-six minutes on the court for Michael Jordans Charlotte Hornets. The challengers the Los Angeles Lakers are going into this matchup with a record of thirty-three wins, and twenty losses. The Lakers are averaging 110 points per game, which is the twenty-third best in the NBA, they are shooting forty-seven percent from the floor, drained 584 from three-point land, and are hitting seventy-four percent of their shots from the free-throw line. Los Angeles is pulling down forty-five rebounds per game and has given up an average of forty-two rebounds a night off the glass. They have dished 1,304 assists so far this season, while they have conceded 1,305 assists. How To Run a Sports Betting Website That Players Love.
The Lakers have lost possession of the ball sixteen times a game, and are committing nineteen fouls a game against their opponents. On defense, Los Angeles is forcing fifteen turnovers a game, and they are drawing twenty-one fouls nightly. They also have given up forty-five percent of shots against them from FG range, and thirty-five percent of three-pointers against them, as they sit at second best in the NBA for points allowed with a nightly average of 106 points per game. The last time they took the court the Lakers beat the Brooklyn Nets 126-101. The Lakers went forty-seven for ninety-three from FG range, then drained nineteen from three-point land. Then on their trips to the free-throw line, LA went thirteen for twenty on their attempts. They pulled down forty-seven rebounds, dished thirty assists, forced nineteen turnovers, and collected twelve steals. Los Angeles let the Nets shoot forty-four percent from the field, going thirty-five for eighty. Then on Brooklyn trips to the free-throw line, they went twenty-six for thirty and drained an additional five shots from three-point land. Lastly, Brooklyn amassed nineteen assists, six steals, four blocks, and grabbed forty-two rebounds off the glass in their loss against the Lakers. A key player for Los Angeles was Andre Drummond who was a major role player, he put up twenty points, grabbed eleven rebounds in this matchup. Drummond went eight for fifteen shooting fifty-three percent from the field for a total of twenty-two minutes on the court. Another key player was Dennis Schroder, he went seven for eleven draining nineteen points. He also collected on the rebound and dished four assists in his twenty-minute tenure on the court for Los Angeles. Overall Los Angeles is one of the most dominant teams in the NBA and is a force to be reckoned with. But this Charlotte team has been on the rise and if they can bounce back and beat this Lakers team their future will be bright. Sports Betting Industry: 10 Key Things to Know About Sports Betting.
At Ace Pay Per Head dot com our pick to win this game against the spread is going to LeBron James and the Los Angeles Lakers.
Los Angeles Lakers:
Charlotte Hornets: