Charlotte Hornets vs Oklahoma City Thunder
April 7, 2021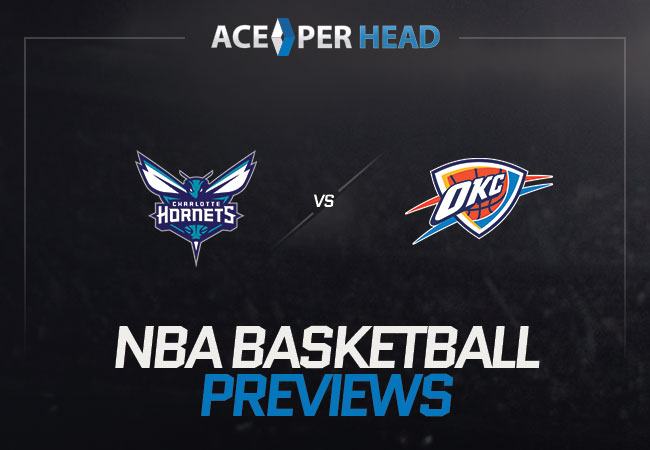 8:00 @ Chesapeake Energy Arena
This Wednesday night the Oklahoma City Thunder are set to host the Charlotte Hornets for some Wednesday night basketball action.
The Thunder are playing with a record of twenty wins, and thirty losses and they have been dealing with injuries having multiple roster issues. If Al Horford and Shai Gilgeous-Alexander got hurt it would be a totally different situation. But Bazley, Roby, and Dort have all been dealing with injuries and that's the starting unit, so this team appears to be falling apart. They have lost six of their last seven contests, and most of these they lost by twenty points plus. This team is lacking talent, and simply they cannot play as competitors in the NBA. An impact player in their last skirmish was Aleksej Pokusevski, he went eight for nineteen, put up nineteen points, and collected four rebounds in his thirty-one minutes of playing time. Then another essential player for this Oklahoma City team is Sviatoslav Mykhailiuk, who ended the night with seventeen points, three rebounds, and two assists. He also shot five for ten, going fifty percent from the floor in his twenty-six-minute tenure on the court. Tips On Choosing The Top Pay Per Head Software Services.
On a positive note, they are giving the younger players time to grow. Kenrich Williams, Theo Maledon, and Moses Brown have done well and will help this team immensely when they return. The last time they took the court the OKC lost by the score of 132-108 against the Detroit Pistons. The Thunder managed to pull down forty-two rebounds while giving up fifty rebounds to Detroit. They also turned the ball over fifteen times and grabbed ten steals from the opposition. The Thunder went twenty-one for twenty-five from the free-throw line for a rate of eighty-four percent. Then they went five for twenty-seven from three-point range, and they drained forty-one from the field. On defense the Thunder let the Pistons go forty-nine for ninety-five from the floor, as well as let them drain thirteen from downtown, and went twenty-one for twenty-four from the free-throw line. Sports Betting Services – How Pay Per Head Software Services Can Help You Make Money.
The Charlotte Hornets go into this game as the favorites and are playing with an underwhelming record of twenty-five wins, and twenty-four losses. They have recently struggled with injuries losing two of their best players Gordon Hayward, and rookie of the year hopeful LaMelo Ball to miss the remainder of the season. These players are essential to the Hornets lineup, and it's a bit surprising they won five of their last games. Terry Rozier has been picking up most of the slack for this team, as he is in the middle of a breakout season. He went home with twenty-two points under his belt, and he went eight for nineteen shooting. Rozier also collected seven rebounds, dished four assists, and shot forty-two percent in his thirty-two-minute tenure on the court. Another key player for this Hornets team is Devonte Graham, who put up eleven points, six assists, and four rebounds in his twenty-six minutes of playing time. He went home shooting fifty percent for the night, going four for eight from the floor. This roster is pretty shallow and with two of the biggest ball handlers taken out, this team is gonna feel it. They need someone to come in and dominate while possessing the rock, and compliment Rozier's scoring capabilities. Before the injuries, the Hornets were ranked fifth in the league for assists. Learn How To Make A Smart Bet With The Bookie For Dummies.
The last time the Charlotte Hornets took the court they lost to the Boston Celtics 116-86. Charlotte went thirty-two for eighty from the field, drained ten from three-point range, and went twelve for twenty from the free-throw line. The Hornets pulled down forty-two rebounds and conceded forty-four rebounds to their opponents. The Hornets dished twenty-three assists, and forced six turnovers, and earned three steals from the Celtics. On defense, Charlotte let Boston drain forty-three from the floor, twenty-one from three-point land, and went nine for eleven from the free-throw line. Lastly, Boston amassed twenty-nine assists in this contest, and eleven steals from the Hornets. The last time the Charlotte Hornets tipped off against the Oklahoma City Thunder, the Thunder went home winning one down to the wire. How to Pick a Good Bookie For Dummies.
This gives OKC five straight victories over the Hornets, will they be able to clinch victory number six? Nevertheless, both of these teams are in a slump, and it can go either way it just depends on who shows up and wants it more.
At AcePerHead.com our pick to win this game against the spread is going to the Charlotte Hornets.
Charlotte Hornets:
Oklahoma City Thunder: