College Hoops Picks – Feb 23rd, 2021
February 23, 2021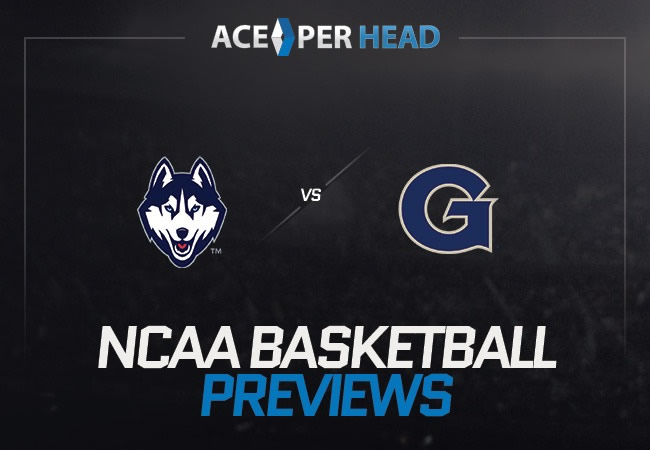 Connecticut Huskies at Georgetown Hoyas
The UCONN Huskies head to Washington D.C. to tip off against Georgetown University for some Tuesday night college hoops.
Connecticut is going into this game as three-point favorites as they look to make a comeback after suffering a recent loss to The Villanova Wildcats. The Georgetown University Hoyas let by Coach/ NBA Legend Patrick Ewing have currently been playing with a record of seven and ten and they are looking to build on their home record in this game.
The Hoyas are ranked number ninety-two in NCAA Basketball and have dropped 1,226 points so far this season, averaging about seventy-two points per game. On offense, they are grabbing forty-one rebounds and are shooting forty-three percent from field goal range, seventy-five percent from the free-throw line, and are 108th in assists per game. Then they are committing seventeen fouls per game and recording sixteen turnovers as well. On defense this Hoyas team is forcing eleven turnovers, holding teams to shooting thirty-four percent from three-point range, and forty-two percent from the field.
This Georgetown team has lost thirty-five rebounds which is 167th in college hoops. In their last matchup, Jamorko Pickett had a major impact on the game for The Hoyas. Pickett managed to put up twenty poets and went eight for eleven. He snagged seven rebounds and played for a total of thirty-four minutes. Another key player for this Hoyas team was Chandler Bile netting sixteen points, three rebounds, and two assists in thirty-two minutes of play. Jahvon Blair is killing it for Georgetown, he's averaged sixteen points per game.
Blair is their leading scorer and will need to have a day to put this Georgetown team over UCONN. Wahab also provided additional support netting twelve ppg and eight rebounds. In their last skirmish, The Georgetown University Hoyas played The Seton Hall Pirates and won by a score of eighty-one to seventy-five. In this matchup, they grabbed thirty-four rebounds, six blocks, and seven steals against The Pirates. They sank fifteen of twenty-one free throw attempts, drained ten three-pointers, and converted fifty percent from the field. On defense, the Hoyas only let the pirates net twenty-nine tries, six from three-point range, and committed way too many fouls sending them to the line sixteen times. If anything, the only thing they need to improve on is how many fouls they commit and to not give up more than thirty rebounds. The University of Connecticut Huskies is going into this contest with a record of ten and six. Netting 113 from the three-point range has them at thirty-five percent, forty-three percent from the field, and seventy-one percent from the free-throw line for an overall average of seventy-one PPG. On a negative note, they need to stop relinquishing the ball so much because they are averaging twelve losses of possession per outing and have way too many fouls notched at nineteen per game sending their opposing team to the line way too much. Connecticut as a unit is snatching thirty-seven rebounds per game and have dished the rock 203 times this season. In other words, this UCONN team has great ball movement.
The UCONN Huskies are solid on defense by drawing the foul better than most teams in college hoops and can make a turnover happen thirteen times a game. What they can improve on defensively is how they attack the ball they need to play a better man defense. They have to stop letting so many assists and three-pointers go off right before their eyes giving up forty-two percent of shots. They need a stronger base in the paint, they are giving up thirty-three rebounds, where anything more than thirty is a lot and those contribute a lot to a game, they are vital. A vital player for this Connecticut team is James Bouknight he made a huge impact the last time the Huskies took the court. Bouknight put up twenty-one points, two assists, and grabbed ten rebounds in thirty-six minutes on the floor. Another key player for UCONN was R.J. Cole grabbing two rebounds and two assists while putting up ten points in only twenty-five minutes.
In their last outing, The Connecticut Huskies took on the Villanova Wildcats and lost by eight points, so it was a heartbreaker. Despite their embarrassing recent loss, UCONN is still the number thirty-six team in college hoops. The Huskies went thirteen for nineteen from the free throw line and grabbed thirty-two rebounds. Their offense they went twenty for fifty-five from field goal range and net seven three- pointers and dished out eight assists. While on defense they amassed two steals, six rejections and only let Villanova shoot thirty-six percent from the floor. Overall the they sent their challengers to the free throw line twenty-six times, lost thirty rebounds, and were blocked six times. Bouknight who is the leading scorer for this team said, "We need to focus on limiting mistakes". Both of these teams are rivals and have been dominant in college hoops for years. Georgetown and Connecticut are both powerhouses in NCAA Basketball and as the past shows, this will definitely be an intense game. The last time The Huskies won at Georgetown was in 2005 and the last time these team played, Georgetown beat UCONN: seventy-two to sixty-nine.
At Ace Per Head our pick is going to The Georgetown University Hoyas to win this game. When betting on NCAA Basketball there is truly no better place to go than AcePerHead.com for College Basketball gambling. With our pay-per-head software, you get so many different games you can bet on and more action is always better. We offer you competitive live lines and odds to keep bettors playing while getting ready for March Madness. We post early lines with confidence from our expert line managers and it's no secret that Ace Per Head has the sharpest lines because they are the talk of the town in this business.
Connecticut:
PS/Total: -5-110   Total O/U:141-110
Georgetown:
PS/Total: 5-110    Total O/U 141-110