College Hoops Previews, Feb 24th, 2021
February 24, 2021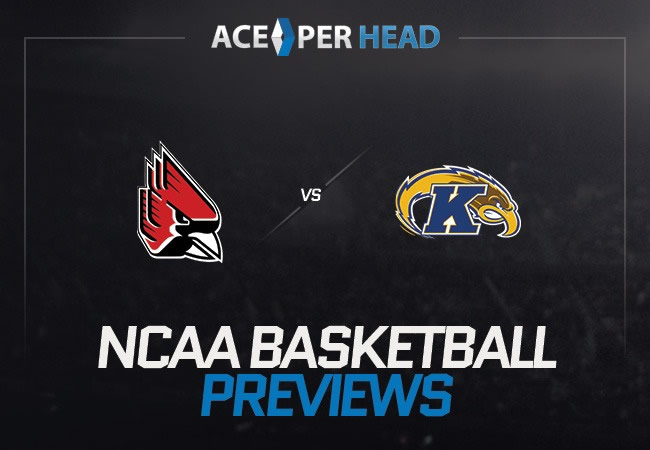 Ball State Cardinals Take on Kent State Golden Flashes
@ Worthen Arena
The Kent State Golden Flashes head to Indiana to take on the Ball State Cardinals for some NCAA action.
The Kent State Golden Flashes are locked in as 3.5-point favorites in this game. Ball State of Indiana is playing at a current record of seven and eleven and has put up 1,273 points which is an average of seventy-one PPG. The Ball State Cardinals Men's Basketball team play's in the Mid-American Conference in Division 1 hoops.
This Ball State team has also grabbed thirty-six boards, The Cardinals committed nineteen fouls and were only hitting seventy-three percent from the free-throw line. On offense, the Cardinals are shooting forty-three percent from the floor and are averaging thirteen times per game. On a sour note, they are relinquishing the ball fifteen times per game. On defense, they are letting teams shoot seventy-four points per game and are forcing teams to turn the ball over to them thirteen times per contest. From the three-point range, they are giving up 124 shots and forty-three percent from the field goal range. They are also giving thirty-eight rebounds up per game. So on offense and defense, they have their strengths and weaknesses that balance out. A star for this Cardinals team was Ishmael El Amin who made a huge impact in their last game. El Amin drained twenty points, grabbed three rebounds, and two assists in a total of thirty-four minutes of playing time. Another key player in this matchup was Brachen Hazen, who came in clutch for Ball State netting eighteen points, grabbing four rebounds, and having three assists in twenty-seven minutes on the court.
Lastly, Senior K.J. Walton is leading this Ball State team with sixteen points per game and six rebounds in total. In their last matchup, the Ball State Cardinals lost to the Akron Zips by a score of eighty-eight to seventy-nine. As far as rebounds go, Ball State is averaging twenty-eight rebounds per contest, recording five steals and two blocks. Ball State was only able to sink nine out of ten shots from the free-throw line, thirty-one from the field, and eight from three-point range; also, shooting overall forty-eight percent. On defense, they are ranked 131st in adjusted defensive efficiency. On another note, the Cardinals let the Zips hit thirty from the field and nine three-pointers, sending their opponents to the line twenty-five times while seceding twenty-nine rebounds overall. The Golden Flashes are from Kent, Ohio, playing in the Mid-American Conference East Division for NCAA Division 1 hoops. The Kent State Golden Flashes coached by Rob Senderoff are currently playing with a phenomenal record of fourteen and five and as a team is averaging seventy-nine points per game. This Kent State team is hitting forty-five percent of shots from field goal range and 161 from three-point range. Kent State is grabbing forty rebounds per game, draining seventy-eight percent of free throw attempts, and has dished out 286 assists so far this season.
These stats place them at 117th in NCAA hoops. This Kent State team is turning the ball over thirteen times an appearance and is committing seventeen fouls a contest, which is way too many. They're relinquishing possession too often and they are sending their opponents to the line too much. They also giving up 235 assists and thirty-four rebounds as a unit. While on defense though they are forcing the turnover twelve times. Kent State is ranked 175th in NCAA Basketball for points scored against, allowing teams to shoot forty-one percent from field goal range and thirty-three percent from three-point range. A star for The Kent Golden Flashes is Danny Pippen who is always clutch for them and was able to put up twenty-five points, ten rebounds, and nine assists in a total of thirty-four minutes of playing time.
Pippen is averaging twenty-points and nine rebounds per game, which greatly helps out his team. Another key player for Kent State is Giovanni Santiago, as he put on a great performance for the Golden Flashes with twelve points, seven assists, and four rebounds in forty minutes of game time. In their last matchup, the Kent Golden Flashes took on Eastern Michigan and came out victorious with a score of sixty-four to fifty-one. In that game, Kent State shot twenty-four for fifty-three from field goal range and drained eight three-pointers, as well as netting eight of eleven from the free-throw line. On defense, they grabbed six steals and four blocks and thirty-seven rebounds. They only let Eastern Michigan shoot forty-five percent from the floor and five shots from way downtown. They can't send their opponents to the line like they did ten times in their last contest as well as lose twenty-two rebound possession, which is everything in this game. Both of these teams are huge in college hoops and have had their fair share of ups and downs this season.
At AcePerHead.com we want our clients to bet with confidence and with the sharp lines we provide the sky is truly the limit. For this contest in NCAA Basketball, our pick at Ace Per Head is going to the tenacious Kent State University Golden Flashes to win this game against the spread. When it comes to college basketball, every season seems to be individual because anything can happen, and everything is a game-changer in the NCAA Tournament. You never know which of the 300 division I schools will be in it and will excel. Will it be the non-name underdog, off the radar, schools like St. Mary's University in California or NCAA Basketball powerhouses like UCONN or Michigan State. There are definitely some clear favorites and some underdogs make their names known in times like March Madness to achieve the impossible. That is the sweet spot and allure of betting on NCAA Basketball games, it's volatile and enticing. Knowing how to recognize trends and how to capitalize on them is what the specialists at Ace Per Head do best.
Our line managers keep the lines as tight as possible to prevent gaps, so agents don't lose money. At Ace Per Head our bookie lines and our clients come first. At the end of the year every agent needs to manage their risk and make a profit at the end of the year, so why not work with the guys who consistently and successfully do just that?
Kent State:
PS/Total: -4-115
Total O/U: 145-110
Ball State:
PS/Total:4-105
Total O/U:145-110