Creighton Bluejays vs Gonzaga Bulldogs
March 28, 2021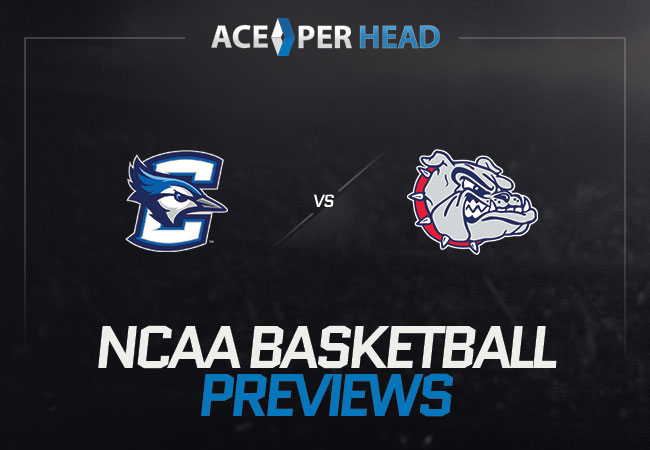 2:10 p.m. @ Hinkle Fieldhouse
This Sunday, Hinkle Fieldhouse is home to this Sweet Sixteen Matchup in the NCAA Tournament between the Gonzaga Bulldogs and the Creighton Bluejays.
The Gonzaga Bulldogs are going into this contest as the favorites, and they are currently playing with a stellar record of twenty-eight wins, and zero losses as they sit at the 1 seed position. On offense they are shooting fifty-five percent from the floor, putting them as the tenth best in the country. Gonzaga has drained 2,580 points this season for an average of ninety-two points per game. This Bulldogs team is collecting thirty-eight rebounds per game, and they are giving up an average of thirty rebounds nightly to the opposition. Gonzaga is recording eighteen assists per game which is the third-best in College Basketball. They are turning the ball over twelve times, while they force fifteen a game while they are on defense. They are committing sixteen fouls, while when they get sent to the line they make seventy-four percent of their shots. On defense, the Gonzaga Bulldogs give up sixty-nine points per game, from giving up 190 three-pointers, seventy percent from the free-throw line, and forty-two percent from the field which is eight sixth in college basketball. Becoming a bookmaker involves a lot of hard work.
The last time Gonzaga played they were victorious over the Oklahoma Sooners, by the score eighty-seven to seventy-one. The Bulldogs managed to grab thirty-one rebounds. They lost possession of the ball ten times a game, and they added on seven steals as a unit. The Gonzaga Bulldogs went to the free throw line twenty-six times, and they drained twenty three free throws, for a shooting percentage of eighty-eight percent. Shooting from beyond the arc they were able to drain eight tries. The Bulldogs shot twenty-eight for fifty-seven from the field which gave them a shooting percentage of forty-nine percent. They let the Sooners net twenty-nine from the floor, five from three-point lan, and went eight for twelve from the free throw line, for a free throw percentage of sixty-seven percent, while Gonzaga also relinquished twenty-four rebounds to Oklahoma in this skirmish. Some Things About Becoming a Bookie.
A key player for this Gonzaga team was Drew Timme who went nine for twelve, for a shooting percentage of seventy-five percent. Timme amassed thirty points, thirteen rebounds, and four assists in his thirty-five minutes on the court. Then another key player in this matchup for the Bulldogs was Jalen Suggs, he put up sixteen points, three assists, and three rebounds in his thirty-five minute tenure on the court. The challengers in this matchup are the Creighton Bluejays, who are playing with a record of twenty-two wins, and eight losses for the season. This Bluejays team is shooting thirty-six percent from beyond the arc, shooting forty-seven percent from the field, and shooting sixty-four percent from the free throw line. They are letting in an average of seventy-six points per game notching them at sixty-second for points per game in division 1. They lose possession of the ball eleven times per game, and are committing fifteen fouls a night. As a unit Creighton is grabbing thirty-sox rebounds per game, while giving up thirty-eight rebounds as a team., They have 475 assists amassed so far which is ninth in the country for assists. On defense the Bluejays forced their opponents to turn the ball over twelve times a game, and they are drawing sixteen fouls a when they walk off the court. So far they have conceded 383 assists to their opponents, and given up a shooting percentage of forty percent to their opponents, making thirty-one percent from three-point range, and are allowing an average of sixty-eight points per game against them. Tips On Becoming A Bookie.
The last time the Creighton Bluejays took the court they beat the Ohio Bobcats, by the score of seventy-two to fifty-eight. They ended this contest shooting twenty-seven for sixty from the field, they drained nine from three-point range, then they went nine for thirteen from the free throw line. The Bluejays collected thirty-five rebounds, while they conceded thirty-eight to Ohio off the glass. They also added on twelve assists, then they forced fourteen turnovers, and amassed five steals. On defense the Bluejays let Ohio shoot twenty-one from the floor, hit seven shots from three-point land, and they let the Bobcats go drain nine out of their sixteen attempts at the free throw line. Lastly Creighton conceded twelve assists, five steals, and one block to the Ohio Bobcats. A key player for this Bluejays team was Marcus Zegarowski, and made an impact in their last game. He put up twenty points, three rebounds, and two assists in his thirty-eight minutes on the court. Another player who went hard in the paint was Damien Jefferson, he amassed fifteen points, five rebounds, and three assists in his thirty-four minutes of playing time. Zegarowski ended the night shooting seven for sixteen and forty-four percent from the field, while Jefferson went six for thirteen and shot forty-six percent from the field. Creighton has been a surprising force in the Big Dance this year and shows promise, but this Gonzaga team has been dominant from the beginning of the season, and is the overall favorites. So this game has potential to be an exciting one with a power struggle to move on in this tournament. THE BASICS OF SPORTS BETTING.
March Madness is famous for upsets though so this could very well be the end for Gonzaga's victory stretch. At www.AcePerHead.com our pick to win this game against the spread is going to the Gonzaga Bulldogs.
Creighton:
Gonzaga:
Top PPH Articles: