Dallas Mavericks vs Los Angeles Clippers
March 17, 2021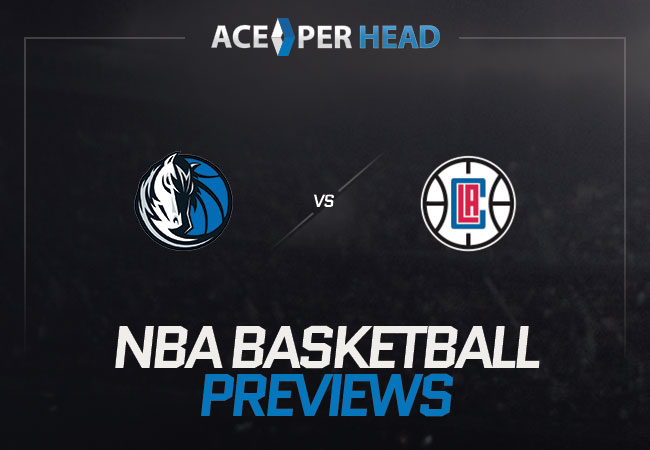 9:30 p.m. @ American Airlines Center
The Dallas Mavericks play host to the Los Angeles Clippers, as they are set to tip off for some Wednesday night NBA action.
The game is set to be played in Dallas, Texas at the American Airlines center home of the Mavericks. This Mav's team is going into this contest with a record of twenty wins and eighteen losses. Surprisingly enough, the Mavericks lost to the Clippers in their last game on Monday, and are hoping to turn the tables on the West powerhouse, Los Angeles. Dallas has put up 4,239 points up so far for an average of 112 points per game. This Dallas team has also amassed forty-three rebounds a game, while committing twenty fouls against the opposition. When they go to the free throw line though, the Mavericks are connecting seventy-eight percent of the time. On offense, they are hitting forty-six percent of the shots they take from the floor, which is fourteenth in the NBA, as they are ranked twenty-fifth in the league for assists with an average of twenty-three per game. Also to cap it off, they are turning the ball over to the opposition twelve times a game, while they are forcing the turnover thirteen times a game. But besides that, this Dallas team has been playing only satisfactory. Dallas won eleven of fourteen games before the loss to the Clippers. That streak got Dallas back into playoff contention in the Western Conference. Also Luka Doncic is on fire, and he has been leading this team the whole season. Doncic went nine for twenty three from the field, collected ten rebounds, sixteen assists, and amassed twenty-five points in his thirty-eight minutes of playing time. Factors to Consider When Selecting a Football Betting Website.
Another key player for the Mavericks is Kristaps Porzingis, who has been going off for the Mavericks. Porzingis ended the night shooting nine for fourteen, grabbing seven rebounds, and putting up twenty-two points in his thirty-one minutes of playing time. Porzingis and Doncic's performance were vital, and it always is, but these guys have the potential to help the Mavs turn things around this season. The fantastic duo of Doncic and Porzingis have been playing beautifully in sync, and have been the backbone of this team, being Mark Cubans golden boys. Another star for this team is Josh Richardson, who has been putting up huge stats for this team. The strength of this team is their defense they are currently ranked seventeenth in the NBA for points per game given up with an average of 112 per game. As a unit they have given up twenty-three assists, and forty-five rebounds per game to their opponents. ​How To Pick A Reliable Sports Betting Software Provider.
This Mavericks defense has given up 516 three pointers, forty-six percent of shots from the floor, and seventy-seven shots from the free throw line to be made. Also, it has improved over the season and if they are still able to play strong defensively in April and May, it will be huge for the Mavericks. The Challengers, the Los Angeles Clippers, go into this game as the favorites, and are playing with a professional record of twenty-six wins, and sixteen losses. They have been one of the most dominant forces in the West. The last time they came off the court, the Clippers took out their frustrations on Dallas and beat them 109-99. The Clippers are losing possession of the ball thirteen times a match, and are committing nineteen fouls a match as well. As a team, the Clippers are collecting forty-four rebounds a game while conceding forty-one rebounds per game to the opposition off the glass. Also as a squad they have amassed 997 assists this season, while they have relinquished 967, so far which is the seventeenth most in the league. This Clippers team is eleventh best in the NBA in terms of passing. As far as shooting goes, they have connected on 595 three pointers, eight-four percent of their shots from the free-throw line, as well as forty-eight percent from the field. The Clippers are averaging 115 points per game which is seventh in the National Basketball Association. Additionally, this team is one of the most feared and dominant on the West, maybe even the whole league on offense. Defensively the Clippers had a day.They managed to face fourteen turnovers, and they only sent the opposition to the free throw line five times. Their defense have been on fire so far this season, and its great to see them playing so well together. They are forcing thirteen turnovers a match, and are drawing an average of eighteen fouls per game. There are numerous kinds of sports betting software.
As they are giving up thirty-six percent of shots from beyond the arc, 534 shots so far from the field, thus giving up a total of 110 points per game to the opposition, which is sixth in professional basketball. Paul George and Kawhi Leonard were having a hard time shooting, where they always make an impact for the Clippers because they are playmakers. Kawhi Leonard was a major contributor in their last match. Leonard went home with twenty-two points going nine for twenty shooting. As well as grabbing eight rebounds, he had seven assists in his forty minutes of playing time. Then Paul George was a dominant force not to be reckoned with. He put up fifteen points, recorded seven rebounds, and dished four assists in his thirty-seven minutes on the court. Overall, George went five for eighteen and finished the game shooting twenty-eight percent from the floor. Another star for the Los Angeles Clippers is Ivica Zubac who recorded a start in this game, while also putting up fifteen points, grabbing eleven rebounds, and shooting phenomenally from the field by hitting seven out of eight shots. Time and time again Zubac has displayed his skill, and if he keeps playing the way he has and solidifies a starting pot, it can't work in great favor for the Los Angeles Clippers. The Advantages of Using Sports Betting Software.
At www.AcePerHead.com our pick to win this game against the spread is going to the Dallas Mavericks. Whether a Bookie or Bettor or Veteran or Rookie, Ace Per Head is your one-stop-shop for everything sports betting, Michael Jordan once said "Some people want it to happen, some wish it would happen, others MAKE it happen".
Are you ready to make it happen?
Sign up today and have your package set up and ready to go within 24. Imagine, in 24 hours you could be on your way to increasing your NBA profits as well as strengthening your brand with the amazing lines and betting options that Ace Price Per Head Sportsbook offers, not to mention your customer retention will improve significantly thanks to the incredible customer support staff employed by AcePerHead.com.
Los Angeles Clippers:
Dallas Mavericks:
Bookie Tips: