Florida State Seminoles vs Michigan Wolverines
March 27, 2021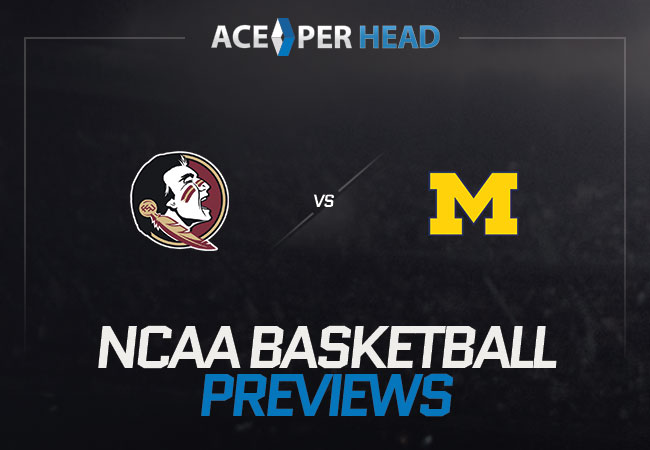 5:00 p.m. @ Bankers Life Fieldhouse
This Sunday the Sweet Sixteen round of the NCAA tournament continues as the Florida State Seminoles are set to tip off against the Michigan Wolverines.
The Michigan Wolverines are going into this contest as the favorites, and they are currently playing with a record of twenty-two wins, and four losses. The Wolverines have totaled 1,998 points so far this season, averaging seventy-seven points per game. LEARN ABOUT THE WAY THAT BETTING WORKS.
When it comes to pulling down rebounds Michigan is grabbing an average of thirty-seven per game, while they give up thirty-one rebounds to the opposition. They are committing fifteen fouls per game, and they are netting seventy-eight percent of their shots from the free-throw line. On offense, the Wolverines are shooting forty-eight percent from the field. They are averaging sixteen assists per game, and they lose possession eleven times a game to their opponents. On defense this Michigan team is giving up sixty-six points per game, letting teams shoot thirty-nine percent from the floor, 166 three-pointers, and seventy-six percent of free throw attempts the opposition takes. They are forcing ten turnovers nightly on defense and conceding nine assists in a contest. In their last game, the Michigan Wolverines beat the LSU Tigers 86-78. The Michigan Wolverines grabbed thirty-four rebounds in this game while giving up twenty-five off the glass to LSU. They lost possession of the ball eleven times and recorded one steal. The Wolverines took twenty-five trips to the line and were able to knock down twenty of their attempts. Michigan drained ten tries from three-point land, twenty-eight from the floor, for a shooting percentage of fifty-four percent. On defense the Wolverines let the Tigers go twenty-seven for sixty-nine from the field, the Tigers also drained six from three-point range, and went eighteen for twenty-three from the free-throw line. A key player for this team was Eli Brooks who was a huge factor in this victory for the Wolverines. He went seven for eleven, earning twenty-one points, seven assists, and four rebounds. Another key player for Michigan was Franz Wagner, he went five for nine from the floor. Wagner put up fifteen points, seven rebounds, and two assists in his thirty-three minutes of playing time. The challengers Florida State are going into this matchup with a record of eighteen wins, and six losses so far this season. They are averaging fourteen turnovers a game, and are committing eighteen fouls on their opponents nightly. As a team, the Seminoles are collecting thirty-seven rebounds per game, and they are giving up thirty-three rebounds as a team nightly. They have dished out 353 assists so far this season and conceded 280 assists to their opponents so far this season. Some Basic Truths About Becoming a Bookie.
The Florida State Seminoles have netted 187 from three-point range, their shooting seventy-four percent from the line. Florida State is averaging seventy-eight points per game, which is fortieth in division 1. On defense, they are forcing fourteen turnovers nightly, and the Seminoles are drawing seventeen fouls per game. They have conceded 280 assists to the opposition, and the Seminoles have given up 554 shots, and thirty-three percent of shots from three-point land, averaging sixty-nine points per game allowed. In the last round of the NCAA Tournament, the Florida State Seminoles tipped off against the Colorado Buffaloes, and took home the victory seventy-one to fifty-three, moving on to the Sweet Sixteen round in the Big Dance. Florida State state shot twenty-four for forty-six from the field, netted six from three-point land, and drained seventeen out of their twenty-one trips to the line. The Seminoles earned twenty-four rebounds, while they relinquished twenty-nine rebounds to Colorado. They also dished sixteen assists in this matchup, while they were able to force eighteen turnovers and collected ten steals on top. On defense the Seminoles allowed Colorado to go twenty for fifty-six shooting from the field, drained six tries from three-point land, and went seven for eleven from the free-throw line. Colorado also recorded twelve assists, five steals, and two blocks from the Seminoles. A key player in this game for the Florida State Seminoles was Anthony Polite who made an impact in this game. Polite put up twenty-two points, grabbed five rebounds, and dished four assists in his twenty-eight minutes on the court. He went eight for twelve shooting sixty-seven percent. Then another role player for this team is Raiquan Gray, he amassed nine points and two assists. In this battle, it's the team-up North vs the Seminoles from the South, and only one will be able to move one step closer to greatness. Tips to Become an Expert in Sports Betting.
At Ace Pay Per Head our pick to win this game against the spread is going to the Michigan Wolverines.
Florida State:
Michigan:
8 Tips for Bookmakers: