Golden State Warriors: Between a Rock and a Hard Place
May 25, 2016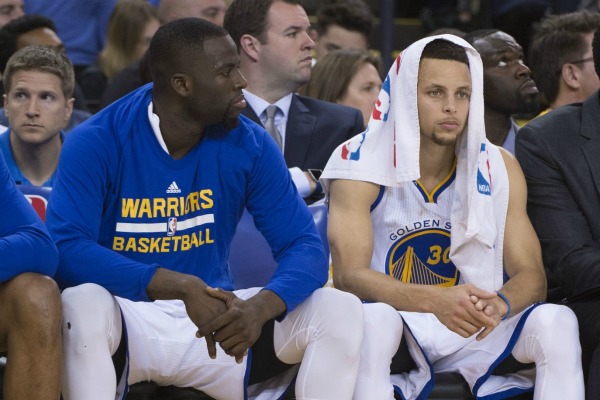 Who would have thought that Oklahoma City Thunder would put Golden State Warriors in such a tough position? Oklahoma Thunder is leading the Western Conference Finals 3-1 after they beat GSW this past Tuesday with a score of 118-94.  The two teams meet again for Game #5 this Thursday, May 26 at the Oracle Arena.
It's do or die for Golden State
Golden State Warriors are forced to win, and win and win, they require three straight wins which is highly unlikely even for the defending champions. According to stats, only 3.8% of the 232 teams that have been in this same position have pulled through. After the game coach Steve Kerr said: "This team is outplaying us right now and we've got to come up with some answers," NO KIDDING! One can only hope that as they go back to the Oracle Arena they can recompose and play at the level of the 73-win team that sports the two-time MVP they are.
The Oklahoma Thunders have been playing in impressive manner, they've shown versatility, speed, strength and strategy, they know the right moment to pressure, their small ball lineup is paying off and with players like Kevin Durant whose defense has been impeccable and is averaging 27.7 points per game and Russell Westbrook scoring 36 points, 11 rebounds and 11 assists for his fifth career playoff triple-double their chances of making the NBA final after four years are looking very good. The Thunders have a strong team, and perhaps the Warriors have underestimated players like Andre Roberson who punished them with 17 points, 3 assists and 12 rebounds and Serge Ibaka that managed 17 points, seven rebounds and two blocked shots.
All in all, odd makers have the Golden State Warriors as a favorite with -7.5 for this fifth game at home, they are indeed a special team, no doubt about that, but it will take more than just Stephen Curry and Klay Thompson to pull this off, hopefully they will find the needed motivation and answers playing at home. The Thunders are obviously on a role and they won't easily let go of this opportunity to reach the finals. Total sits at 220 ½.
I've already placed my bets at AceSportsbook.com, and as much as I'd like to see Game #6 happen, I'm going with Oklahoma City. If you want to bet on NBA Odds, Ace Sportsbook is the right choice, open your account today.