Los Angeles Clippers host The Brooklyn Nets
February 21, 2021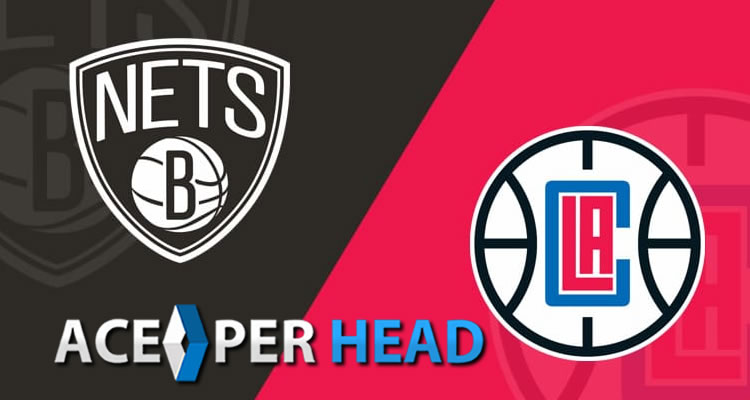 8:00 p.m. @ Staples Center
The Brooklyn Nets travel to the West coast to take on The Los Angeles Clippers, as Los Angeles seeks to hold the line and remain victorious at home. The Brooklyn Nets, having one of their best seasons so far, with a record of nineteen and twelve, being in the bubble must've turned them into a different team or just by having a dominating big three. This Brooklyn team is going into this contest with their head held high as they have won five games in a row and are in a nice rhythm that could take them far in the playoffs. Also, this matchup is their last of a road trip, as they look to add another win to their away record.
The Stars for The Brooklyn Nets are James Harden and Kyrie Irving because they both benefit the team in huge ways. Furthermore, this Brooklyn team has been unstoppable since adding Harden to the mix, because things weren't working out for him in Houston. So it's safe to say Brooklyn is a way better fit for the future hall of famer. James Harden has been playing like a phenom lately averaging twenty-four PPG, twelve assists, nine rebounds, and has recorded one steal.
Then Kyrie has been making it rain buckets, guaranteeing an average of twenty-eight points per game. But on the negative side of things, this Brooklyn team turns the ball over fifteen times per game as well as nineteen fouls, which is troublesome. Also, their big guy Kevin Durant, is still out with a hamstring injury and his return is questionable. This proves as a huge hit to the Brooklyn Nets on offense and defense so players like Jeff Green and Bruce Brown have stepped up to try to fill the void in Kevin Durant's absence. This Nets team is looking great right now, being one of if not THE most dominant team in the East. However, their hosts aren't too bad themselves The Los Angeles Clippers are on top of The Western Conference and are currently playing with an impressive record of twenty-two and nine. This is the fifth game of a six-game home stretch for The Clippers and in their most recent game they came out victorious against The Utah Jazz, while having two wins before that as well. Their current record for games at home is eleven and five and this Los Angeles Clippers team seeks to stay strong and add another W by not giving up easily. Time and time again Kawhi Leonard has lead this team and proved that they are fighters. Consequentially, the most recent victory against The Jazz solidifies that and the fact that The Clippers are on a title run proves have no plans on stopping. As far as turnovers go though, they turn the ball over thirteen times per game and are committing nineteen fouls on top just like their challengers.
Paul George came back after being on the sideline for almost a month and right out of the gate he put up big numbers. George managed to put up fifteen points, six rebounds, five assists, and a matching 1 steal and block being on the court for twenty-five minutes. Then their star Kawhi Leonard has been the driving force behind The Clippers' success all season, he is unreal this guy. Leonard carried this team to the win, putting up twenty-nine points, five rebounds, four assists, and recorded one block. For a season average of twenty-six PPG. Overall this Clippers team is dominant and proves LA is a powerhouse for basketball. In contrast, The Nets are impressive and maybe not as equally, but they can definitely give this LA team a run for their money.
This matchup is definitely going to be one of the more exciting games this season, as we see an East vs West Coast battle, a classic NY vs. LA. But this time we get to see which coast is more dominant and who looks better going into the playoffs in the distant future. Even though heading into this game The Clippers are looking like the more dominant team and seem like they have it together on paper, our pick at Ace Per Head is going to be to take the 4.5 point underdogs in this contest The Brooklyn Nets to win this NBA game against the spread. If you're looking to get in on the action whether a veteran or rookie there's no better place than with us.
Our up-to-date and monitored NBA lines are pristine and are a bookie's dream. When you use our pay per head software, our product is headache-free and you can maximize your profits. With our lines subtle movements during the day to entice players, to our packages where we manage individualized lines for agents, at www.AcePerHead.com we take all the hassle out of line management so you can sit back and relax.
At Ace Per Head our line managers take care of hundreds of lines at a time. This is usually very daunting and very meticulous work, but nothing is too much for us! We deal with NBA live betting, to props, alternative lines, quarter lines, first halves, and full NBA game odds, so as you can see, there is a plethora of lines we deal with for every single game, and we really have a hardworking bunch. Most PPH basketball lines are weak and can be very costly for agents sometimes thousands per game. Other sites offer a lower quality product, low-quality customer service, and don't go the extra mile like we do when we put our heart into those individually managed lines, that our competitors simply don't have time for or want to make time for. Sites like those are detrimental to the business and can't even afford to hire experienced line managers, so why would you trust them with your business when they sound more like a liability.
Thankfully there's always a way when dealing with Ace Per Head, we offer a cheaper and more efficient alternative that can greatly benefit the agents by increasing their basketball profits in the NBA Regular Season & Playoffs.
Brooklyn Nets: PS/Total: 6.5-110 Total O/U: 236-110
Los Angeles Clippers: PS/Total: -6.5-110 Total O/U: 236-110