LSU Tigers vs Michigan Wolverines
March 22, 2021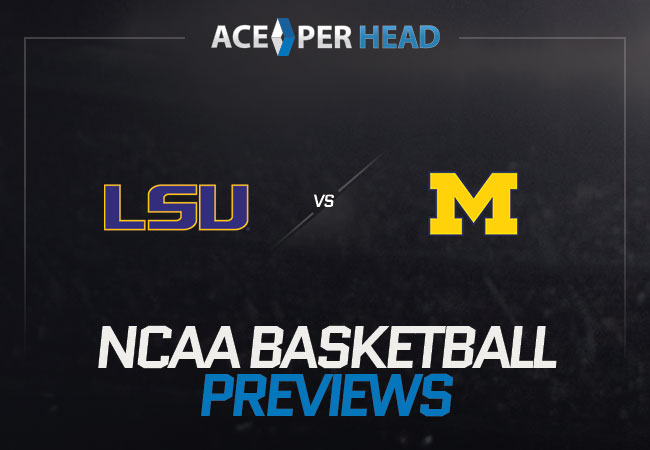 Michigan takes on LSU in the NCAA Tournament at Lucas Oil Stadium this Monday night.
The Michigan Wolverines are currently playing with an impressive record of twenty-one and four so far this season. Michigan is committing fifteen fouls against their opponents, also they are hitting seventy-eight percent of the shots they take from the free-throw line. Michigan is recording an average of sixteen assists per game which is the forty-fifth best in NCAA hoops. This Michigan team is turning the ball over an average of eleven times a game. The Wolverines are averaging seventy-six points per game, for a total of 1,912 total points so far this season. They have also collected thirty-seven rebounds per contest, and have lost thirty-one rebounds to the opposition. They shoot an average forty-eight percent from the field, which is the thirty-first in the nation. 9 Reasons You Should Become a Bookie online.
Michigan is giving up an average of sixty-five points per game allowed, which is fifty-third in college hoops. They are forcing their opponents to turn over the ball ten times a game. As well as letting their opponents shoot thirty-nine percent from the field, they have given up 160 three-pointers, and seventy-six percent of their opponents' free throw attempts hit. The last time Michigan played they took on the Texas Southern Tigers and won by the score of 82-66. Michigan grabbed thirty-three rebounds and gave up twenty-three to the Tigers, as well as turning the ball over fourteen times and recording four steals in this contest. The Wolverines went to the line twenty-six times and they were able to net twenty-one of those shooting eighty percent. Michigan was made nine from beyond the arc out of twenty-six attempts. The Wolverines also made twenty-six from the field. On defense, the Wolverines let the Tigers net twenty-three from the floor, one from three-point land, and nineteen from the free-throw line from a total of twenty-two attempts which was a way too much. A key player for Michigan was Mike Smith who went six for twelve shooting fifty percent. Smith totaled eighteen points, five assists, four rebounds in his thirty-seven-minute tenure on the court. Another key player in this matchup for Michigan is Hunter Dickinson who went six for seven shooting, totaling sixteen points, two rebounds in his twenty-four minutes of playing time. Sports Gambling Tips You Need to Know.
The Challengers in this matchup the LSU Tigers go into this as the underdogs, and they are currently playing with a record of nineteen wins and four losses. They are averaging eighty-two points per game which has them ranked ninth in the nation. The Tigers have made 228 three-pointers this season, also shooting forty-six percent from the field, and are netting seventy-five percent of their shots from the free-throw line. As a unit, LSU is grabbing thirty-nine rebounds per game and is giving up an average of thirty-eight rebounds a night, and they have dished out 343 assists while conceding 378 assists to the opposition. The Tigers are losing possession of the ball twelve times a night, and they are committing seventeen fouls, while they draw eighteen personal fouls nightly. On defense, LSU has forced its opponents to turn the ball over thirteen times per game. The LSU Tigers are letting opponents make forty-two percent of their shots, and are letting in an average of seventy-five points per game. You Can Bet on It: How to Make Money From Online Sports Betting.
The last time the LSU Tigers took the court they played the St. Bonaventure Bonnies and took home the W by the score of seventy-six to sixty-one. In this contest, LSU netted twenty-five out of sixty-two from the field, put up eight three-pointers. Then the Tigers took twenty-two trips to the line and were able to hit eighteen for a free throw rate of eighty-two percent. The Tigers managed to grab forty-five rebounds while giving up twenty-nine rebounds to the Bonnies. Then added eleven assists, three turnovers, and two steals. On defense, LSU let their opponents shoot twenty-one for sixty-three from the floor, sixteen for twenty from the free-throw line, and three attempts from three-point land. Also, the Bonnies recorded ten assists, five blocks, and three steals against the Tigers. One player who made a huge impact for this LSU team was Cameron Thomas who put up twenty-seven points, four rebounds, and three assists in his thirty-nine minutes on the court. Another key player for the Tigers is Aundre Hyatt who netted thirteen points, grabbed ten rebounds, and two assists in his thirty-two-minute tenure during this skirmish. Overall Thomas shot thirty-nine percent from the field, and Hyatt shot fifty percent when the final buzzer sounded. Both of these teams are huge names in NCAA Basketball and look like it will be an all-out battle. At www.AcePerHead.com our pick to win this NCAA Tournament game against the spread Is going to the LSU Tigers.