Michigan vs. Maryland (Big Ten Tournament)
March 12, 2021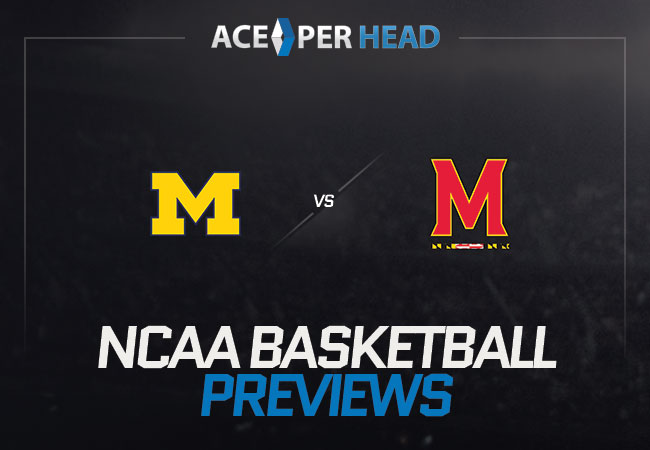 11:30 a.m. @ Lucas Oil Stadium
The Michigan Wolverines are set to tip off against the Maryland Terrapins for some College Basketball action!
The spread on this Friday night game has the Michigan Wolverines listed as the favorites, Michigan is going into this contest with an impressive nineteen wins and three losses, where they have been shooting forty-nine percent from the field, which is the twenty-eighth best shooting percentage in the nation. Michigan has totaled seventy-six points per game with a total of 1,684 points for the season. They are grabbing an average of thirty-eight rebounds a game and have given up thirty-one rebounds to the opposition. They are dishing the rock fifteen times per game, while they gave up an average of ten assists a game to their challengers.
This Wolverine team is turning the ball over twelve times per game, and they forced a turnover ten times a game as well. Michigan is committing fifteen fouls per game and is shooting seventy-six percent from the free-throw line, and their opponents are hitting seventy-five percent of their shots from the free-throw line. Their defense is ranked fifty-fourth in NCAA for points given up at sixty-five PPG. They have let teams make 139 from three-point land and let teams shoot thirty-nine percent from the floor, which is not good. The last time Michigan played, they were sent home with an L and were beat by a score of seventy to sixty-four against Michigan State. The Wolverines managed to grab thirty rebounds, gave up thirty-six to Michigan State, got two steals, and turned the ball over eight times. The Wolverines went to the line eleven times and managed to make seven of them. Michigan went twenty-four for fifty-four from the field shooting forty-one percent. The Spartans dumped twenty-four tries from the field, four from three-point range, and eighteen out of twenty-three from the free-throw line, shooting seventy-eight percent. A star for this Michigan team was Hunter Dickinson where he made a huge impact for the Wolverines and put up twelve points, seven rebounds, and one assist during his twenty-five minutes of playing time. Another key player was Mike Smith who recorded seven assists, three rebounds, and eleven points while playing thirty-six minutes.
The Maryland Terrapins are playing with a current record of fifteen wins, and twelve losses in this season. This team is averaging sixty-nine points per game while shooting forty-six percent from the field. The Terrapins have drained 220 three-pointers and have made seventy percent from the free-throw line. As a team, Maryland is pulling down thirty-three rebounds per game and is giving up thirty-three rebounds per game.
Also, they have dished out 359 assists and they have given up 318 assists to opponents, which is sixty-eight in the nation for assists. They turn the ball over an average of eleven times a contest and are fouling the opposition an average of fifteen times nightly. On defense, Maryland is forcing eleven turnovers a match and they manage to draw seventeen fouls. They are giving up thirty-four percent of shots from beyond the arc, 620 shots from field goal range, and are averaging sixty-five points per game allowed, which is forty-fourth in division one for points allowed. The last time the Maryland Terrapins took the court they played the Penn State Nittany Lions and lost by the score of sixty-six to sixty-one. Maryland shot twenty-three for forty-eight from the field and had eight three-pointers. They scored on seven of their thirteen attempts to the free-throw line. In addition to this feat, they collected thirty rebounds, twelve assists, and amassed five steals. This Maryland team forced nine turnovers in this match, while letting their opponent drain nineteen out of fifty-six from the field, nine from three-point land, and nineteen out of twenty-four from the free-throw line. Maryland needs to clean up their act on defense and watch their fouls because those trips to the line add up.
Also, Penn State racked up ten assists, nine steals, and thirty-eight rebounds and recorded one block. A star for this Maryland team is Aaron Wiggins who made a huge impact in this game, he put up fifteen points, going six for twelve. Also, he added ten rebounds, and three assists in thirty-seven minutes on the hardwood. Another key player for the Terrapins is Eric Ayala who amassed fourteen points, seven rebounds, and three assists overall in his thirty-three minutes of playing time. This is a quarter-final battle of the Big Ten Conference, as the #1 ranked Michigan Wolverines take on the 8th seed Maryland Terrapins in what should be one of the most exciting games of the tournament, as both of these explosive teams seek to stay alive.
At www.AcePerHead.com our pick in this college basketball game is going to the Maryland Terrapins to win against the spread. For Agents booking action, this is a great time of year because the tournament always entices players to bet, and considering that games start early in the day and last until late at night, there becomes a huge spike in betting volumes. There is nothing better for bookies than an increase in betting volumes because this directly leads to players losing a lot more money. Not only will players be able to bet on all the games, but each game will also have the option to bet on it live, which just adds to even larger increases in betting volumes. So, let the madness begin and the money flows into the hands of the bookies.   
Maryland:
Michigan:
More Tips for Bookmakers: