Monday Night College Hoops
February 22, 2021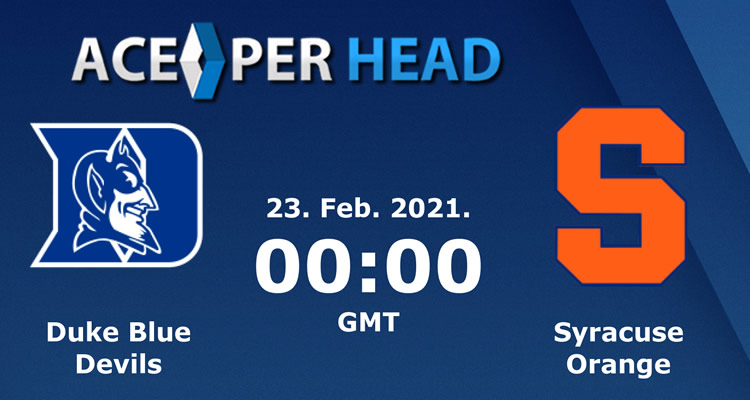 Syracuse Orange at Duke Blue Devils
7:00 p.m. @ Cameron Indoor Stadium
The Syracuse Orange is set to head south to Durham, North Carolina to tip-off against The Blue Devils from Duke University for some Monday night college hoops action. The Duke University Blue Devils go into this game as six-point favorites, and they are currently playing with a record of ten and eight at this point in this season. This Blue Devils team is shooting forty-seven percent from the field, being ranked fifty-seventh in NCAA Basketball. They are averaging seventy-five points per game having 1,360 points scored so far this season. They are also shooting seventy percent from the free-throw line. This Duke team can move the ball around well and average fifteen assists a game which is one of the better averages in college hoops.
On the negative side whenever they possess the ball, they are averaging thirteen turnovers a game, which wouldn't be a bad thing to cut from their game plan. Plus, they are guaranteed to get called for fifteen personal fouls, which isn't good for any team to do because you don't want to be sending a team like Syracuse to the line. On defense, they are fundamentally strong and sound. Duke has only allowed 123 shots and is forcing teams to turnover fourteen times per game. Coach Mike Krzyzewski had made this Duke team defense into one that's ranked 206th for points allowed in NCAA Basketball, with seventy-one points allowed per game, giving up thirty-three rebounds, which has them at seventy-second in Division 1. A star player for the Blue Devils is Matthew Hurt. In their last game, he put up twenty-two points, two assists, and four rebounds. Overall, he went eight for thirteen and played thirty-eight minutes. Another stud for this Duke team is Jeremy Roach who amassed twelve points, three assists, and two rebounds in thirty-two minutes of play. Those two are the perfect pair for Duke and could be the reason why they will win this game. In their last exhibition, The Duke Blue Devils won a super close down to the wire game.
Duke beat The Virginia Cavaliers sixty-six to sixty-five and they were able to collect nineteen rebounds, seven steals, and seven blocks. Duke was 5-9 from the free-throw line, sank nine three-pointers, and twenty-six from the field. On defense, The Blue Devils let up twenty-six shots, thirty-nine rebounds, and five personal fouls. This Duke University team won but barely, nevertheless, a win is a win. However, Syracuse is tough this year and Duke better is ready & rested because Syracuse is hot and is trying to win. The Syracuse Orange are currently playing with a record of thirteen and six this season and they are hot coming off of a win against Notre Dame. They are averaging seventy-seven points per game. Then 148 from three-point range and are shooting eighty percent from the free-throw line. On the offensive side of things, they are grabbing thirty-six rebounds per game and this Syracuse team can really move the ball around because, within this season alone, they have accumulated 293 assists. On the negative side, they are turning the ball over eleven times a game and are committing way too many fouls with at least fifteen personal fouls per game. Then on the other side of the court on defense, the Orange were making their opponents turn the ball over fifteen times and drew sixteen fouls. A star player for this Syracuse Orange team was Buddy Boeheim, who had a day for them scoring twenty-nine points, collecting two rebounds, and having two assists in thirty-six minutes. Another key player for Syracuse University was Marek Dolezaj, netting eighteen points, grabbing six rebounds, and four assists in thirty-seven minutes. The last time these two led The Syracuse Orange into battle was against Notre Dame and they ended up, defeating The Fighting Irish seventy-five to sixty-seven. The Orange dropped a whopping twenty- two three-pointers, which is unreal. The Orange also shot forty-three percent from field goal range and were able to hit 100% of all free throw shots attempted for a total of eleven. Defensively they held Notre Dame to twenty-seven shots recorded thirty-three rebounds, twelve assists, nine steals, and four blocks as a unit. But then relinquished twenty-two assists, thirty-one rebounds, and got blocked twice.
As well as getting the ball stolen from them twice overall and giving up a lot of possession to the opposing team, we can agree that this is never a good thing. Then they also rank high in Division 1 for allowing assists with 321 relinquished to challengers at this point in the season. On a more positive note, they only sent Notre Dame to the free-throw line twice. Overall these teams are both dominating forces in NCAA Basketball, both with a long legacy and legends coming from both programs. The Duke Blue Devils have great personnel upfront and which is always accompanied by great coaching, so I don't see why Duke couldn't take this one, especially because a record isn't everything and anything is possible. Then as The Syracuse Orange has been dominating and taking down Notre Dame, this isn't an easy feat to do. Both of these teams have young talent, are explosive, and play with tenacity, and this game has the potential to be action-packed and one of the best games of the season.
Overall both teams are tough, but our pick at Ace Per Head is going to The Duke University Blue Devils, who are going into this matchup as the favorites & to take the Over. At Ace Per Head our expert line managers make the best and clearest lines they are a bookie's dream. The NCAA Basketball betting software platform at www.AcePerHead.com allows you to start taking future bets sooner and to help you get ahead of the game, so you can always ensure you have the upper hand.
Syracuse: PS/Total: 5.5-115 Total O/U:151.5-110
Duke: PS/Total: -5.5-105         Total O/U: 151.5-110