NBA Tonight: Tuesday, February 23rd, 2021
February 23, 2021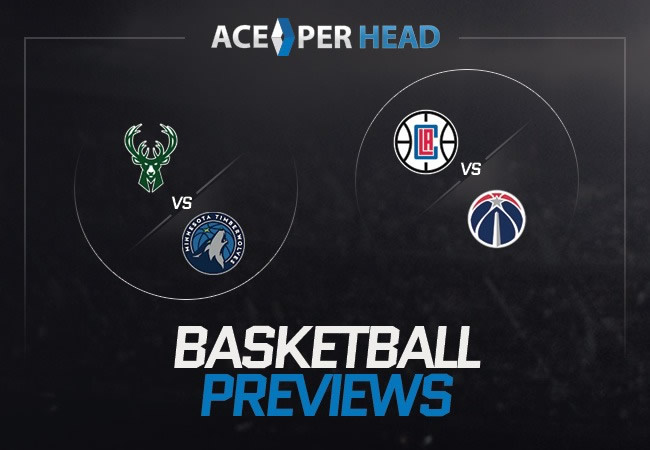 Milwaukee Bucks host The Minnesota Timberwolves
The Timberwolves head to Wisconsin their neighbors to the East to tip-off against The Milwaukee Bucks for some Tuesday night basketball.
The Milwaukee Bucks are going into this game as eleven-point favorites and are playing alright this season playing with a current record of eighteen and thirteen. They were in the middle of their worst losing streak in five seasons but were recently able to break it. This Milwaukee team is dominant though and has turned itself into one of the best teams in The NBA. Their last two performances were phenomenal and if they continue to play like this, they will be more than fine as the season goes on.
The leader for this Milwaukee Bucks team is Giannis Antetokounmpo he has been playing stellar lately. Giannis is currently putting up thirty-two points, fifteen rebounds, and seven assists per contest. With Jrue Holiday out for a little, Giannis has taken it upon himself to put this team on his back. If this Bucks team is going to win this game, they are going to have to step it up and give Giannis some support, so they don't fall back into a slump. They are playing great right now, but you have to worry about fatigue when you're playing games almost every night. The Minnesota Timberwolves are playing with a brutal record of seven and twenty-four and the pain has continued as they are going into this matchup off a fresh loss to The New York Knicks. They have lost eight out of their last nine exhibitions, but this is normal for The Timberwolves, as they have been in the struggle recently. Since starting the year off right winning two games but then went on to lose twenty-four games.
The Timberwolves organization has been making known to make poor decisions and during this slump, they fired Ryan Saunders. This Minnesota team is built around three essential players, Karl Anthony Towns, D'Angelo Russell, and Anthony Edwards. This team says they are rebuilding but these players aren't meeting expectations, so they need to start from scratch. Last season The Milwaukee Bucks swept The Minnesota Timberwolves and the way this Bucks team has been playing their win streak against The Timberwolves is going to stay strong.
At Ace Per Head our pick to win this game against the spread is going to The Milwaukee Bucks.
Minnesota Timberwolves:
PS/Total: 10.5-110
Total O/U: 231.5-110
Milwaukee Bucks:
PS/Total: -10.5-110
Total O/U: 231.5-110
Los Angeles Clippers vs The Washington Wizards
10:00 p.m. @ Staples Center
The Washington Wizards continue their West Coast road trip as they plan to take on The Los Angeles Clippers as they come off a tough loss to The Lakers.
The Clippers have been playing great with a record of twenty-two and ten, but something happened because they've hit a speed bump, losing their most recent three games. However, this game should be a win and a turning point for them to get back on track. There has been controversy over Paul George who is one of The Clippers' best players, but he wasn't able to play in the final minutes of play in their recent loss when he could've saved them and made an impact on the game when it counted. As long as he is healthy, he should be able to produce for this Clippers team more. But the star for this Clippers team is always Kawhi Leonard he is always doing whatever he can for this team.
Having Paul George and Kawhi together turns this team into a powerhouse and a threat and as long as they are on the hardwood together this team looks unbeatable. Then we have the opponent from the East coast The Washington Wizards, but they are struggling big time this season with a current record of ten and eighteen, and they are going into this game with a fresh loss to The Lakers. This Washington team is trying to keep their head above water and turn this season around but it's just too much when facing tough teams like this and they keep getting knocked down, but they are fighters. Being led by the likes of Bradley Beal and Russell Westbrook this team has no interest in giving up. They were doing great and were on a four-game winning streak beating dominant teams in the league, but then it took a quick turn once on their road trip. Bradley Beal nets around thirty points per game and Westbrook keeps putting up triple-doubles.
Unfortunately, this Washington Wizards team needs to get support for these two because they are doing all they can for this team but ultimately can't seal the deal when it matters. Also, on the defensive side for the second year in a row they are allowing the most points in The NBA to be scored against them. This Wizards team wants to be a dominant force in The East, and they are going to need to make some big changes to do so. Also, these two teams met twice last year, and Los Angeles brought out the sweep for The Wizards.
The spread has The Los Angeles Clippers notched as the favorites in the game. On offense, The Clippers are shooting forty-eight percent from the field, which is third in The NBA. Putting up an average of 115 points per game, and are pulling down forty-four rebounds as well. This Clippers team dishes the rock well with twenty-four times a game. On defense they are ranked fifth in the league for points given up, has let up 377 three-pointers as well as forty-seven percent from the field and relinquished forty-one rebounds per game which is second in The NBA. Lastly on a negative note they are turning the ball over thirteen times a contest and are getting called for nineteen fouls as well. At Ace Per Head our pick for this matchup is going to The Los Angeles Clippers to win this Tuesday night game against the spread.
At www.AcePerHead.com take advantage of the best NBA live lines and odds in the business, increase your profits and enjoy a great NBA Season.
Washinton Wizards:
PS/total: 12.5-110
Total O/U: 233.5-110
Los Angeles Clippers:
PS/Total: -12.5-110
Total O/U: 233.5-110