Notre Dame Fighting Irish vs. Wake Forest Demon Deacons
March 9, 2021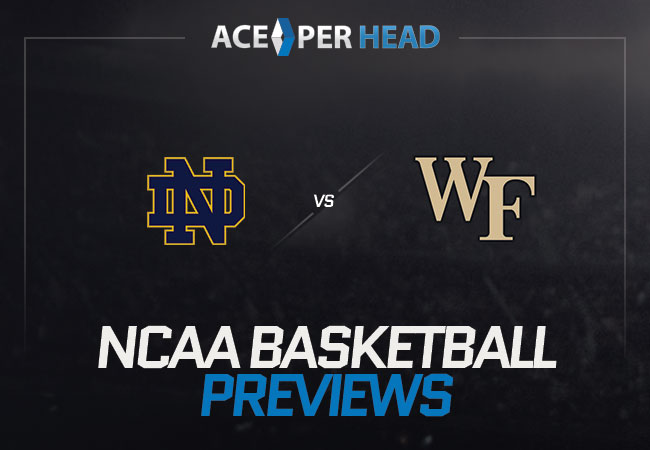 The Notre Dame Fighting Irish head to North Carolina to tip-off against the Wake Forest Demon Deacons for some Tuesday night NCAA basketball action.
The Notre Dame Fighting Irish are going into this game as the favorites and are currently playing with a record of ten wins and fourteen losses. The Fighting Irish are committing thirteen fouls a game and when they are sent to the line, they are hitting seventy-seven percent of the shots, while their opposition hits seventy-three percent of their free throws against them. This Notre Dame team is accumulating fifteen assists a contest which has them ranked sixty-fourth in NCAA hoops for assists. This Team is also turning the ball over ten times a game, while they are able to force a turnover eight times a match. Notre Dame is averaging seventy-three points per game and has netted an overall 1,752 points this 2021 NCAA season.
The Fighting Irish are bringing down thirty-three rebounds a contest while giving up an average of thirty-six rebounds to opponents. On offense, this team is shooting forty-six percent from the field, which is seventy-fifth in college hoops. On defense, they give up seventy-three points per game and let people shoot forty-four percent from the field. They had 198 three-pointers so far this season, as well as thirteen assists. In their last contest, the Fighting Irish beat the Florida State Seminoles by a score of eighty-three to seventy-three. They grabbed thirty-seven rebounds in total while turning the ball over thirteen times and stealing the ball eight times. The Fighting Irish were fouled twenty-two times and made it to the line thirty-four times, only being able to hit twenty-eight. They shot nine for twenty-seven from three-point land and shot twenty-three for fifty-four from the field. On defense, the opposition went twenty-six for sixty-four from the field, fifteen out of twenty from the line, and six from three-point range on Notre Dame in this outing. Also, Notre Dame gave up thirty-four rebounds as a defensive unit. An All-Star for the Fighting Irish was Prentiss Hubb, he went six for seventeen for twenty-two points, five assists, and four rebounds in thirty-nine minutes of play. Another key player in this matchup for Notre Dame is Nate Laszewski who recorded eleven points and five rebounds during twenty-six minutes on the court. The Challengers the Wake Forest Demon Deacons are playing with an NCAA record of six wins and fifteen losses in this season so far.
Wake Forest is losing the ball fourteen times a match and is committing seventeen fouls as well. They are grabbing thirty-two rebounds, while they are giving up thirty-four rebounds a game. As far as assists go, they have dished 238 assists, and have given up 291 assists to the opposition. Notre Dame is hitting 183 from three-point land, forty-one percent from the field, with seventy-two percent from the free-throw line, and are averaging sixty-six points per game. On defense, the Demon Deacons are forcing a turnover twelve times a game and draw the foul fifteen times a contest. While giving up thirty-seven percent of three-pointers, 539 from the field, they allowed seventy-two points a contest. In their last contest, the Wake Forest Demon Deacons faced off against the Georgia Tech Yellow Jackets and lost seventy-five to sixty-three. Wake Forest went twenty- four for fifty-four from the field, seven from three-point land, and shot eight for fourteen from the free-throw line. They grabbed twenty-two rebounds, nine assists, and forced twelve turnovers. Additionally, they added nine steals as a unit. Guide for independent bookmakers.
Wake Forest allowed Georgia to go twenty-nine for fifty-two from the field, thirteen from the free-throw line, and four from three-point land. The Demon Deacons also gave up thirteen assists, eight steals, two rejections, and twenty-seven rebounds to Georgia Tech. The main guy for this Wake Forest team is Ian Dubose who is a key role player, as he amassed eighteen points going seven for nine with three assists and two boards within a total of twenty-six minutes on the hardwood. Another key player for this Demon Deacons' team was Daivien Williamson who made a great impact and displayed a ferocious effort in this matchup. He had thirty-seven minutes on the hardwood, tallied fifteen points (going five for nine), with an additional rebound and assist in this outing. Daivien Williamson shot fifty-six percent from the floor, while his counterpart Ian Dubose went seventy-eight percent from the floor. Both of these teams are staples in NCAA Basketball and look to be an exciting game as March Madness approaches.
At www.AcePerHead.com our pick to win this college basketball game against the spread is going to the Notre Dame Fighting Irish. When it comes to college basketball, every season seems to be unique, you never know which team out of the 300 participating schools will shine brightest. There are clear favorites, but, every year some of them have unbelievable disappointing seasons, while, some of the biggest underdogs achieve the impossible; that is the allure of this sport. Knowing how to recognize real trends, and how to capitalize on them is what Ace Per Head bookmaker software does best.
We are best at keeping the lines as tight as possible to avoid creating gaps where agents could lose a considerable amount of money and generating interest in games that would otherwise go unnoticed is just part of the winning strategy. College basketball gambling gives you so many different games to bet on, there's certainly no shortage of action. Playing at home vs. playing as a visitor, road trips, injuries, motivation, rivalry- it all plays a role in a teams' performance. Since we offer multiple betting lines for the same game, please make sure you read the title of the selected line to ensure you have selected the correct odds.
Ace Per Head offers you competitive live lines and odds on NCAA Basketball, oddsmakers are sure to keep you busy with betting offering starting from early tournaments to March Madness, bracket, props, and futures, and with such great lines, with multiple varieties to choose from, why not sign up with AcePerHead.com today!
Wake Forest:
Notre Dame: