Oral Roberts Golden Eagles vs Arkansas Razorbacks
March 25, 2021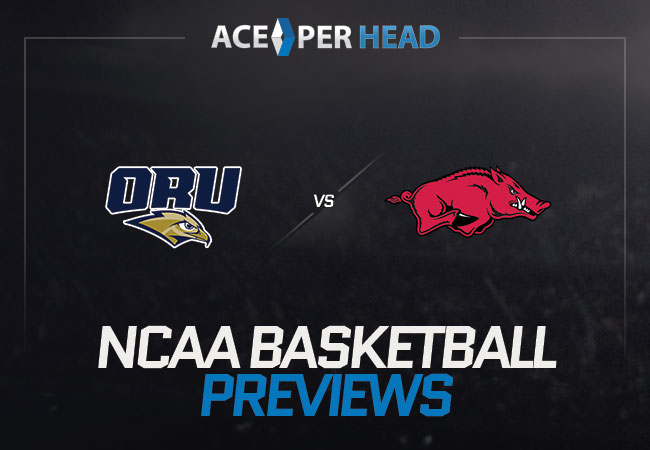 7:25 p.m. @ Bankers Life Fieldhouse
As March Madness moves on, the Sweet Sixteen is next up, and things are really heating as the stakes get higher and the competition gets tougher.
In this sweet sixteen matchup, you have the Oral Roberts Golden Eagles and the Arkansas Razorbacks. Arkansas has a record of twenty-four wins, and six losses, going into this match as the favorites. Arkansas is committing an average of seventeen fouls per game, as well as shooting seventy-four percent from the free-throw line. This Razorbacks team is giving up twelve assists to the opposition, and they are dishing out an average of fifteen assists per game, which is seventy-ninth in College Basketball, losing possession of the ball thirteen times a game. Additionally, they are averaging eighty-two points per game, and a total of 2,460 so far this season. On offense, Arkansas is shooting forty-five percent about the field. Then on defense, they are giving up an average of seventy ppg. They force teams to turn the ball over fifteen times per game and have allowed their opponents to make 232 shots from three-point land, and forty-one from the floor, ranking sixty-sixth in College hoops. As far as rebounding, this Arkansas razorbacks' team is grabbing an average of forty rebounds off the glass which is strong, while they give up thirty-six to the opposition nightly. The last time they played, Arkansas beat Texas Tech. In doing so, Arkansas managed by grabbing thirty-five rebounds, conceding thirty-three rebounds, and turning the ball over nine times. How to Be a Successful Online Bookmaker: The Ultimate Guide.
The Razorbacks went to the line seventeen times and drained twelve of those attempts. Arkansas went twenty-six for sixty-two from the field and made 4 from three-point land. On defense, they let the Red Raiders convert twenty-two from the field, and drained ten from three-point range. Then, they sent Texas Tech to the line eighteen times, while hitting twelve of their attempts. A key player in this matchup for the Razorbacks was Justin Smith, who went nine for eleven that night. He amassed twenty points, grabbed six rebounds, and two assists in his thirty-nine minutes of playing time. Another major role player for this Razorbacks team was Moses Moody, who put up fifteen points, six rebounds, and one assist while playing thirty-nine minutes for Arkansas. 8 Profitable Small Business Ideas for 2021.
The challengers, the Oral Roberts' Golden Eagles, are playing with a record of eighteen wins and ten losses and have stunned the college basketball world this season by causing one of the biggest upsets in knocking out Ohio State in the first round, being true underdogs. Oral Roberts is averaging eighty-one points per game, which is the twelfth best in college basketball. Make Your Gambling Successful.
They are shooting forty-five percent from the field, 315 from three-point land which is thirty-eight percent, and eighty-two percent from the free-throw line. As a team, they are averaging thirty-five rebounds per game while they gave up thirty-nine rebounds, have amassed 354 assists, and conceded 339 to their opponents so far this season. Oral Roberts is turning the ball over eleven times per game, and as a whole, they are committing seventeen fouls on top. On defense, the Golden Eagles allow their opponents to hit forty-three percent from the field and thirty-four percent from three-point land, for an average of seventy-five points per game nightly. The last time the Oral Roberts' Golden Eagles played, they took on the Florida Gators and knocked them out by beating them 81-78. They amassed ten three-pointers, netted twenty-six from the field, and went nineteen for twenty-three from the free-throw line. Oral Roberts grabbed twenty rebounds and gave up thirty-four rebounds off the glass to Florida. They also recorded twelve assists and conceded a matching twelve assists to the Gators. On defense, they forced nineteen turnovers and grabbed twelve steals. Betting Software For Bookies – How Can it Benefit You?.
The Florida Gators shot thirty-two for fifty-eight from the field, drained seven from three-point land, and went seven for nine on their trips to the free-throw line. They also recorded seven steals and had three blocked shots on Oral Roberts. A huge star for Oral Roberts was Kevin Obanor, who scored twenty-eight points and grabbed eleven rebounds, in his forty-minutes on the court. Then, another key player for the Oral Roberts' Golden Eagles was Max Abmas, who amassed twenty-six points, seven assists, and two rebounds in his forty minutes of playing time. This Oral Roberts' team is quite explosive and has the endurance, ability, and toughness to play against higher-caliber teams and ruin their day. However, this Arkansas Razorbacks' team is dangerous and has been playing great all season. This will truly be a test for Oral Roberts and has the potential to be an exciting game. How to Select a Virtual Online Casino.
Will Oral Roberts pull the upset again or will their glory be short-lived? Anything can happen during March Madness, at Ace Pay Per Head out pick to win this college basketball game against the spread is going to the Oral Roberts' Golden Eagles. ​Online Bookie – A Great Way to Make Money.
Oral Roberts:
Arkansas:
PPH Tips: