Oregon State Beavers vs Loyola Ramblers
March 25, 2021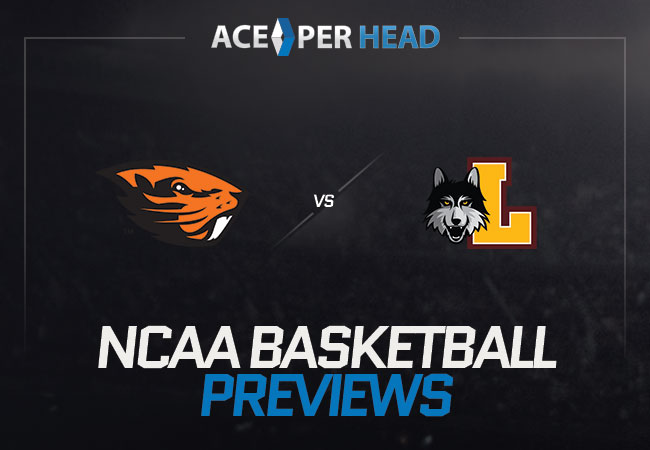 2:40 pm @ Bankers Life Fieldhouse
The Loyal Ramblers look to continue their hot streak, as they take on the Oregon State Beavers in the Sweet Sixteen round of March Madness this Saturday.
Loyola has a stellar record of twenty-six wins and four losses. Also, they are going into this game as the favorites. On offense, Loyola is hitting fifty percent from the field, which is fourteenth in NCAA basketball. The Ramblers have averaged seventy-two points per game and 2,144 points in total this season. The Ramblers are committing fourteen fouls a game and shoot seventy-two percent from the line. On defense, they are the best in college hoops for points allowed with an average of fifty-six points per game. Their defense is their backbone, forcing fourteen turnovers a game, while they lose possession of the ball twelve times a game. They conceded 165 from downtown this season, and their opponents have managed to knock down seventy percent of their trips to the line. They have given up nine assists per game while amassing sixteen assists nightly, which is the thirty-third in college hoops. Also, they have relinquished twenty-seven rebounds per game( 2nd in NCAA), while grabbing an average of thirty-three rebounds off the glass nightly. The last time they took the court, the Ramblers took down the Illinois Fighting Illini by the score of seventy-one to fifty-eight. In that game, Loyola grabbed twenty-eight rebounds and lost twenty-four rebounds to the Fighting Illini. Then, they lost possession of the ball ten times, recording twelve steals against the Fighting Illini. The Ramblers went to the free-throw line twenty-two times and they drained fifteen of those attempts. In doing so, Loyola scored on four three-pointers, shooting forty percent. The Loyola Ramblers left that night shooting twenty-six for fifty-one from the floor. Then on defense, they allowed the Fighting Illini to go twenty-two for forty-nine from the field. As well as going four for fourteen from beyond the arc, they went ten for thirteen on their trips to the free-throw line. A star for this Loyola team was Cameron Krutwig who put up nineteen points, twelve rebounds, and five assists for the Ramblers in his thirty-three-minute tenure. Then, another baller for the Ramblers, who was essential to their success was Lucas Williamson, who put up fourteen points, and two rebounds in his thirty-six minutes on the court. Get Started With Casino Sports Betting Through Pay Per Head Services.
The challengers, the Oregon State Beavers, are going into this game with a record of nineteen wins, and twelve losses. The Beavers have hit 219 three pointers, netted forty-four percent from the field, and shot seventy-six percent from the free throw line. Overall, the Beavers are averaging seventy-one points per game. This team is turning the ball over twelve times nightly and are committing nineteen fouls a night. As a unit, Oregon State is recording thirty-five rebounds per game, and have 453 assists so far this season. On defense, the Beavers force twelve turnovers a game, and draw eighteen fouls a match. This Beaver team relinquishes thirty percent of three-pointers against them, as well as 725 so far from the field, for an average of sixty-eight points per game allowed, which is 190th in college basketball. As far as assists go on defense, they gave up 383, and are losing thirty-three rebounds a night off the glass. The Oregon State Beavers beat the Oklahoma State Cowboys the last time they took the court and won by the score of eighty to seventy. The Beavers amassed twenty-one out of fifty-one from the field, had six from downtown, and took a whopping thirty-five trips to the line, hitting thirty-two of those shots for a ninety-one percent rate. Additionally, Beavers collected forty-nine rebounds, while dishing out seven assists, eight turnovers, and two steals. On defense Oregon State gave up ten assists, eleven steals, two blocked shots, and twenty-eight rebounds to the Cowboys. They also let Oklahoma State shoot eighteen for sixty-five from the field, then went twenty-six for thirty-eight from the free throw line, and they drained eight shots from three-point land. A key player in this matchup was Ethan Thompson, who put up twenty-six points, and grabbed seven rebounds in his twenty-eight minutes of playing time for the Beavers. Thompson had a shooting percentage of forty-five percent. Another key player was Jarod Lucas, as he amassed fifteen points, and one assist while playing thirty-one minutes. A Closer Look At The Trial Period On Pay Per Head Services.
This matchup between the Loyola Ramblers and the Oregon State Beavers looks to be a great one, and the only one can move on to the next round. At AcePerHead.com our pick to win this game against the spread is going to the Oregon State Beavers.
Oregon State:
Loyola Chicago:
Top Articles for Bookmakers: