Orlando Magic vs. Los Angeles Lakers
March 28, 2021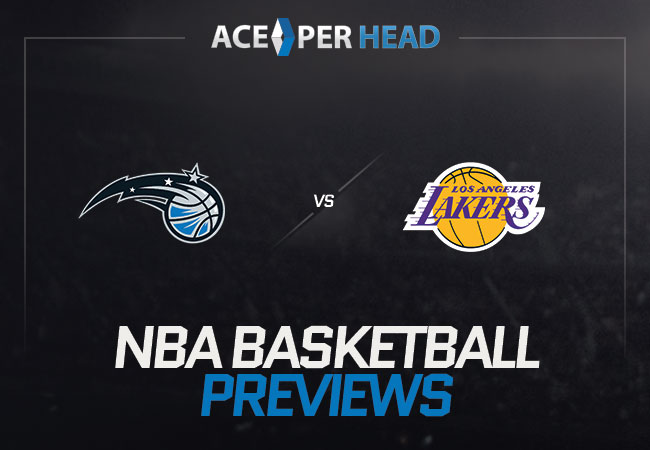 10:00 p.m. @ Staples Center
The Los Angeles Lakers play host to the Orlando Magic for some Sunday night basketball action.
The Los Angeles Lakers are playing with a record of twenty-nine wins, and seventeen losses as they go into this contest as the favorites. The Lakers are hitting forty-eight percent of their shots from the field, which is the eighth-best in the National Basketball Association. The Lakers have drained 5,107 points so far this season, for an average of 111 points per game. Los Angeles is grabbing forty-five rebounds a night, while they are giving up forty-two a game to their opponents. They are averaging twenty-five assists per game which is sixteenth best in the NBA. On offense, they are turning the ball over fifteen times per game, while on defense they are forcing fifteen turnovers a game. This Los Angeles team is committing nineteen fouls a night, and are netting seventy-four percent of their shots from the free-throw line. On defense, the Lakers are notched at second in the NBA for points allowed with 106 points per game. They have given up 529 three-pointers, and let the opposition hit seventy-six percent of their shots from the free-throw line. They have given up twenty-five assists to their opponents nightly as letting them shoot forty-five percent from the field nightly, which is the seventh-best in the league. In their last skirmish, the Los Angeles Lakers took on the Cleveland Cavaliers and beat them 100-86. the Lakers pulled down forty-five rebounds, as they gave up thirty-seven rebounds to the Cavaliers. The Lakers lost possession of the ball twenty-three times, and they collected fifteen steals from the Cavs. Legal Sports Betting: How to Bet on Sports for Beginners.
The Lakers got sent to the line a total of twenty-five times, and they were able to convert eighteen of those attempts. Then Los Angeles drained six shots from three-point land while going thirty-eight for seventy-eight from the field. The Cavaliers went thirty-one for eighty, with five three-pointers, and going nineteen for twenty-eight from the free-throw line on the Lakers. Dennis Schroder Ended up being a huge key player for this Lakers team. Schroder went seven for twelve, and a shooting percentage of fifty-eight percent from the field. He put up seventeen points, seven assists and grabbed five rebounds in his thirty-two minutes of playing time. Then another star for the Lakers was Markieff Morris who put up thirteen points, five rebounds, and two assists in his twenty-seven minutes on the court. Morris walked off the court going five for ten from the floor, shooting fifty percent. Orlando is going into this contest with a record of fifteen wins, and thirty losses so far this season and they are averaging 104 points per game which Is the twenty-ninth best in the league. The Magic are draining forty-three percent of their shots from the field, hitting seventy-eight percent of their shots from the three-point line, and they have hit 542 three-pointers so far this season. As a team, Orlando has been grabbing forty-six rebounds per game and has amassed 1,024 assists this season. They are turning the ball over thirteen times a contest while committing seventeen fouls a night. How to Create a Betting Website: A Beginner's Guide.
On defense, this Magic team is forcing their opponents to turn the ball over thirteen times a game, and are drawing eighteen fouls as well. They are giving up thirty-six percent of their opponents' shots from three-point range, as well as giving up 568 shots from the field, for an average of 113 points per game allowed which is the fifteenth best in the league. They have 1,149 assists, and forty-six rebounds to the opposition. The last time the Orlando Magic took the court they tipped off against the Portland Trail Blazers and lost by the score of 112-105. Orlando shot forty-four percent from the field going forty-two for ninety-five, then drained twelve shots from three-point land. As they went nine for seventeen from the free-throw line. Then the Magic earned forty rebounds, while they relinquished forty-six rebounds to their opponents. Then the Magic collected twenty-nine assists and seven steals. While on defense they forced sixteen turnovers, and Orlando let Portland shot forty-seven percent from the field shooting forty for eighty-five, then they shot sixty-seven percent from the free-throw line draining fourteen of their twenty-one attempts. Also netting eighteen attempts from three-point land, while also giving up twenty-one assists, seven steals, and five blocks to the Portland Trail Blazers in their last exhibition. How to Become an Online Bookie.
A key player for the Magic was Chuma Okeke, he put up twenty-two points, shooting nine for fifteen. As well as grabbing six rebounds, and four assists in his thirty-seven minutes of playing time. Another key player who made an impact for this Orlando Magic team was James Ennis who put up eighteen points, dished four assists, and grabbed three rebounds in his thirty-five-minute tenure in this game against the Trail Blazers. Ennis and Okeke walked off the court shooting sixty percent from the field, Ennis shooting six for ten, Okeke going nine for fifteen.
The Los Angeles Lakers have been one of the hottest teams all season will their reputation stay true in this matchup or will the Orlando Magic prevail. Both of these teams play with tenacity and heart but there can only be one victor, at AcePerHead.com our pick to win this game against the spread is going to the Lose Angeles Lakers, and to take the Over.
Orlando Magic:
Los Angeles Lakers:
More Tips for Bookies: