Phoenix Suns host Indiana Pacers
March 13, 2021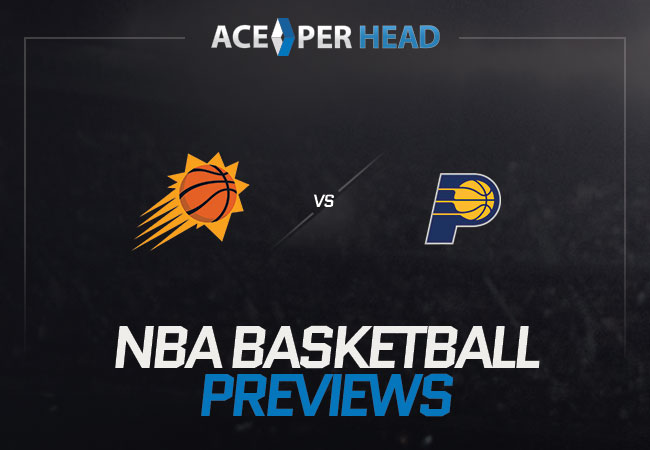 10:00 p.m. @ Phoenix Suns Arena
The Phoenix Suns host the Indiana Pacers for some Saturday night basketball action.
The Suns are currently playing with a record of twenty-five wins and eleven losses. This Phoenix team is one of the hottest teams in the West, as they have just beat the Portland Trail Blazers. This Suns team shot fifty-nine percent from the field, and fifty-four percent from three-point land. Also, Phoenix was able to dish out some damage even though Deandre Ayton had a bad game. Devin Booker went twelve for twenty-one putting up thirty-five points, eight assists, and five rebounds. Then Chris Paul aka CPS went hard for the Suns as usual with nineteen points, seven assists, and five rebounds, in his thirty-one minutes of playing time. This team has become consistent since the beginning of the season, and after they beat the Trail Blazers, they collected their fifth straight win, as well as seventeen in their last twenty games. This team proved itself as playoff contenders last season, and with their recent performance having the best mark in the NBA, it looks like they have a promising future this season. The challenger the Indiana Pacers are going into this matchup as underdogs, playing with a record of sixteen wins and twenty losses, and are currently struggling. Their most recent loss comes from the Lakers on Friday. They are also about to start a West Coast road trip against a bunch of competitive teams, and the fact that they are coming off of a losing streak, is daunting. Myles Turner went off for the Pacers in their last contest, as he amassed twenty-two points and twelve rebounds in thirty-eight minutes. On the other hand, Paul McDermott went hard in the paint netting twenty points, recording one assist, and grabbing four rebounds in his twenty-nine minutes on the court. Some good news is Caris LaVert is coming back sometime this road trip and he has been a huge playmaker for this team. Also, when T.j. Warren makes his return, it's going to make this Pacers team all the more dangerous, and he could become a major threat, come playoff time. But for the meantime while they are not 100% healthy, they need to come up with a game plan, so they don't get destroyed on this road trip, because this team desperately needs to bounce back. The last time the Suns and Pacers played in January, Phoenix took home the victory 125-117.
At Ace Per Head.com our pick to win this game against the spread is going to the Phoenix Suns. They are one of the hottest teams in the NBA and will most likely outperform a team like Indiana. For every agent, out there who is looking to maximize their profits during the NBA Regular Season and the Playoffs, there is no better ally than the expert bookmakers at AcePerHead.com, they not only understand how to run a sportsbook flawlessly, but, they also understand all the predicaments an agent faces, and this understanding coupled with the great value they place on their customers is what motivates them to post the best custom price per head basketball lines in the business.
Let's be honest, the NBA Playoffs are the last real chance for agents to make some money before the mid-year lull arrives. Between late April and mid-July is when the NBA playoffs take place. With the incredible TV coverage of games, along with the loyal fans, this is the perfect combination for bookies to take full advantage of the skills that Ace Per Head offers and increase their profits.
Indiana Pacers:
Phoenix Suns: