St. John's Red Storm vs. the Seton Hall Pirates
March 11, 2021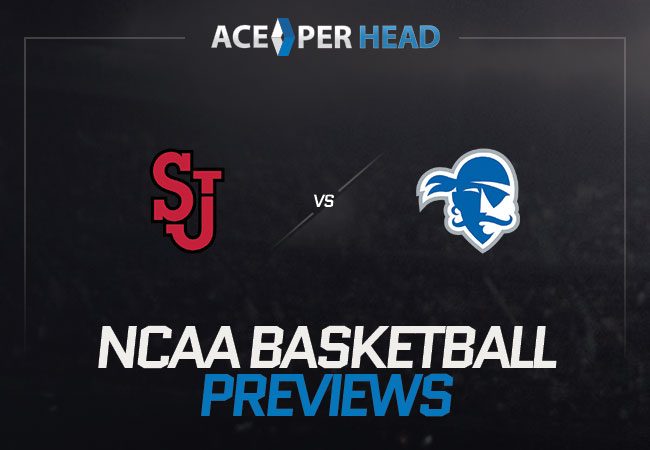 3:00 PM @ Madison Square Garden
The Saint Johns Red Storm set to take on the Seton Hall Pirates for some Thursday night Basketball action.
Madison Square Garden is the venue for this matchup, and the Pirates are going into this contest as the favorites. St. John's Basketball has a win/loss record of sixteen wins, and ten losses this NCAA season, and are shooting forty-five percent from the floor.
So far this season they have totaled 2,063 points, and they are averaging seventy-nine points per game, grabbing thirty-six rebounds off the glass. They are twenty-second in division one for assists with sixteen a match and are relinquishing thirteen turnovers as well. The Red Storm are fouling eighteen times a match, and are hitting seventy-five percent of the shots they take from the free-throw line.
St. Johns is giving up seventy-seven points per game, also fifteen assists, and are giving up thirty-six rebounds to the opposition. They have given up 201 three-pointers as a unit while letting the opposition shoot forty-six percent from the field. They are also forcing their challengers to turn the ball over an average of sixteen times a game. The last time the Red Storm took the court, they actually played Seton Hall earning thirty rebounds. They lost twenty-nine rebounds to the Pirates, ending up losing possession of the ball fifteen times and recording eight steals in this game. The Red Storm were able to drain thirteen out of sixteen attempts from the free-throw line. As for beyond this St. Johns's team managed to knock down ten three-pointers.
As a result, they went twenty-nine for fifty-six from the floor. The Pirates made twenty-four shots from the field, they netted seven from three-point land, and went sixteen for twenty-one from the free-throw line. A key player for this St. Johns team is Julian Champagnie who made a huge impact in this game. Champagnie went seven for fifteen from field goal range, for twenty-two points, and had six rebounds while playing thirty-five minutes on the hardwood. Another star for this team is Greg Williams who finished this game with eleven points and played thirty minutes, with a matching five rebounds and five assists. Williams shot sixty-seven percent from the field for the Red Storm, and Champagnie shot forty-seven percent. The Seton Hall Pirates are playing with a record of thirteen wins and twelve losses, they are averaging seventy-two points per game, shooting forty-five percent from the floor, seventy-four percent from the free-throw line, and they have drained 170 three-pointers so far.
As a team, Seton Hall grabbed thirty-four rebounds, 326 assists, while they are losing the ball averaging thirteen turnovers per game, and are committing sixteen fouls on top. On defense, the Pirates are forcing thirteen turnovers and are drawing fouls an average of eighteen times a match. While giving up 314 assists to opponents, they also have given up thirty-six percent of three-point shots taken against them. Also, this Seton Hall team is giving up thirty-four rebounds to the opposition and an average of seventy points per game given up. When Seton hall walked away from their last battle with a loss by the score eighty-one to seventy-one, Seton Hall shot twenty-four for fifty-nine from the floor, and seven from three-point land. The Pirates connected sixteen times out of their twenty-one attempts, then they collected twenty-nine rebounds while they gave up thirty rebounds to the Red Storm. Seton Hall dished out fifteen assists, and forced fifteen turnovers, and grabbed seven steals from St. Johns. On defense Seton Hall permitted the opposition to shoot twenty-nine for fifty-six from the field, then ten from downtown, and thirteen out of sixteen from the free-throw line.
Also, they gave up seventeen assists, eight steals, and tacked on 2 blocks. A star for this Seton Hall team is Sandro Mamukelashvili is an important player in this game he put up fifteen points, ten rebounds, and four assists in his total thirty-eight minutes on the court. Another player who had an impressive showing for the Pirates was Shavar Reynolds who put up thirteen points, three assists, and grabbed one rebound in his thirty-five minutes of action. Reynolds had a shooting percentage of sixty-two percent, while Sandro shot forty-six percent from the floor. This game is set to be an exciting one, it's going to be a tri-state battle between New Jersey and New York.
At www.AcePerHead.com our pick to win this game against the spread is going to the Seton Hall Pirates, and to take the Under.
Seton Hall:
PS/Total: -2.5-115
Total O/U: 149.5-115
St. Johns:
PS/Total: 2.5-105
Total O/U: 149.5-105
PPH Sports Betting Tips: