TCU Horned Frogs vs. Kansas State Wildcats
March 10, 2021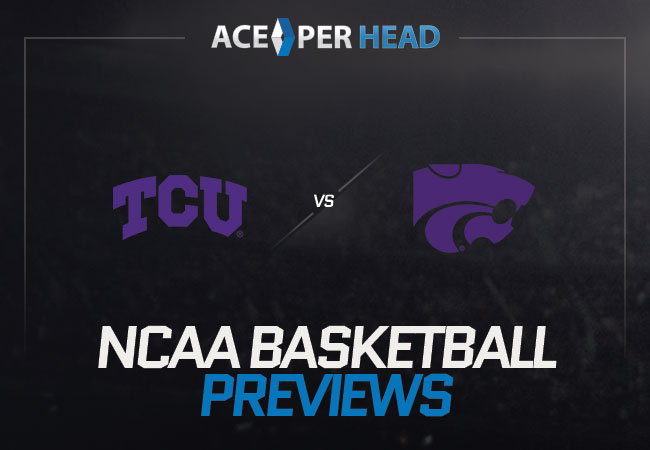 6:30 p.m. @ T-Mobile Center
(Big 12 Tournament)
The Kansas State Wildcats are set to host and tip off against the TCU Horned Frogs in some Big 12 Conference Basketball.
The TCU Horned Frogs are the favorites going into this matchup and have a record on twelve wins and thirteen losses so far this season. TCU has been averaging sixty-seven points per game, with a total of 1,688 this season. This team is grabbing thirty-five rebounds, are committing sixteen fouls per game, and are hitting sixty-eight percent of their shots from the free-throw line.
On offense, this team is making forty-four percent of their shots from the field, which is 190th in college hoops. This TCU team is dishing the rock an average of thirteen times a game, and are turning it over fourteen times a game, while they are forcing the turnover an average of eleven times per contest.
On defense, they are ranked 210th in division 1 for points given up with seventy-one. They have let up 170 three-pointers and sixty-nine percent of their opponents' free throws. TCU has given up thirty-four rebounds while relinquishing twenty-seven rebounds to the Longhorns. As well as having sixteen assists, they are letting the opposition shoot forty-five percent from the floor. The last time TCU took the hardwood, they played the Texas Longhorns and took home a loss by the score of seventy-six to sixty-four.
The Horned frogs grabbed twenty-five rebounds in total, turned the ball over twenty-one times, and recorded four steals in this game. The Horned frogs shot eight for fourteen from the free-throw line. TCU netted eight from three-point land, and twenty-four from the floor. On defense, they let up thirty from the field, eleven from beyond the arc, and five from the free-throw line. A star for this team was RJ Nembhard, who made a huge impact in this game for the TCU Horned Frogs. He went three for eight for thirteen points, four assists, and two rebounds in thirty-six minutes of playing times. Another key player for the Horned Frogs was Mike Miles who went nine for four putting up twelve points, grabbing six rebounds, and four assists on top.
The Challengers, the Kansas State Wildcats, have a record of eight wins and nineteen losses. The Wildcats have made 176 three-pointers this season and are hitting sixty-six percent of their shots from the free-throw line, and forty-one percent from the floor. Kansas is averaging sixty-one points per game, as well as fifteen turnovers and seventeen fouls a match. As a unit, Kansas State is grabbing thirty-three rebounds while relinquishing thirty-three rebounds to the opposition. Kansas State is dishing 349 assists up to this point, which is eighty-fifth in division one basketball for assists giving up 370 assists. On defense, the Wildcats are forcing thirteen turnovers a game, and are drawing fifteen fouls. They are giving up thirty-seven percent of three-pointers shot against them, 674 from field goal range, with an average of seventy-one points per game against opposing teams. The last time the Kansas State Wildcats took the hardwood, they took on Iowa State. In this game, Kansas State took home the win by the score of sixty-one to fifty-six. Kansas State shot nineteen for fifty from field goal range, netted seven three-pointers, and went sixteen for twenty-four from the free-throw line.
The Wildcats grabbed twenty-four rebounds, dished ten assists, recorded five steals, and forced fifteen turnovers. On defense, they let up nineteen from the field, five three-pointers, and thirteen from the free-throw line. Also, Iowa State grabbed thirty-eight rebounds, nine assists, took three steals, and earned one block from Kansas State. A key player in this game for Kansas State was Mike McGuirl who was clutch for this Wildcats team as he amassed seventeen points, five rebounds, and one assist in a total of thirty-eight minutes of playing time. Another star for Kansas State was Dajuan Gordon who saw twenty-one minutes of playing time and shot forty-three percent from the field for a recorded twelve points and five rebounds. Both of these teams are offensively explosive, and TCU has one of the best defenses in their conference. These teams ended the regular both going different routes: the Horned Frogs have lost six games going into this matchup, and Kansas State has won three out of their four most recent games. These two teams met twice before this season and are tied 1-1, TCU won in January by the score of sixty-seven to sixty. Then Kansas State won in February, sixty-two to fifty-four.
At www.AcePerHead.com our pick for this game is going to the Kansas State Wildcats to win this college basketball game ATS. The winner of this game is going to face off against Baylor (Big 12 Regular Season Champs) in the quarterfinals in the Big 12 tournament.
How to Become a Bookie and Start Your Own Business.
At Ace Per Head our Sportsbook rules are as follows, for all other Basketball leagues, the action becomes live only if no less than 35 minutes of play are completed (unless otherwise specified). If a game is terminated prematurely for any reason, all action is canceled, and your wagers will be refunded. If a game goes into overtime, the final overtime scores are used instead for 2nd half wagering on both sides and totals. Wagers placed on the 4th quarter lines will not include overtime scoring. Wagers taken on an NBA Team's season are only valid if the team completes its full 82-game season. If for any reason a game is canceled and not rescheduled, these wagers will be canceled and refunded. All Straight Wagers lay -110/100 unless otherwise specified. The max win on any parlay is $10,000, A tie in any Super Teaser is considered a loss. Then in case of a tie or no action in a game, a parlay is reduced to the next lowest number of plays. A two-team parlay becomes a straight bet. In a three-team teaser or more, the teaser automatically reverts down to the next lowest number of teams (a four-team teaser with a tie becomes a three-team teaser). Any two-team teaser with a winner and a tie or no action is considered a PUSH. Never forget when betting NCAA Basketball that Ace Per Head offers the most competitive live lines and odds, and early access to March Madness.
Pay per Head: The Fine Line Between Satisfaction and Price Point.
Kansas State:
PS/Total: 4-105
Total O/U: 128.5-110
TCU:
PS/Total: -4-115
Total O/U: 128.5-110