Tennessee Volunteers host the Alabama Crimson Tide
March 13, 2021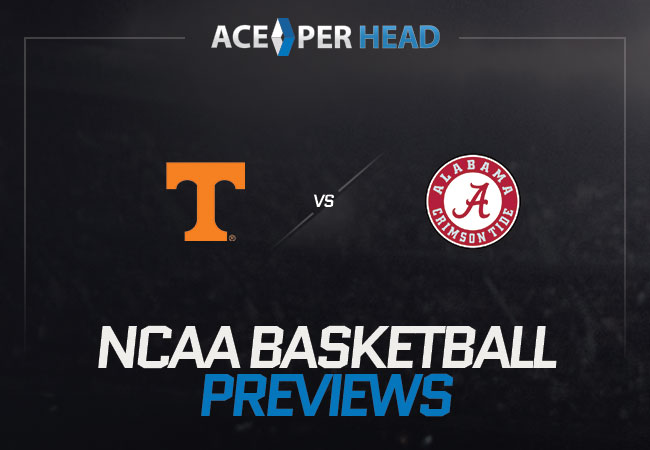 1:00 p.m. @ Bridgestone Arena
The Tennessee Volunteers play host to the Alabama Crimson Tide for some Saturday afternoon College Hoops action, at Bridgestone Arena in Nashville, Tennessee.
The Alabama Crimson Tide is going into this contest as the favorites. Plus, Alabama is currently playing with a record of twenty-one wins and six losses this season. Alabama is committing an average of nineteen fouls per game and is shooting seventy-one percent from the free-throw line. Is Pay per Head Legal? (The Answer Is Yes).
The Crimson Tide are dishing out fourteen assists per game, while they are losing possession of the ball an average of fourteen times per game. Alabama has drained 2,149 points so far this season, for an average of eighty points per game. Also, this team is doing quite well off the glass, grabbing forty rebounds per game. On offense, Alabama is hitting forty-three percent from the field. Then they are letting in forty-one percent in from the floor, which is fifty-second in division one. As well as 162 from the three-point range and they are letting in sixty-eight percent of the free throws from the opposition. This has Alabama ranked 185th in Division one for points per game allowed with an average of seventy-three. Lastly, they have given up an average of thirty-nine rebounds per game, and eleven assists to the opposing offense. How to Become a Bookie in 5 Easy Steps.
The last time Alabama took the court they walked away with a victory over the Georgia Bulldogs. The Crimson Tide grabbed forty-three rebounds in total and relinquished twenty-eight rebounds to Georgia while recording ten steals and losing possession of the ball twenty-one times. The Crimson tide made thirteen in out of twenty trips to the free-throw line, shooting sixty-five percent from the line. They drained ten from beyond the arc and buried thirty-three out of sixty-eight from the field. The Crimson Tide defense let the Bulldogs from Georgia convert twenty-nine out of sixty-two from the floor, eight from way downtown, and they went thirteen for twenty-three from the free-throw line, shooting fifty-six percent as a unit. A star for this Crimson Tide team was John Petty who had a major showing for this team. Petty put up fifteen points, seven rebounds, and one assist in his twenty-nine minutes of playing time as a rebounding machine. Another star for Alabama is Jaden Shackelford, who walked away with fourteen points, six rebounds, and two assists in his total thirty-two minutes on the court. Petty shot sixty-two percent for the night, while Shackelford trailed with forty-three percent shooting from the floor going six for fourteen. Tennessee is going into this contest with a current record of seventeen wins and seven losses this season. All the Important Betting Terms Explained.
The Volunteers have made 157 from three-point land and are shooting forty-four percent from the field, as well as draining seventy-four percent from the free-throw line and averaging seventy-two points per game. They are losing possession of the ball twelve times a match and are fouling an average of sixteen times a match. This Tennessee team is bringing down thirty-six rebounds a game, while they relinquish thirty-three rebounds to the opposition. While giving up 242 assists to opponents, Tennessee has dished out 357 assists so far and is ranked seventy-seventh for assists in NCAA basketball. While on defense, they forced an average of sixteen turnovers per game and drew the foul twenty times a match. Guidelines-on-how-to-select-a-good-pay-per-head-services.
Also, the Volunteers have given up 527 from the field, thirty-two percent of shots from three-point land, and are ranked twenty-second in College Basketball for points per game allowed with an average of sixty-three per game given up. The last time the Volunteers took the hardwood, they took on the Florida Gators and Tennessee took home the victory by the score of sixty-five to fifty-four. Tennessee drained twenty-seven from the field, three from three-point land, and went eight for thirteen from the free-throw line, shooting sixty-one percent. They also grabbed thirty-four rebounds while giving up twenty-six rebounds to Florida, dishing out thirteen assists, while Florida recorded six assists. While on defense, they collected eight steals and forced sixteen turnovers. Then, the Volunteers allowed Florida to earn three blocks and nine steals, as they also went on to drain twenty from the floor. Three tries from beyond the arc, and they went eleven for eighteen from the free-throw line. A star for the Tennessee Volunteers was Keon Johnson, who also was a key player in this game. Johnson amassed fourteen points, two assists, and three rebounds while playing for a total of thirty-four minutes. What Are the Differences Between a Bookie and a Professional Bookie?.
Another impact player for this Tennessee team is John Fulkerson. Fulkerson put up fourteen points, brought down seven rebounds, and added four assists on top in his thirty-four-minute tenure in their last game. Keon Johnson finished the night shooting sixty-four percent from the floor, and Fulkerson shot sixty percent from the floor for the Volunteers when the clock hit zero. Overall these two teams are powerhouses and this game looks to be an exciting one as the #1 seed Alabama Crimson Tide are set to take on the #4 seed Tennessee Volunteers in the SEC Tournament Semifinals, as only one will make it to the Finals Sunday, March Fourteenth. Guidelines on How to Select a Good Payment Service Firm.
At AcePerHead.com our pick to win this game against the spread is the Alabama Crimson Tide. Ace Per Head offers you competitive live lines and odds on NCAA Basketball, oddsmakers are sure to keep you busy with betting offering starting from early tournaments to March Madness, brackets, props, and futures. Our NCAA Basketball pay per head software makes betting College Basketball a dream and can increase a bookie's profits substantially when you work with Ace Per Head, the absolute best and one-stop-shop for all of your Sportsbook needs.
Tennessee:
Alabama:
Top Per Head Sportsbook Tips: