Thursday Night NBA Picks – Feb 24th,
February 24, 2021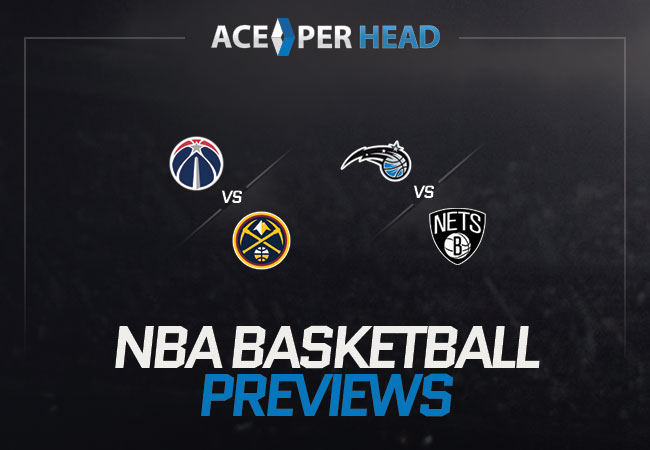 Washington Wizards vs Denver Nuggets
The Denver Nuggets play host to The Washington Wizards who look to continue their awesome five-game winning streak. Bookmaking Guidelines – Why Do You Need Them?
The Denver Nuggets are locked in as seven point favorites for this game. To say the least, this Season has taken a strange turn going from one of the best records and teams, dominating the West, to a record of seventeen and fourteen. However, everything started to turn around when the Nuggets had an amazing showing Tuesday night against the Portland Trail Blazers that will go down in history. This Denver team trumped Portland 111-106 and they only lost possession of the ball once. This is huge because having no turnovers made them win this matchup from points amassed due to the turnover differential. In effect, this has to be an NBA record and anytime this happens a team is going to be difficult to beat. Nikola Jokic came up huge for the Denver Nuggets netting forty-three points.
Another key player for this Denver team is Jamal Murray, who managed to put up nineteen points for this Nuggets team. Denver should be thankful for this win because they needed it. Before getting their mechanics together and working on their ball movement, this team lost three games. With other players not being able to step up to the plate, like this season's fan hopeful player, Michael Porter Jr. the Nuggets have to find someone to fill the gap by the trade deadline. This team is strengthening up some areas and you should definitely keep an eye out for this team for any big power moves they might make. Start Learning How to Start a Wagering Business Online.
The Washington Wizards are playing in the National Basketball Association with a current record of eleven and eighteen. They were killing it, by winning five games straight, but in their most recent contest, they were blown out by the Los Angeles Clippers. During their win streak, they beat dominant teams such as the Los Angeles Lakers and the Portland Trail Blazers. After this road trip, the Wizards stand up on top of the Eastern Conference instead of on the bottom. The main man for this Wizards' team is Russell Westbrook who has balled out on both ends of the court and has provided a lot of support to the team since returning. Westbrook is averaging twenty-one points, eleven rebounds, and twelve assists since returning from being sidelined. Another key player for this Washington Wizards team is Bradley Beal, who carried the Wizards in Westbrook's absence. The last time these teams played was last week and Washington came out on top beating the Denver Nuggets 130 to 128. Become a Bookie – A Career Choice With Great Profits.
At www.AcePerHead.com our pick to win this game against the spread is going to the Washington Wizards. Overall this Wizards team has been hot, and they have what it takes to win this game. The best Pay per head services. Before they head home after this West Coast road trip, they will take home one more win.
Washington Wizards:
PS/Total: 7-110
Total O/U:237-110
Denver Nuggets:
PS/Total: -7-110
Total O/U:237-110
Orlando Magic vs. The Brooklyn Nets
This Thursday night, the Orlando Magic are set to take on The Brooklyn Nets for some East Coast basketball action. The Brooklyn Nets open this game as 8.5-point favorites and are playing with a stellar record of twenty-one and twelve. Although they had a rough start to the season, they worked out some kinks and now this team is ready to try and take over the league. This Brooklyn team has finally found their flow of building a strategy and dealing with injuries. They are going into their next contest-winning seven games straight, and they have done so without one of their most vital resources: Kevin Durant. Durant is out dealing with a hamstring injury and there is no date set for his return. In their most recent contest, the Brooklyn Nets defeated the Sacramento Kings and it looks like there is no stopping this Brooklyn team. James Harden had an amazing showing for the Nets leading them with twenty-nine points, fourteen assists, and grabbed eleven rebounds. A secret weapon in their offense is DeAndre Jordan who put up ten points and eight rebounds, along with Joe Harris who delivered eighteen points, four rebounds, and one assist. Another asset to this Brooklyn team is Bruce Brown who matched Harden's twenty-nine points. How Are Pay Per Head Services Different From Real-Time Betting?
Then Kyrie Irving, who is the star for this team, put up twenty-one points, seven assists, five rebounds, and three steals. As far as injuries go, Jeff Green and Kevin Durant are listed as questionable for this Thursday night game. This impacts the team greatly because both players get a lot of playing time and produce on both sides of the court. Despite this, the Nets seem to have everything under control and are on a good path.
The Orlando Magic are playing in the NBA with a record of thirteen and nineteen, finally getting themselves out of the struggle they were in for a while. The upward trend in their record proves that they are improving exponentially. Unfortunately, in their most recent outing, the Magic lost to the Detroit Pistons by ten plus points. Detroit has allowed been on the rise and they just had a better game than the Magic on Tuesday night. A key player for the Magic is Evan Fournier putting up fourteen points, eight rebounds, three assists, and one steal for Orlando. Two other players to keep an eye on as the season goes on is Michael Carter-Williams with eleven points, six rebounds, five assists, and one recorded block. On the other hand, there's Terrance Ross who put up thirteen points, eight rebounds, four assists, and steals, and one block. Bookmaking Guidelines – How to Write Original Material.
Then lastly, the all-star is Nikola Vucevic who collected twenty points, nine rebounds, four assists, and two blocks, who led them in this loss. Injury wise the Magic are without Cole Anthony and all-star Aaron Gordon for this game. Unfortunately, this is devastating because these are essential players in the starting lineup. This is the second and final meeting between the Brooklyn Nets and the Orlando Magic, meeting last in January when the Nets beat the Magic, and they seek to bring out the broom and sweep them in the series for the year.
At AcePerHead.com our pick to win this game against the spread is going to the favorites: the Brooklyn Nets. At Ace Per Head we are your one-stop-shop for everything on running your own sportsbook.
From the sharpest lines created by our expert line managers to the best client service, an agent could ask for. The best bookie software will let you grow your business easily.
Orlando Magic:
PS/Total: 8.5-105
Total O/U: 229-110
Brooklyn Nets:
PS/Total: -8.5-115
Total O/U: 229-110