UCLA Bruins vs Alabama Crimson Tide
March 28, 2021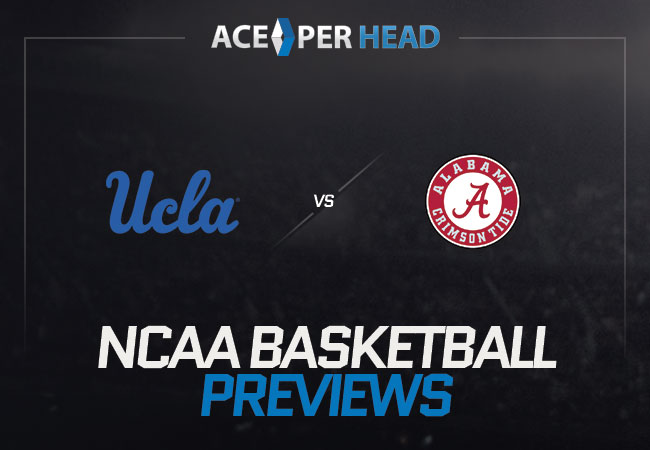 7:15 p.m. @ Hinkle Fieldhouse
The Hinkle Fieldhouse is home to this next matchup in the Sweet Sixteen round of the NCAA Tournament, between the UCLA Bruins and the Alabama Crimson Tide.
The Alabama Crimson Tide go into this contest as the favorites and are playing with a record of twenty-six wins, and six losses so far this season. On offense they are shooting forty-three percent from the field,  they have scored a total of 2,551 points so far this season, and they are averaging eighty points per game. They are grabbing forty-rebounds per game, as they are also averaging fourteen assists per game, while they turn the ball over an average of fourteen times a game. How to Become a Bookie: A Complete Guide.
Alabama commits an average of eighteen fouls nightly, and they drain seventy-two percent of their shots from the free-throw line. Then on defense, the Crimson Tide give up an average of sixty-nine points per game. They have given up eleven assists, and thirty-eight rebounds a game. As well as letting opponents drain 195 from three-point range, forty percent from the field and their opponents make sixty-eight percent of their free-throw tries. Then as a defensive unit, they force sixteen turnovers a game. The last time they took the court the Alabama Crimson Tide beat the Maryland Terrapins by the score of ninety-six to seventy-seven. The Crimson Tide grabbed thirty-nine total rebounds in this game, as well as turning the ball over nine times, they added five steals from Maryland as well. They took ten trips to the line and they managed to drain ten of those attempts. Then Alabama went sixteen for thirty-three from three-point range, and then thirty-five for sixty-six from the floor. The Crimson Tide let Maryland go thirty-two for sixty from the floor, then they drained ten from three-point land on Alabama, and the Terrapins finished three for seven from the free-throw line. Then while pertaining to rebounds they were able to collect nineteen off the glass. 6 Can't-Miss Sports Gambling Tips.
A key player in this matchup for Alabama was Jaden Shackelford, he was a vital part of this team on both sides of the court. He amassed twenty-one points, three rebounds, and three assists in his thirty-two minutes on the court. Then another star for the Crimson Tide was John Petty who ended the night with twenty points, six rebounds, and two assists. Petty played a total of thirty-two minutes in this game and shot forty-seven percent going seven for fifteen from the floor. The challengers the UCLA Bruins go into this contest with a record of twenty wins, and nine losses so far this season. They are averaging seventy-three points per game, and they are shooting forty-six percent from the field. The Bruins have hit 197 shots from three-point land, while they are shooting seventy-one percent from the free-throw line. As a unit, UCLA is grabbing thirty-five rebounds per game, while they lose thirty-one rebounds as a unit. They have amassed 392 assists so far this season, which has them ranked fifty-second best for assists in college basketball. As a unit, they manage to turn the ball over eleven times a match and are committing sixteen fouls nightly. Then on defense, they are forcing twelve turnovers a game, and they are drawing the foul eighteen times a game. So far this season they have given up 350 assists, 711 from the field, thirty-four percent of shots from three-point land for an average of sixty-eight points per game allowed which is 109th in the country. The last time UCLA took the court they defeated the Abilene Christian Wildcats by the score of sixty-seven to forty-seven. UCLA finished shooting twenty-seven for fifty-eight from the field, then seven from three-point land, and netted six of thirteen attempts from the free throw line. Gambling Archives: Learn All About Bookies.
UCLA hauled in forty-one rebounds while relinquishing thirty rebounds to Abilene Christian. The Bruins also recorded fifteen assists, but on defense, they forced nine turnovers and collected four steals. UCLA let the Wildcats go seventeen for fifty-seven from the field, then drain four from three-point land, and they went nine for eleven from the free-throw line. Abilene Christian also recorded thirteen dimes, three steals, and two blocks off of UCLA. A key player in this matchup for UCLA was Johnny Juzang, who was a role player in this game. Juzang went seven for fifteen shooting, he put up seventeen points, grabbed three rebounds, and dished one assist in his twenty-seven minutes of playing time for the Bruins. Another impact player for UCLA was Cody Riley, he produced twelve points, twelve rebounds, and one assist in his thirty-one-minute tenure on the court. As you can tell he was a monster at grabbing off the glass in their last skirmish. This battle is going to be epic between these two College Basketball bigs the UCLA Bruins of the Pac-12 vs. the Alabama Crimson Tide of the SEC. Finding the Best Sports Betting Service For Your Needs.
At AcePerHead.com our pick to win this game against the spread is going to the UCLA Bruins. Ace Per Head is known for having some of the sharpest lines in the business, however, this does not prevent them from being able to successfully manage public lines for those agents that require them. And in truth, both sharp and public packages can benefit from the right amount of crossover between the lines. It helps to create interest and boost profits, and offers you competitive live lines and odds on NCAA Basketball, oddsmakers are sure to keep you busy with betting offering starting from early tournaments to March Madness, brackets, props, and futures. Getting Sports Betting Tips to Increase Your Chances of Winning.
UCLA Bruins:
P/S Total: 6.5-110
Total O/U: 145.5-110
Alabama Crimson Tide:
P/S Total: -6.5-110
Total O/U: 145.5-110
8 More PPH Sportsbook Tips: