UCLA Bruins vs Michigan Wolverines
March 30, 2021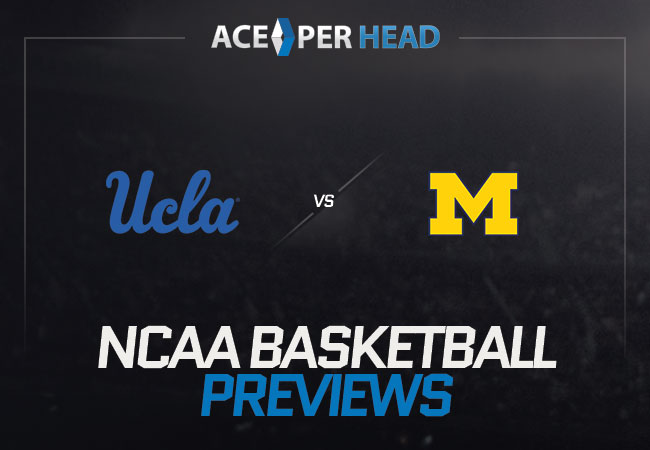 Lucas Oil Stadium is home to the last Elite Eight round game where the UCLA Bruins battle it out with the Michigan Wolverines to move on to the next round of the Big Dance.
Michigan is going into their next matchup with a current record of twenty-three wins, and four losses this season. Then the Wolverines have drained 2,074 points this season, and averaging seventy-seven points per game. Then Michigan is collecting thirty-seven rebounds per game, while they give up thirty-one rebounds to their opposition nightly. The Wolverines are committing fifteen fouls per game, and are draining seventy-seven percent of their shots from the free throw line. Then on offense Michigan drained forty-eight percent of shots from the floor, which is the twenty-eighth best in college basketball. As far as assisting their fellow teammates sixteen times per game, and they have lost possession of the ball eleven times per game. On defense Michigan has given up 171 shots from three-point land, seventy-six percent of shots against them from the free-throw line, and then they are thirteenth in the nation shots allowed from the floor. The Michigan Wolverines are fifty-second in the nation for points allowed with an average of sixty-six relinquished per game. The Wolverines also give up nine assists per game, while forcing their opponents to turn the ball over ten times a game. The last time they played the Michigan Wolverines took on the Florida State Seminoles and beat them by a score of seventy-six to fifty-eight. The Wolverines managed to grab thirty-four rebounds, while they allowed Florida State to collect twenty-eight rebounds. Michigan gave up the ball seven times and collected four steals. The Wolverines went to the line twenty-three times and drained fifteen of them. Then Michigan drained three from three-point land and dropped twenty-nine from the floor. Bookie Software and the Importance of Professional Betting Line App Review.
The Seminoles managed to amass twenty-four attempts from the field, five from three-point range, and five for six from the free-throw line on the Wolverines. A key player for this Wolverines team was Hunter Dickinson, he went five for ten in this game. Dickinson amassed fourteen points, eight rebounds, and two assists in his thirty minutes of playing time. Another key player for Michigan was Brandon Johns who put up fourteen points, six rebounds, and two assists in his twenty-six-minute tenure in this game. The challengers the UCLA Bruins are going into this game as the underdogs, and have amassed a record of twenty-one wins, and nine losses this season. They are turning the ball over an average of eleven times a game, as well as sixteen fouls a game. As a team, the Bruins are collecting thirty-five rebounds a game, while they are giving up thirty-two rebounds per game. So far this season they have collected 404 assists, and they have conceded 359 assists to their opponents. The UCLA Bruins have connected on 207 shots from three-point range, forty-six percent from the field, and seventy-one percent from the free-throw line. They have currently been averaging seventy-four points per game. On defense, UCLA is forcing opponents to turn the ball over twelve times a game, while drawing eighteen fouls. Then they are giving up thirty-four percent of shots against three-point land, and 741 total from the floor so far this season, and are allowing opponents to score an average of sixty-eight points per game. The last time UCLA took the court they beat the Alabama Crimson Tide, the Bruins shot thirty-nine percent from the field hitting twenty-nine out of seventy-four, then buried ten from beyond the arc. Then on their twenty-five trips to the free-throw line, they connected on twenty attempts. Then UCLA hauled in thirty-eight rebounds while giving up forty-one rebounds off the glass to Alabama. 6 Can't-Miss Sports Gambling Tips.
UCLA also collected twelve assists, lost possession of the ball fourteen times, and recorded eight steals. Then UCLA allowed Alabama to hit thirty shots from the field, the Crimson Tide also drained seven from three-point range and went eleven for twenty-five from the free-throw line. Alabama also amassed nine assists, six steals, and five blocks from the Bruins. A star for this UCLA team is Jaime Jaquez who made a big impact in this game for the Bruins. Jaquez put up seventeen points, going six for thirteen, collected eight rebounds, and three assists in his forty-five minutes out on the court. Then another key player was Jules Bernard, he went hard in the paint for the Bruins, putting up seventeen points, going four for five from the floor, as well as adding six rebounds, and two assists for his forty-two minutes of playing time. Both of these teams have been powerhouses in this tournament, but only one will reign victorious. At Ace Pay Per Head our pick to win this game against the spread is going the Michigan Wolverines.
UCLA:
P/S Total: 6.5-110
Total O/U: 135.5-110
Michigan:
P/S Total: -6.5-110
Total O/U: 135.5-110