Wednesday Night NBA Picks – Feb 24th, 2021
February 24, 2021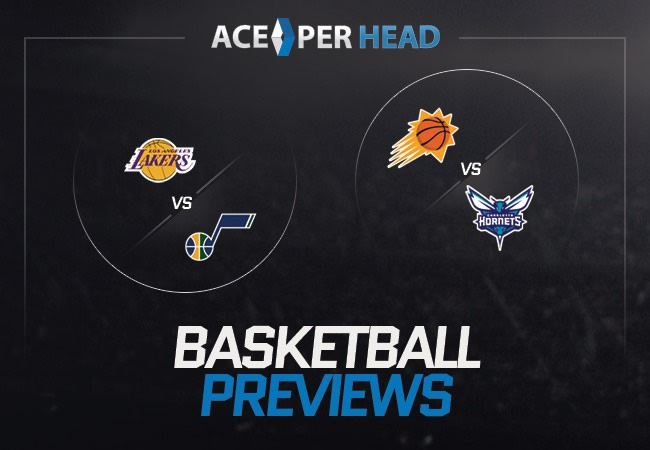 The Utah Jazz Host the Lost Angeles Lakers
10:00 p.m. @ Vivint Smart Home Arena
The Los Angeles Lakers head to Utah to face off against The Utah Jazz for some Wednesday night basketball action.
The Jazz lead by Donovan Mitchell is playing phenomenally right now with an incredible record of twenty-five and six. This Jazz team is the best team in the league right now winning twenty-one games since the beginning of January. In their last matchup, they displayed their dominance by outscoring The Charlotte Hornets by twenty-two points Monday night. Pay Per Head – How It Works and Where to Find Bookmakers
The game was a back and forth battle and this Utah Jazz team was able to come out on top in the fourth quarter. Their only recent losses have come from two of the other best teams in the league. They recently set a record putting up twenty-eight three-pointers and it was a team effort. This Utah Jazz team is the most feared team in the National Basketball Association right now having a powerhouse offensive and defensive showing almost every game. Last Season the Utah Jazz and the Los Angeles Lakers played three times and the Lakers brought the broom out to sweep the Jazz. But things have really turned around for this Jazz Team, as they are one of the most dominant forces in the West and if they come ready to play, the Jazz can take the W. How Pay Per Head Works.
The Los Angeles Lakers are the reigning champs and the other most dominant team in the West, so this is going to be an exciting Western Conference showdown. The Lake Show is currently playing with a record of twenty-two and ten but are in a slump as they take a huge L from the Washington Wizards in overtime.
What's embarrassing about this is that Washington was one of the worst teams in the league this season. In other words, it should've been an easy win, but the Wizards have been hot and have won four straight, steamrolling over the Lakers for the fifth. The Lakers have been struggling while losing three games going into their last contest. They haven't been able to get it together since dealing with injuries to vital parts of this team. Anthony Davis who was a driving force in the Lakers championship win in the bubble is also a huge part of their starting five. He is great on both sides of the court and LA is definitely handicapped without him. They are also without young hotshot Dennis Schroder and he always makes an impact and clutch game performances. CHOOSING THE RIGHT BOOKIE FOR YOUR BETTING BUSINESS.
So, Los Angeles will be doing fine when there are healthy, but who knows when these guys are returning, so the Lakers have to make some kind of strategy so they can get out of this slump. The Utah Jazz is now a powerful team and if the Lakers suffer another loss, it could be a real turning point for the team. The player that stuck out for The Lakers was Montrezl Harrel coming off their bench and is in the running for the sixth man of the year. Always making an impact as their all-star, LeBron James, is one of the best players to ever grace the hardwood, and with him, on the team, they always ring chasing, as they might grab their second championship in a row this Season. This Los Angeles Lakers team is a scary one and they need to get out of this slump and get healthy if they want another ring. These two teams are at a crossroads right now in the season and this game could definitely alter how the rest of the season goes, they are both high-caliber and competitive teams, so this game is going to be an outright battle. ​How to Find a Reliable Pay Per Head Sportsbook Online.
LeBron James vs Donovan Mitchell, The King vs The Spida who will be on top?
At www.AcePerHead.com our pick is going to The Utah Jazz they are looking like an unbeatable force while this Lakers team is struggling and LeBron can't pick up all the pieces.
Los Angeles Lakers:
PS/Total: 8.5-110
Total O/U:220-110
Utah Jazz:
PS/Total:-8.5-110
Total O/U: 220-110
Bookies aim to make a profit no matter the outcome. A pay per head bookie service will allow a bookie to manage more bets, thus increasing their take on each event.
Charlotte Hornets vs. Phoenix Suns
9:00 p.m. @ Phoenix Suns Arena
The Phoenix Suns host the Charlotte Hornets for bragging rights in this Wednesday night matchup.
The Phoenix Suns are currently playing with a record of twenty and ten and are killing it this s1eason. They are coming off a great win against the Portland Trail Blazers who have been playing great this season where the Suns outscored them by thirty points the final score was: Suns 132, Portland 100. This is their ninth win in ten games and has won most of them by fifteen points plus. Chris Paul has been great for this Suns team putting up twenty points per game and 10 assists. How To Get In On The Sportsbook Business.
In particular, this NBA legend has found his youth again by hopefully leading this Suns team to a successful playoff run. Similarly, Devin Booker has been fitting in and pairing well with Chris Paul. On defense, this Suns team is ranked fourth in The National Basketball Association for points given up. The Phoenix Suns is a team you're going to want to keep your eye on because they have the potential to shake up the playoffs. Their Challengers the Charlotte Hornets have been playing with a record of fourteen and sixteen being inconsistent in their gameplay with back and forth wins and losses. In their last game, the Hornets lost to the Jazz by twenty-two points on Monday, but this isn't too bad because Jazz is the best team in the league right now. Charlotte put up a good fight but was just outscored in the end. The Hornets are coasting through the league, but when it comes to the more high-caliber teams they haven't been able to compete, so they need to beat The Suns to prove themselves worthy. This Charlotte team is average right now and that isn't going to get them a ring, especially being one of the lower-tier teams last season. What Are Pay Per Head Bookie Systems?
LaMelo Ball and Gordan Hayward were added to this team to bring youthful energy, more competition, and to win games but these two haven't done that. But free agents from other teams would want to play with them so if Hayward and Ball can make a bigger impact they can turn things around for Charlotte and hopefully start that destiny the fans and organization are desperately striving for. At Ace Per Head our pick is going to the Phoenix Suns because they are hot right now! Become A Bookie: How To Increase Your Profits.
AcePerHead.com is the place to go for NBA betting with the best lines in the business our service makes running a sportsbook easy.
Charlotte Hornets:
PS/Total: 10-110
Total O/U:225.5-110
Phoenix Suns:
PS/Total: -10-110
Total O/U:225.5-110