Canelo vs. Khan Prediction
May 2, 2016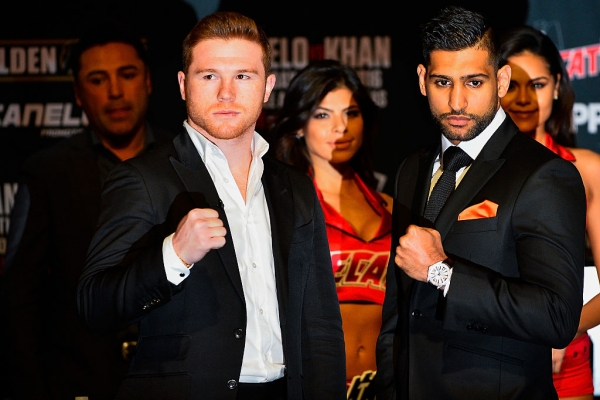 Boxing is also known as the sweet science, because is a sport that despite being considered by many as violent it does require intelligence, skills, proper timing, and incredible physical condition, anyone can fight, but only a few can really box, and the same can be said when it comes to betting on boxing, anyone can do it but only a few win, usually those that follow the sport closely and are able to determine the strengths and weaknesses of each fighter.
If you are an avid boxing fan you probably already have you eye on the next big event, which will take place on May 7 and features Mexican superstar Saul "Canelo" Alvarez and UK's own Amir "King" Khan.  Here are some things to consider if you are planning on betting on #CaneloKhan:
Many don't give Khan a chance at all in this fight, and well, there are a lot of reasons for this, starting with the weight issue, Khan started out his pro career as a lightweight and has moved up to fight comfortably as a welterweight (147 pounds); Canelo was a super welterweight (154 pounds) that is now fighting as a middleweight (160 pounds). In general Canelo is naturally the bigger fighter, and therefore the strongest fighter… or is he?  In reality Canelo and Khan are pretty much the same height, only ½ inch difference there, (Khan is shorter by ½ inch), and Khan has a slight reach advantage of 1 inch. Perhaps  fight night Canelo will be considerably heavier than Khan, and that's what will play in Canelo's favor, Khan has speed as one of his main strong points and being too heavy is not good for him.
25 year old Canelo, has never been knocked out, he has only one loss against none other than P4P best Floyd Mayweather, he has power, out of his 46 wins he has scored 32 KO's, but he has always been questioned due to the quality of his opponents, even though he has faced big names, the majority have been at a point in their career where they really didn't represent much risk. Amir Khan on the other hand had a successful career as an Olympic fighter, and as a pro he has also had a good run, facing decent opposition, he is skilled and fast, but he has been knocked out twice, his chin is an issue, a matter to consider when betting on Canelo vs. Khan.
So when I think of betting on Canelo vs. Khan…here's my train of thought… is Khan at the level of a Floyd Mayweather? Is he fast and skillful enough to avoid getting caught by Canelo and making him miss? My guess is no… Canelo has improved a lot as a boxer, he proved this against Miguel Cotto, but he still has a lot of flaws in his game, he is certainly not getting knocked out by Khan, that would be highly unlikely, but he may have a hard time catching him… so it becomes a matter of whether or not he will catch him and when. Canelo has been the favorite all along, and I happen to agree… Canelo wins by late KO or UD. I will be placing my bets at AceSportsbook.com because they have the best odds for Canelo-Khan. What is your prediction for #Khanelo?