Casino Sportsbook Software
November 4, 2020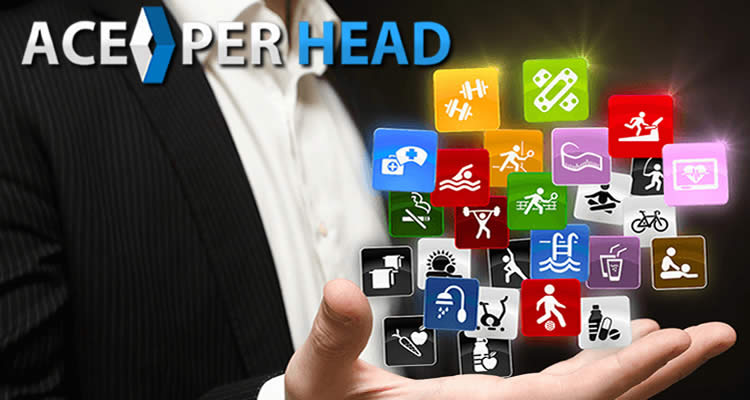 If you're a big fan of heading to the Strip for your wagering and casino play, then it makes sense to head to do your playing at the best casinos for sports betting in Las Vegas. Even in the COVID-19 pandemic, Las Vegas is open for business, and if you've been inside one of the big casinos in recent years, you know how well their air handling systems work because even though smoking is allowed in casinos on the strip, you don't notice the odor on your way out.
Let's take a look at the top ten rated casinos for sports gamblers in Las Vegas – and think about ways that www.AcePerHead.com can make your sportsbook look as good as their online presence thanks to our casino sportsbook software.
Westgate Las Vegas
This is the gold standard as far as Vegas sportsbooks go. The sports area is 25,000 square feet, all by itself, and the LED screens there are state of the art. During college and NFL football games, you can expect as intense an audience as you will find in any stadium. The Westgate book offers the widest variety of odds and prop bets as well.
Wynn Las Vegas
The biggest draw for the Wynn Las Vegas is the wraparound LED screen that measures 1,600 square feet, so that everyone in the whole sportsbook area can watch all the action. This space also gets crowded during major sporting events, and the plush lounge seating makes it comfortable to watch a day of games.
Caesar's Palace
The sterling reputation of Caesar's Palace extends into its sportsbook, with a 143-foot custom built LED screen, boosted by state of the art sound speakers. There are 65 private booths, each with 12-inch TVs, for horse racing bettors who want private action, and the access to ticket windows is easier here at some of the other Vegas books.
The Mirage
You'll find the BetMGM sportsbook here, with many 85-foot projector screens in HD. Within the casino, the sportsbook is easy to find, and you can get a VIP "owner's box" starting at $50, which includes unlimited drinks – a popular offer for people showing up for a day of games.
The Venetian
The sportsbook here is a bit underrated. The crowds don't pile in here, but the sportsbook, run by CG Technology, is over 10,000 square feet, with 118 seats available for reservation. Throughout the casino, you'll find full-service sports betting kiosks making bet placement convenient.
South Point
You have to leave the Strip to head to the South Point, but you'll find better deals for food and drinks here as a result. The sportsbook is open 24/7, and there is plenty of seating. South Point is the home of VSIN, the sports betting network, and the bets and props here have a lot of variety.
The Book at the LINQ
This is a less traditional sportsbook experience, as you use the Caesars Sports app to place all of your wagers. You can rent a "fan cave," with two 49-inch TVs and a 98-inch TV to watch your game while also playing video games. Bottle service and food are available with this unique sportsbook experience.
Cosmopolitan
This is one of the newer entries on the Strip, and the sportsbook is trendy. Powered by CG Technology, the sportsbook area offers lounge seating, and the venue has a square bar in the middle of the room with scrolling scores. The seating area is smaller than some of the other sportsbooks, but it will fill up on a big game day.
Aria
This sportsbook is powered by BetMGM and offers a terrific viewing experience. The seating area is comparatively small, but the seating is all plush, and there is a good view from every seat. You'll need to reserve a place or get there early. There are plenty of betting stations, so you won't have to sit in line. The pricing for food and beverages is comparatively higher, but people don't usually go to Vegas to save money.
Bellagio
This is one of the older sportsbooks, and the seating area is comparatively smaller. However, it's still the prestigious Bellagio, and if you pay attention you can see some big players roll in and put down huge bets on single games.
Take Advantage of the AcePerHead.com Difference
If you visit the websites that these sportsbooks offer, the design elements and the available betting options are impressive. However, casino sportsbook software providers can give sportsbook owners access to the same bells and whistles, making their sites look just as impressive as those of the big Vegas books.
Your membership fees include access to the Ace Per Head.com platform. However, you get your own unique URL, which means that your betting clients won't have any idea that you didn't design the whole thing yourself.
You also save the headaches that web designers face. If the website goes down on a particularly busy betting day, you don't have to go figure out how to get the site back up again. Instead, you get to rely on the pay per head bookie platform that AcePerHead.com has, with plenty of server power to handle an avalanche of sports wagers.
You also get access to secure third-party payment systems. Casino sportsbook software providers understand that sportsbook owner-clients and their betting clients do not want to have to worry about hackers getting into their accounts. The security that AcePerHead.com has in place to protect financial transactions is second to none. Finally, you didn't get into running a sportsbook so that you could spend time monkeying around with web design. Instead, you got into running a sportsbook so that you could build your client base and make money. You got into it because you love following the latest trends in sports and turning that knowledge into the expertise that you can leverage into making the right bets.
Let AcePerHead.com and its casino sports betting software platform help you build your sportsbook and turn it into a major revenue stream.