Choose the Best Pay Per Head in 2022
December 20, 2021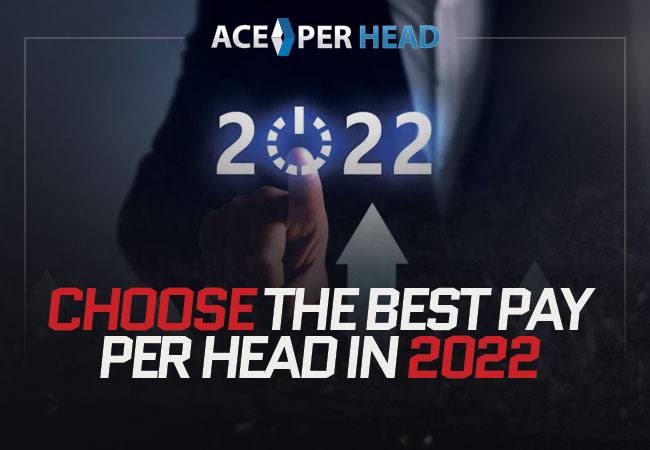 With 45.2 million Americans betting on the current football season, sports gambling is at an all-time high. This makes sense, though- the culture of sports betting is one of high adrenaline and excitement.
If you want to get on the agent end of this hype and make a living as a bookie, setting up shop is easier than ever before. This is because pay per head (PPH) services help customize and manage your sportsbook 24/7. Read on to learn how to choose a PPH provider that will work for your sportsbook's specific needs. Bookie For Dummies – How to Become a Bookie.
Understand Why Pay Per Head Is the Right Choice
The first step towards finding a good PPH provider is to be confident in your decision to hire them. If you're unsure of yourself, you're unlikely to commit to finding the best company out there. You're likely to settle or, worse, choose a non-PPH sportsbook service.
This means that it's important to understand why PPH platforms are ideal for budding bookies. The main reason that you need to invest in PPH services is their simplicity.
Pay per head service providers are knowledgeable in the tools necessary to create an awesome online sportsbook. They can help you set up shop on a platform that's specifically tailored to bookies. This is essential because other website-building services won't accommodate bettor information or a two-way interface for easy bets and payout.
But why choose PPH over other sportsbook-specific services?
The answer to this lies in flexibility. With PPH, you don't pay a flat fee every month regardless of how many bettors you have. Instead, you pay around $10 per gambler (or"head") that you are currently actively working with. A Bookie For rookies Checklist Can Help You Get Started.
This means that you'll pay more during major sporting events and less during the off-season. This makes your sportsbook scalable and ensures that you'll never be putting out more than you're reeling in.
Know Your Budget
Assuming that you put enough time and money into your bookie business, you can make a killing. Small bookies can make a decent living. $30,000-$50,000 per year is nothing to turn up your nose at.
However, it's even better when you know that small bookies have the chance to grow into behemoths. Bookies with 100+ gamblers can easily make $50,000 to $100,000 per month. This amounts to a whopping $5 million or more annually!
Despite the lucrative nature of sports betting, you can't jump into building a sportsbook with all guns blazing. You need to set a budget and figure out what you can realistically invest in now. As you make money over time, you can invest more of it into your sportsbook and grow on your PPH platform.
To determine your budget, see how much money you have in your account. Note that a PPH service is an investment, so putting money into it at the get-go is fine. Just make sure that you're realistic about your expenses.
Think about all of the things that you'll need in a PPH platform. At the very minimum, you will require someone who can help you set up a website including payment methods and bet tracking. You also will need customer support and high-level security features to ensure that your bookie business offers a quality service. How to Become a Better Bookie.
The best sports betting platforms out there will offer these features to get you started. However, Ace Per Head is exceptional in that it will provide you with many features over the years that it takes you to grow and expand your sportsbook.
Look Into Necessary Features
But what are the most important features that you should look for when getting your sportsbook?
First, it's critical that you invest in a platform with high-quality expert web design. After all, you don't want your site to look amateurish. Ace Per Head offers dozens of templates that you can choose from when setting up your website.
If you don't love any of the templates, we also are more than happy to build you a custom website. It's important that you choose a PPH platform that will help to make your dream website a reality. We take that responsibility very seriously and want to ensure that your sportsbook looks exactly as you envision it.
You also will need customer support that persists over the years. Since a sportsbook is a long-term investment, you're going to need help growing it over time. You'll need round-the-clock customer support for agents so that you can discuss upgrades and updates in a changing market. How to Succeed in Sports Betting.
Even once your PPH site is set up, you're going to need routine maintenance performed and regular site alterations. That's why it's essential that you invest in service with automatic updates. You want to make sure that your technology is up-to-date to keep the site loading quickly and accurately.
Read Online Reviews
Now that you know what features you want in a sportsbook, it's time to read reviews of various PPH services. While Ace Per Head is the best on the market, it's a good idea to look around and see why it stands out. After all, as we talked about earlier, confidence is integral when making decisions about your business!
Look at multiple review sites and see which PPH services have the highest ratings. Pay close attention to their experience and their credentials. You don't want to hire a random designer with 0 experience in either web design or sports betting.
You also need to look at the features that people talk about each platform as having. Some PPH services are going to give you a great bang for your buck. Others, though, are going to run you dry with hidden fees as you look for features that aren't part of a basic package.
Make sure that you check out links to sportsbook websites that each provider has set up. This will give you empirical evidence of whether or not a PPH company could suit your needs. You will therefore feel much better about the decision that you make based on what you have seen.
Talk to Other Online Bookies
In addition to reading online reviews, try to talk to other bookies about the PPH services that they use. You can generally do this in a few ways, the first of which is responding to reviews that you think might sway you. It's possible that the original review poster will answer your questions on the website itself.
If the reviews that you see don't have an interactive function, there are some awesome online bookie forums where you can connect with others. Ask them their favorite and least favorite things about their PPH providers and what they know about others that they may have used in the past. This will get you the perspective of someone who already uses PPH services.
You can also connect with other sportsbook agents via social media. Direct messaging is a great way to make a personal connection within the community.
Talking to other agents is awesome for many reasons, not just because it gives you PPH information. Another benefit of reaching out is the forming of a professional connection.
Assuming that the bookies you're talking to aren't direct competitors, you may be able to help get news of the other's sportsbook out there. Linking to each other's pages in blog posts, offering promotions to those who've used the other service, and sharing helpful knowledge and information are just a few of the benefits.
A BOOKIE FOR DUMMIES GUIDE WILL HELP YOU SUCCEED.
Read Blog Posts With More Information
Once you feel confident in the fact that Ace Per Head is the top provider to meet your needs, you can begin to learn more about our service. While our about and features pages have a lot of information, our blog has much more. Make sure that you spend some time perusing our posts so that you can get a better understanding of our features and values.
Getting a PPH provider that can provide you with quality information is a priority. Our blog gives you the latest tips on becoming a bookie and using the best sportsbook software to fit your needs. Once you've gone through the information, you'll feel more confident that Ace Per Head can meet your specifications.
You also will get a better idea of what questions you need to ask prior to installing our software. This means that you can have a more productive and efficient conversation with PPH experts.
Reach Out to PPH Providers
Once you understand the scope of what a pay per head business can do for you, it's time to reach out. Create a list of questions that you think would be helpful to know more about. Some ideas include:
Are there any hidden fees that come with (x) package?
How exactly does (x) feature work?
How often can I expect updates to take place?
Will I retain full control over my players and their betting limits?
Can my site be integrated with other sites that track sporting scores automatically?
Through what interface do your bookie clients communicate with you?
Through what interface do your bookie clients communicate with their players?
Are you offering any trials or promotions lately?
Answering these questions will give you an idea of what to expect when working with a provider. They also help you to develop a relationship with the PPH team before you even sign up for your Ace Per Head trial.
Consider Security Needs
When choosing a PPH platform, security is one of the most important things that you need to consider. Bookies work with a lot of money on a day-to-day basis. Without the right procedures and tools, this could leave a lot of player information vulnerable on your network.
A breach could mean theft of both your information and that of your bettor's. This could lose you a lot of money and permanently damage your reputation. There's no quicker way to drive yourself into the ground than to show people they can't trust you.
Ace Per Head offers security features that provide clear solutions to this potential problem. Installing multi-factor authentication and firewalls is the first step. These keep your PPH platform and the network it's connected to safer.
However, even the best systems can be breached. That's why Ace Per Head has features to ensure that there won't be any information stored in the platform for hackers to steal.
You pay us in anonymous bitcoin just as your bettors pay you. No financial information will ever be stored on the network and the transactions will be untraceable. This means that hackers and malware can't trace bets back to either you or the player.
Additionally, the identities of all parties will be protected with full anonymity. When you work with our experts, your account is assigned a random number that you'll use in lieu of your name. Your players will also have numeric codes that they use when talking with us or with you.
This means that there is truly zero customer information on your PPH website. Nothing to steal means no effective data breaches. This leads to feelings of safety for potential clients so that more people are likely to bet with you.
Get Started With the Top Sportsbook Software
Becoming a bookie may sound like an extremely challenging task. Luckily, finding the right PPH provider is the first step towards setting up your sportsbook easily. Now that you know how to find bookie software that works for your individual needs, it's time to get started.
We're committed to helping you create a pay per head bookie business that stands out among the competition. That's why it's time to see the ways that our expert knowledge and tools can help you get started. Create your custom package for a free six-week of all the services that we offer to our valued clients.