Arizona Coyotes vs Los Angeles Kings
April 7, 2021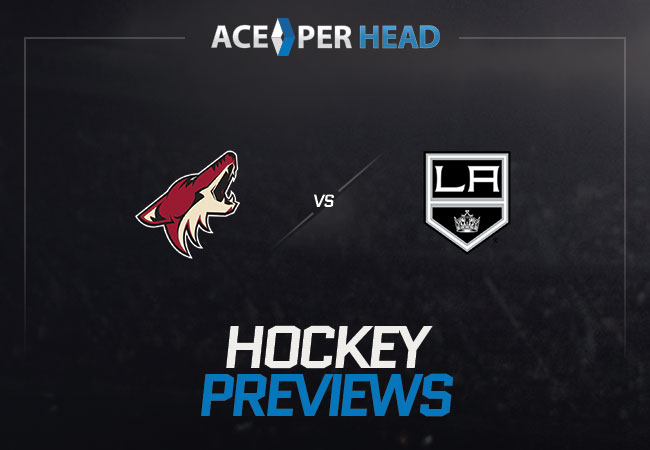 10:00 p.m. @ STAPLES Center
This Wednesday night the Arizona Coyotes head to Los Angeles to take on the Kings for some NHL action.
The Los Angeles Kings are playing with a record of fourteen wins, seventeen losses, and six draws. The Los Angeles Kings have taken 1,102 shots which are 22nd in the NHL while letting the opposition shoot 1,159 shots on the net. They are killing the penalty eighty-four percent of the time, and have let their opponents go on the power play 109 times so far this season. The Kings have had a total of 126 power-play chances, and they own a power-play percentage of twenty-two percent. The Kings have scored seventy-one goals at even strength, and twenty-eight while playing a man up, which also happens to be the ninth-best in the NHL. They have let up 106 goals to their opponents this season, and seventeen of those were while they playing a man down. ​HOW TO CHOOSE A BOOKIE SERVICE.
The Kings have accumulated ninety-nine goals, thirty-four points, and have a points percentage of .459. In their most recent contest, they actually lost to Arizona, Arizona ended the game with ha fifty-three percent Corsi percentage, while shows they are destined to improve hopefully by tonight. The Fenwick for this game was fifty-four percent. The Kings managed to get thirty-eight shots on the net, and two of them found the back of the net. Then on three power-play chances, the Kings only were able to convert on one. In net for Los Angeles is Calvin Petersen, who is letting in an average of two goals per game, and has let in a total of 101 goals. Petersen has a career record of seventeen wins, sixteen losses, and five draws in a total of forty games. In those forty games, he has started in thirty-eight of them and only twenty-three of them have been quality starts. He has been on the ice for 2,338 minutes and has seen 1,315 shots and has stopped 1,214 of those shots and has a save percentage of .923. The challengers from Arizona the Coyotes are playing with a record of nineteen wins, fifteen losses, and five draws. How a Bookie Service Works.
The Arizona Coyotes opposition has been granted 125 power-play chances which are fifth in professional hockey, and they managed to score twenty-two times on those tries. The Arizona Coyotes have faced 1,225 shots, and have a save percentage of .905. The Coyotes have taken 1,033 shots while giving up ninety-four goals. Arizona has been on the power play 134 times and has gained twenty-six goals on those tries. This season Arizona has amassed forty-three points, scoring a total of 104 goals a year which is the seventeenth best in the league, while giving up 116 to their opponents so far. The Coyotes are going into this game hot off of a five-two victory over the Los Angeles Kings the last time they took the ice. They amassed twenty-two face-off wins, and lost thirty face-off skirmishes. Excellent bookies services.
The Fenwick percentage was forty-six percent, while the Corsi is forty-six percent displaying they had an impressive performance. Arizona had to serve twelve minutes in the penalty box, and on their six power-play chances, they scored three goals. This was a great win for the Coyotes managing to put thirty-three shots on the net, and five of them found the back sounding the alarm. The man in net for the Coyotes is Adin Hill, he has let in a total of 102 goals in his pro career and is letting in an average of three goals per game. Hill has played in forty-two games and has started in thirty-five of those games while only sixteen of those starts were good giving him a quality start percentage of .457. Hill has played 2,209 minutes on the ice and has seen 1,117 shots while making 1,015 saves, giving him a save percentage of .909. His professional record is seventeen wins, sixteen losses, and four draws. Way Making Money As A Bookie – 5 Tips To Help You Succeed.
This Western Conference showdown is sure to be an exciting one, with the introduction of a greater variety of hockey prop bets, alternative lines, and live betting, Ace Per Head is revolutionizing the way people bet on hockey.
The easy-to-use NHL betting software platform that is available to all mobile devices makes betting on the go safe and fun for all players, at www.AcePerHead.com our pick to win this game against the spread is going to Arizona Coyotes.
Arizona Coyotes:
Los Angeles Kings: