Carolina Hurricanes vs. Tampa Bay Lightning
April 20, 2021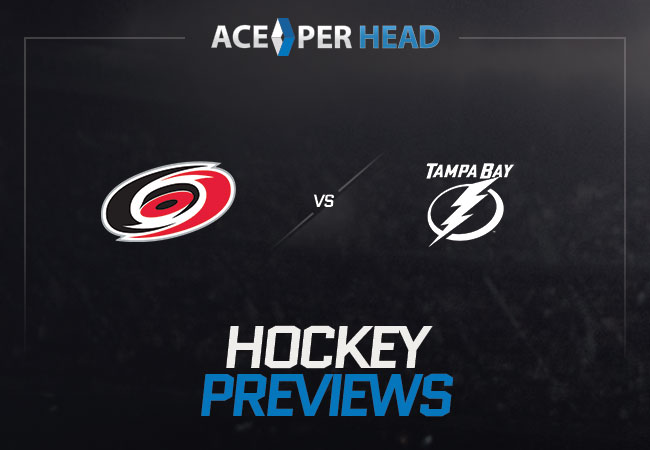 This Tuesday night the Tampa Bay Lightning host the Carolina Hurricanes for some NHL action.
The home team the Tampa Bay Lightning is currently playing with a record of twenty-nine wins, thirteen losses, and two draws. So far this season the Tampa Bay Lightning have amassed 148 goals against their competition, as well as sixty points, while they own a points percentage of .682. The Lightning has let up 114 goals, and twenty-five of those goals were while they were playing a man down. The Lightning is also ranked fifth for power goals scored with thirty-five goals while being on the power-play, out of their 139 opportunities. Overall Tampa Bay has taken 1,328 and has faced 1,257 shots from their opponents. The Lightning owns a penalty kill of eighty-two percent and a save percentage of ninety-one percent. The last time the Lightning took the ice they lost to the Florida Panthers by a score of 5-3. On their two power-play opportunities, the lightning couldn't find the back of the net. On thirty-one of their shots on net, Tampa Bay notched in three goals. The Corsi for Tampa came in at fifty-three percent, which showed they had a below-average performance in this contest. Then the Fenwick came in at forty-eight percent when all was said and done. In net for the Tampa Bay Lightning is Curtis McElhinney, he has faced a total of 6,568 and has made a total of 5,959 saves, and is currently sitting on a save percentage of .907. His Professional record consists of 246 games played, and he holds a current record of ninety-three wins, ninety-four losses, and nineteen draws. McElhinney has been on the ice for 12,834 minutes and has started in 194 games and out of those games, ninety of those starts were successful. Lastly, teams are scoring an average of three goals a night and have given up 609 goals total to the opposition in his career. The challengers in this matchup are the Carolina Hurricanes, they are coming into this contest with a record similar to the home team, as they sit with twenty-nine wins, ten losses, and four draws this season.
The Carolina Hurricanes have recorded 136 goals, which is the eleventh best in the league and they have given up 102 to the opposition. The Hurricanes are also sitting on a points percentage of .721, with their sixty-two points so far this season. On their 129 power-play opportunities they have converted on thirty-six tries. Carolina has taken 1,401 shots on net, and they have faced 1,209 shots from the opposition. Also, they have let their opponents be on the power-play 138 times, and have given up twenty-two goals during those tries and eighty goals while at even strength. Lastly, the Hurricanes have a save percentage of .916, and a shooting percentage of nine percent. The last time the Hurricanes took the ice they beat the Nashville Predators 3-1. The Corsi for the Hurricanes came in at sixty percent, and it shows they have an average offensive performance in this contest.
While the Fenwick came in at sixty-four percent. On their two power-play opportunities they could,t find the net, but out of their forty-eight shots on net at even strength, they knocked three in the back of the net. Also as far as penalties go the Hurricanes had to serve four minutes in the penalty box. Overall Carolina recorded thirty face-off victories and lost twenty-six times trying to possess the puck. The man in between the pipes for Carolina is James Reimer, he has let up 967 goals in his career and is letting in an average of two goals per game to opponents. Reimer has amassed a record of 172 wins, 131 losses, and forty-two draws in his 383 career NHL games. In his 20,784 minutes of ice time, he has faced 11,141 shots and has made 10,174 saves. He is a great goalie who always stands on his head and owns a save percentage of .913. Reimer has been named a starter in 349 games and out of those starts, 177 of them have been successful, giving him a good start percentage over .500. This Tuesday night Southern Hockey Showdown between the Carolina Hurricanes and the Tampa Bay Lightning is sure to be a great one. Both of these teams are fighters and are going to battle it out for a better spot in their division.
On paper, they look similar, and it looks like it could go either way, but at Ace Pay Per Head our pick to win this game against the spread is going to the Carolina Hurricanes. They have what it takes to win this game & they aren't going to take it easy on this stacked Tampa Bay team.
Carolina Hurricanes:
Tampa Bay Lightning: