Chicago BlackHawks host Tampa Bay Lightning
March 4, 2021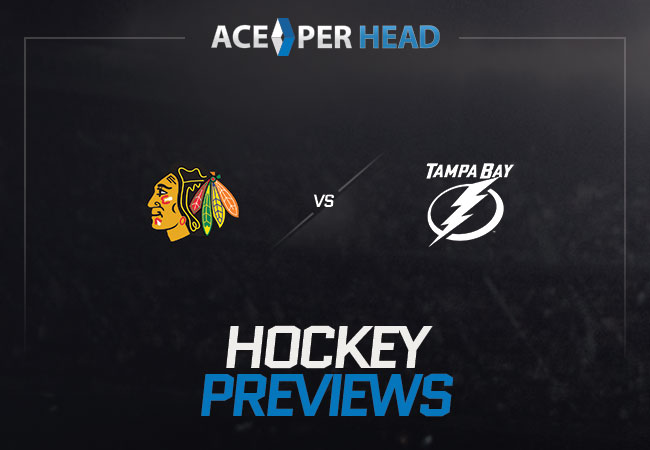 8:00 p.m. @ United Center
The Tampa Bay Lightning head to the Windy City to face off against the Chicago Blackhawks.
The Chicago Blackhawks are currently playing with a stellar record of twelve wins, seven losses, and four draws. While in their last contest, the Chicago Blackhawks played the Detroit Red Wings, their neighbors to the North. When they took the ice, the Blackhawks won this game seven to two. The Corsi percentage for this game was forty-two percent, and a Fenwick percentage of forty percent.
These statistics show Chicago put on a great performance. The Blackhawks managed to put seven in the back of the net for this one, out of thirty-two shots, and were able to score on the one power play they were granted. So far this season, this Chicago team has scored seventy-two goals for the season and are at twenty-eight points so far for an overall point percentage of .609. Fifty of these goals were scored at even strength and twenty-two goals were shorthanded, which has them ranked third best in the National Hockey League for power play goals.
The Blackhawks are also seventh in hockey for shots with a total of 704 and have faced a total of 780 shots from opponents. They have gotten a total of sixty-six power play opportunities and converted on twenty-two of them, for a power-play percentage of thirty-three percent. They have relinquished sixty-eight power-play chances and have let up seventeen goals while a man down, for a penalty kill percentage seventy-five. In net for the Blackhawks, is Malcolm Subban who has stopped 1,787 shots and has a save percentage of .901. Subban, the brother of the electric defenseman, P.K. Subban, has a professional record of thirty-three wins, twenty-five losses, and eight draws for a total of seventy-two games with 4,022 minutes on the ice. Out of sixty-six games, he has made twenty-seven good starts for a forty-one percent quality start rating. Subban is letting in an average of three goals per game and a total of 197 goals.
The challengers, the Tampa Bay Lightning, are going into this one as the favorites and are playing with a professional record of fifteen wins, four losses, and one draw so far this season. In their last outing, they beat the Dallas Stars by a score of two to zero. On offense, this Lightning team was lacking by only shooting nineteen shoots with only two of them finding the back of the net. On the five power-play chances they were awarded, they were only able to score once. This team also served fifteen minutes in the penalty box.
They also have a Fenwick percentage of forty-two percent and a Corsi of forty-two percent. In the face-off circle, they recorded twenty-two face-off wins, and eleven losses while trying to win possession of the puck. As far as scoring goes, they have the eight most goals in the NHL with a total of seventy-one goals on 582 shot attempts and have given up thirty-nine goals to their opponents. The Lightning has thirty-one points so far, as well as eighteen goals on sixty-eight power play opportunities.
On defense, they faced 559 shots, letting in thirty-one goals. Also having let their opponents have had seventy power-play chances, they let up eight goals to their challenger. In net for Tampa Bay is Andrei Vasilevskiy, who has made 7,742 saves total seeing 8,413 shots for a save percentage of .920. In his professional hockey career, his record is 172 wins, seventy-six losses, and nineteen draws in 277 games for a total of 16,122 minutes of ice time. He has started in 267 games in the National Hockey League and out of those starts he's had 153 good starts putting him over .500. Opponents have scored 671 goals in total and an average of two goals per game on Vasilevskiy. Both of these teams are tough and tenacious, playing like there is a fire lit under them. Luckily, this game will definitely be an exciting game to watch and will be beneficial to get in on the action.
Our pick at AcePerHead.com to win this game against the spread is going to the Chicago BlackHawks, with offensive powerhouses Patrick Kane and Jonathan Toews, this is a team on a mission. Ironically, most of the teams in the NHL are from US cities, however, most of the players are not American. Although hockey is still not as popular as football, basketball, and baseball, it is currently more popular than it ever has been before. So why do most bookies continue to overlook this sport that has the ability to provide generous profit margins? I suppose the answer to that question, is the same as the answer for why the sport is not more popular, lack tv coverage, few American born stars, some parts of the country simply cannot relate to winter sports, and I suppose a lot of the blame must go to the NHL itself, that does not invest enough in advertising the sport.
Ace Per Head is actively trying to change this dilemma, by putting as much attention to hockey as they do in other sports, in an effort to increase the fanbase.
With the help of their state-of-the-art NHL bookmaker gambling software, they are posting more, props, futures, and live betting lines for the sport than any other pay-per-head service.
Tampa Bay Lightning:
Chicago Blackhawks: