Colorado Avalanche host the Anaheim Ducks
March 5, 2021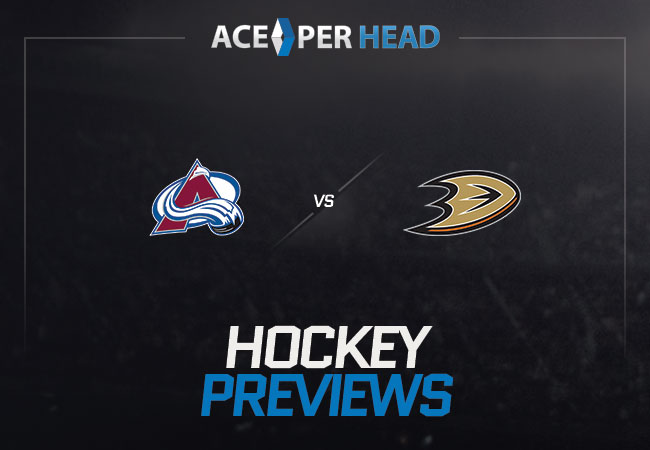 The Anaheim Ducks head to Denver, Colorado to take on the Avalanche for some Friday night hockey action.
The puck is set to drop at 9 pm Eastern Time, where the home team the Colorado Avalanche is going into this matchup as the favorites. They also are playing with a record of twelve wins, seven losses, and one draw. The last time they took the ice, the Colorado Avalanche played against the San Jose Sharks and won by a dominant score of 4-0. Colorado earned a Corsi Percentage of fifty-eight percent and a Fenwick of fifty-six percent. These stats showed this team had a great outing in three periods of play. Out of thirty-eight shots on the net, the Avalanche put four in the back of the net.
Also, they had four power-play opportunities and only managed to convert on one try. Colorado has taken the fifteen most shots in the NHL with 652 shots so far for a total shooting percentage of nine, letting their challengers take 521 shots. When facing a team's power play, they have a kill percentage of eighty-nine percent and have given up sixty-three power-play chances, while they have been on the power play seventy-nine times so far this season. The Avalanche are fifth in the NHL for power-play goals with nineteen for a percentage of twenty-four percent. Check the sportsbook and pay per head content.
This Colorado team has scored sixty-one goals so far, twenty-five points, and have allowed forty-eight in total from the opposition- seven of them being shorthanded. In between the pipes for Colorado is Philipp Grubauer, who has amassed 4,777 stops out of 5,192 taken against him and his save percentage of .920. He has a professional record of ninety wins, fifty-eight losses, and twenty draws for a total of 10,366 minutes on the ice, in 191 games. Also, he has ninety-seven quality starts in 165 games, and is letting in an average of two goals per game for a total of 415 goals allowed. The challenger, the Anaheim Ducks, is playing with a professional record of six wins, twelve losses, and five draws.
The Ducks have had a rough start to the season, and recently took a tough loss against the St. Louis Blues in their last game by the score of 3-2, but they keep fighting. Sadly, Anaheim didn't show up on offense, they only converted two on twenty-nine shots, and weren't able to convert on any of their three power-play opportunities. Also, Anaheim served six minutes in the penalty box. The Corsi percentage for this matchup was fifty-six percent, while the Fenwick is at fifty-nine percent. At the face-off circle, they won twenty-six, and they lost twenty-two chances to win possession of the puck. So far this season, the Anaheim Ducks scored forty-seven goals which have them notched at twenty-eighth in the National Hockey League for goals, while they have given up sixty-seven. This year the Ducks have seventeen points and six goals on fifty-five power-play chances. Then have relinquished sixty-three power-play opportunities to opponents and let them score twelve goals while shorthanded. At even strength, they have given up fifty-five goals, and have attempted 629 shots while facing 662 shots against for an overall save percentage of .899.
The man in the net is John Gibson, who has been a saving grace for this Ducks team for a couple of seasons now. He has let up 741 goals in his professional career and is letting in an average of two goals per game. John Gibson has a professional record of 144 wins, 113 losses, and thirty-seven draws in 306 games in his professional hockey career, for 17,485 minutes on the ice. Gibson has started in 298 games and has had 167 good starts for an average of over .500. Also while on the net, has faced 9,970 shots and made 8,229 saves for a save percentage of .917. Both of these teams are powerhouses in Western Conference Hockey and should be an exciting game that's almost too close to call.
At www.AcePerHead.com our pick to win this game against the spread is going to the Anaheim Ducks. We have a great variety of hockey prop bets, alternative lines, and live betting.
Ace Per Head is changing the way people bet on professional hockey, our easy-to-use NHL bookmaker software platform, the sky is the limit for all of our players.
Anaheim Ducks:
Total: 5.5-110
Colorado Avalanche:
Total: 5.5-110
More PPH Articles: