Columbus Blue Jackets vs Tampa Bay Lightning
April 22, 2021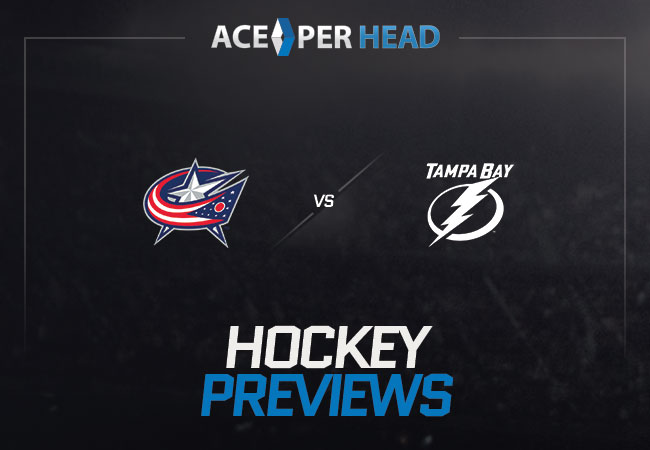 This Thursday the Columbus Blue Jackets travel south to Florida to take on the Tampa Bay Lightning for some Eastern Conference hockey action.
Tampa Bay is going into this contest with thirty wins, fourteen losses, and two draws so far this season. The Lightning has collected 152 goals, and sixty-two points so far this season. As a unit they have given up 120 goals, and twenty-six of those goals came when they were playing a man down. On their 143 power=play chances Tampa Bay has scored thirty-six goals while playing with a man advantage, which ranked them fourth in the NHL for power-play goals. Tampa Bay has faced 1,320 shots from their opponents, while they have rocketed 1,391 shots on net so far this season. On their opponents 151 power-play chances they amassed a penalty-kill rate of eighty-two percent, and a save percentage of ninety percent. The last time they took the ice Tampa Bay lost to the Carolina Hurricanes 4-1. On their two power-play opportunities they couldn't find the back of the net, but at even strength they managed to launch twenty-seven shots on net and they scored one goal.
The Corsi for Tampa Bay came in at forty-eight percent in this contest, while the Fenwick is at forty-seven percent. With these stats they are definitely are looking to improve in this outing. The man in net for the Lightning is Andrei Vasilevskiy, in his career he has let in 718 goals overall, and is currently letting in two goals a game. His professional record consists of 186 wins, eight-one losses, and nineteen draws, and has been in net 296 games. Vasilevskiy has started in 286 games, owning a successful start rate of fifty-six percent, and he has had a quality start in 162 of these meetings. He has been on the ice for 17,269 minutes and has stopped 8,284 shots giving him a current save percentage of .920. The challengers in this contest the Columbus Blue Jackets are coming in with a record of fifteen wins, twenty-four losses, and nine draws. The Blue Jackets opponents have been on the power-play 116 times, and they have scored twenty-four goals while having a man advantage. As far as shooting goes Columbus has has taken 1,394 shots, while they have faced 1,536 shots from their opponents. They own a save percentage of .896, and a shooting percentage of eight percent. On their 105 power-play chances the Blue Jackets have scored fifteen times, and they have recorded thirty-nine points this year. Lastly they are ranked twenty-sixth for goals in the NHL with 115 goals scored, and they have given up 160 goals to their opposition. The last time they took they ice they lost to the other Florida team the Panthers. The Blue Jackets were struggling on offense and ended the night losing 5-1. During this game Columbus put thirty-four shots on net and dumped only one in the back of the net.
Their one goal actually came from their one chance on the power-play, also they had to serve seven minutes in the penalty box during this game. The Corsi rate for Columbus came in at forty-seven percent, and the Fenwick was forty-six percent. As far as face-offs go the Blue Jackets lost twenty-eight attempts to posses the puck, but they walked away with twenty-one wins when all was said and done. The man in between the pipes for the Blue Jackets is Joonas Korpisalo, he has given up a total of 426 goals in his professional ice hockey career, and is currently letting teams score an average of three goals a game on him. Korpisalo has a record of sixty-nine wins, fifty-six losses, and twenty-one draws in his 159 total pro games. In his 8,835 minutes of ice time he has seen 4,493 shots and has saved 4,067 of them giving him a save percentage of .905. Out of his 146 starts he has performed successfully in seventy-one of them giving hime a successful start percentage of .486. This Tampa Bay team and the Blue Jackets are both coming off some pretty tough losses in similar fashion. They will also both be looking to make a comeback, get back on track but when it comes to overall dominance and competitiveness, whether its in person or on paper the Tampa Bay Lightning look like a better team overall.
At Ace Pay Per Head our pick is going to the Tampa Bay Lightning and to take the Under.
Columbus Blue Jackets:
Tampa Bay Lightning: