Dallas Stars vs Detroit Red Wings
April 21, 2021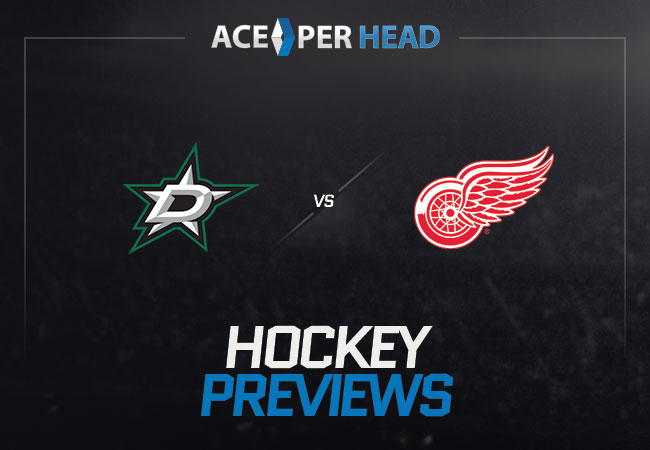 7:30 p.m. @ Little Caesars Arena
This Thursday the Detroit Red Wings host the Dallas Stars for some good ole American Hockey.
The home team from "Detroit rock city" the Red Wings are currently playing with a record of sixteen wins, twenty-fives losses, and seven draws. Detroit has launched 1,319 shots on net against their opponents, and they have permitted their opponents to shoot 1,448 shots. The Red Wings have allowed their opposition to be on the power-play 135 times, as they currently own a penalty kill rate of seventy-seven percent. As well as a save percentage of ninety percent against the power-play. Detroit themselves have been on the power-play 135 times this season, and on those tries they converted fifteen times while they were playing with a man advantage. So far they have allowed 151 goals, and thirty-one of them were while they were playing a man down. While they have scored 106 goals themselves this season, and they are sitting with thirty-nine points so far this season. The last time the Red Wings took the ice they lost to Dallas. Detroit is definitely going to want to bounce back from this loss, and perform better offensively.
The Corsi rate came in at fifty-nine percent, and the Fenwick came in at fifty-seven percent. Out of their two power-play opportunities against the Stars they weren't able to make anything happen. Detroit put twenty-six shots on goal in this game, and they knocked two in the back of the net. In net for the Red Wings is Johnathan Bernier who has been on the ice for 391 games and they have a record of 161 wins, 157 losses, and thirty-eight draws. He has let in a total of 990 goals, and the opposition is averaging two goals a game against him. Bernier got the start in 352 games, and out of those starts 186 were successful. He has been on the ice 21,418 minutes and has faced 11,273 shots and has made 10,283 saves, giving him a save rate of .912. The challengers the Dallas Starts are currently playing with a better record that the host, with nineteen wins, fourteen losses, and twelve draws this season. The Dallas Stars opponents were on the power-play 125 times, and scored twenty-six times while they were a man up. The Stars have taken 1,323 shots, and have faced 1,216 shots from their opposition this season. Dallas currently owns a save percentage of .912. Dallas has scored thirty-two goals on their 134 power-play chances, giving them a power-play rate of twenty-four percent.
Dallas has allowed their opponents to score 107, and eight-one of those goals were at even strength. So far they have amassed fifty points, and have scored 128 goals which is the fourteenth best in the NHL. The last time they took the ice the Stars defeated the Red Wings 5-2, the Stars offense had an impressive showing on the ice during this contest. In this victory they scored five goals on just twenty-four shots on net. Also they has two power-play chances but couldn't connect, but they didn't need them anyway. If they want to excel though they should work on their power-play unit to help win games. Dallas had to serve eleven minutes in the penalty box. The Corsi for the Stars came in at forty percent, while the Fenwick was at forty-three percent. At the face-off circle the Stars won twenty-one face offs, and lost twenty-six tries to possess the puck. The Man in net for the Dallas Stars is Anton Khudobin. In his professional career he has let in 549 goals, and Is currently letting in two goals per game from the opposition. Khudobin has a record of 109 wins, 85 losses and thirty-one draws in a total of 243 games in his career. In his 13,496 minutes on the ice he has faced 6,729 shots and has collected 6,180 saves overall, earning him a save percentage of .918. Khudobin has a quality start rate of .583, he has got the starting assignment in 223 games and 130 of them have been successful. Both of these teams are battling it out in a four game series, and the Dallas Stars have been victorious in the first to as they look to bring out the sweep for Detroit.
Will Detroit bounce back and steal this victory from the Stars, or will the team who's better on paper seal the deal? At www.AcePerHead.com our pick to win this game against the spread is going to the Dallas Stars. They have what it takes to win this third straight game, and get one step closer to the sweep over the Red Wings in this series.
Dallas Stars:
Detroit Red Wings: