Friday Night Hockey – Feb 19, 2021
February 19, 2021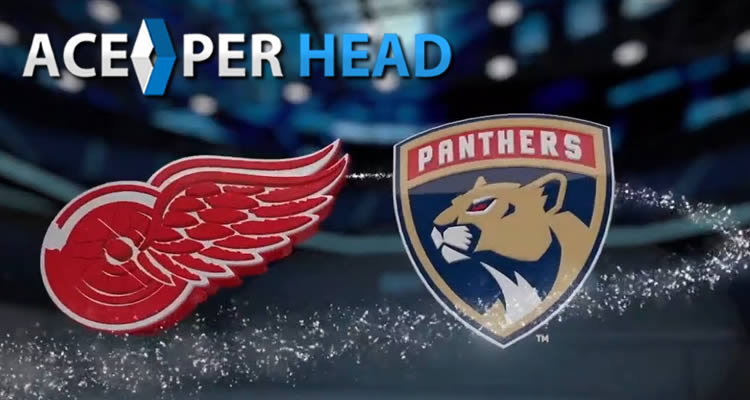 Florida Panthers at Detroit Red Wings
7:00 p.m. @ Little Caesars Arena
This Friday night The Detroit Red Wings are going to host The Florida Panthers for an action-packed game of Hockey. The Florida Panthers are coming off a hot win beating Carolina four to three. The Corsi for this Florida team is forty-seven percent when a team's Corsi percentage is the number of shot attempts taken divided by number of shots taken by challenger's and most teams want a higher number. The Panthers processed the puck well on offense and had a perfect plan devised, that worked in their recent win and should work well again against The Red Wings. Then their Fenwick percentage was forty seven percent, which is the shots on goal plus missed shots. On top of this, The Panthers served eight penalty minutes, sixteen faceoff wins, and were able to convert one power play goal. This Florida Panther's team is at a record of ten wins, two losses, and two ties. As for scoring they are ranked 12th in the National Hockey League out of thirty-one teams with a total of forty-seven goals.
This team is at twenty-two points for the season and has converted twelve times on the power play out of forty-one, and out of forty-two man-down situations, they have only let up ten powerplay goals. As far as a shot percentage they are sitting at ten percent and a save percentage of .903. The guy in net for The Panthers is Chris Driedger only playing twenty-two games in the NHL with twelve wins in eighteen starts. Driedger has made five hundred and seventy-one saves and forty-three goals. For The Detroit Red Wings, Thomas Griess the former Islander is getting the start in net, he has made over seven thousand career saves letting up 699 with 138 wins in 295 games. In their last matchup, they went home losers after being shut out by The Blackhawks. Overall Corsi and Fenwick were fifty percent, and this shows us that this wasn't The Red Wings' best game. This season they have amassed thirty-five goals which rank them at twenty-ninth in the NHL, eleven points and let up fifty-six goals. This Detroit team is going to have to come out guns blazing if they want to compete against The Panther defense. They also have to do better converting on a powerplay only being able to score four times out of fifty-six power play opportunities. But their penalty kill is fierce shutting down over seventy percent of power plays. This Detroit team has also taken four hundred and ninety-one shots which has them ranked eight for shots taken. This game is going to be a battle between these teams, and our pick is going is to take Detroit, because they have what it takes to beat the Florida Panthers against the spread. At www.AcePerHead.com we are trying to put more focus into Hockey as it is the most overlooked sport, we want to increase the fan base with our top-notch NHL betting software with the best live lines, props, and futures. We have more than any other pay per head software out there and we want the bookies and bettors to capitalize on our great service.
Florida Panthers- PS/ Total 5.5-105
Detriot Red Wings- PS/Total 5.5-115
Hockey in Canada: Edmonton Oilers vs. Calgary Flames
9:00 p.m. @ Scotiabank Saddledome
This Friday night The Edmonton Oilers take on The Calgary Flames for an exhibition. Going into this game, Edmonton is the favorite as they come off of a win against The Winnipeg Jets. The Calgary Flames are playing with a record of eight wins, seven losses, and one tie. They are coming into this matchup fresh off of a loss to The Vancouver Canucks. They lost five to one, failing to convert on a power-play twice, and were only able to score once out of thirty-six tries. In this game Calgary's Corsi percentage was fifty-eight and Fenwick's percentage was fifty-seven percent. These stats can help tell what kind of game they had and if they can possibly bounce back, obviously this game wasn't in their favor and I don't know if they'd be able to take down this Oilers team. This season The Calgary Flames have amassed forty-four goals and seventeen points. They are twelfth in the NHL for shots with four hundred and fifty-eight shots. They also have converted thirteen power-play goals out of sixty-one chances which has them at ninth in the league and have let up eleven goals man down. But what is truly great about this team is their penalty kill, which they are able to dominate seventy-nine percent of the time. In Net for the Calgary Flames, tonight is Jacob Markstrom with a whopping 7,737 saves, with 118 wins under his belt in 286 games.
While letting up 756 goals in 270 starts. In net for The Edmonton Oilers we have Mikko Koskinen, playing in only 111 games in this National Hockey League career. In these games he has compiled a record of fifty-one wins, forty-three losses, and nine draws. He has let up three hundred and four goals where has made nearly three thousand saves. He has made played over six thousand minutes on this ice, which he completed forty-nine good starts out of 101; Koskinen's save percentage sits at .907 percent. In Edmonton's last win against The Jets, they were able to perform well offensively, scoring three goals (one converted on a power play) to lead them to victory. As far as penalty minutes go, they sat for twelve minutes, which is pretty high. They have to stay out of the penalty box going into this game, as well as have twenty-one face-off wins. The Corsi was thirty-five percent and the Fenwick was thirty-six percent, which is definitely a good sign and shows that they could take the win in this matchup against Johnny Gaudreau and The Flames. The Edmonton Oilers are ranked first in the NHL for goals, with sixty-three up on the board and twenty points, which is huge for this team. They are awesome on the power play attack being able to score on sixteen chances so far this season while letting up fourteen goals man down.
Lastly, The Edmonton Oilers have faced 585 shots and have attempted 567 shots. Going into this game it appears The Edmonton Oilers have a slight advantage over The Flames. At Ace Per Head.com our pick is going to Connor McDavid and The Edmonton Oilers.
Edmonton Oilers- PS/Total 6.5-120
Calgary Flames – PS/Total 6.5 100