New York Islanders at Pittsburgh Penguins
February 20, 2021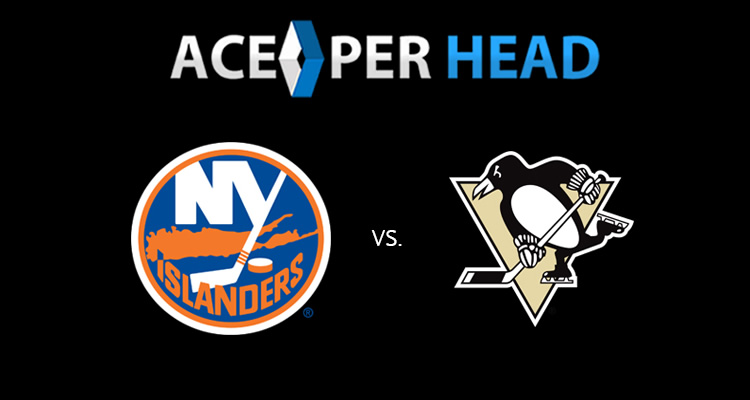 7:00 p.m. @ PPG Paints Arena
This Saturday night The New York Islanders head to Pittsburgh to face off against The Penguins, for an epic night of Hockey action. Going into this game, the Islanders are selected as the favorites and they have a good chance at beating Sydney Crosby and The Penguins. Pittsburgh is playing at a record of eight wins, six losses, and one tie which isn't too bad considering where we are at in the season. At full strength, the Islanders amassed thirty-nine goals and have converted an additional six times on power play opportunities. This team is ranked seventeenth in shots and twenty-seventh in power-play goals, so they are moderately aggressive while possessing the puck on offense. So far in this season, Pittsburgh has had seventeen points and a total of forty-five goals. On defense, they kill an opposing team's power-play seventy-three percent of the time while only letting up 13 goals man down. In their last matchup against The Islanders, The Penguins came out on top scoring four goals, one of them being a power-play goal. In this exhibition, they took thirty-seven shots. The Corsi percentage for Pittsburgh was fifty-one percent, and the Fenwick percentage was fifty-two percent, with these statistics you can see Pittsburgh had a day. If they are able to play like this again Saturday night, they could give The Islanders a run for their money. In net for the Penguins, they have Tristan Jarry with a professional record of thirty-eight wins, twenty-five losses, and five draws in a total of seventy-two games. In these games, he has played over four thousand minutes and started sixty-seven games. Jarry has made eighteen hundred and fifty-six saves facing over two thousand shots between the pipes, for an overall save percentage of .910 only letting up one hundred and eighty-three goals. Then in the net for the New York Islanders is Semyon Varlamov who has a professional record of two hundred and thirty-nine wins, one hundred and eighty-six losses, and fifty-eight draws. Totaling over five hundred games played in his professional career, out of those games, Varlamov has started four hundred and eighty-two games with two hundred and sixty-nine of them being good starts, which has his stats over five hundred which is not too shabby. In these games, he has played a total of twenty-eight thousand minutes making over thirteen thousand saves and letting up 1279 goals.
When The New York Islanders last took the ice, they suffered a four-to-one loss to The Penguins. Their offensive game didn't take off how it was supposed to when the puck dropped and was only able to take thirty-two shots, so you can contribute these stats to the loss. They racked up way too many penalty minutes having to serve a total of twenty-one minutes, which is more time than a period of play in hockey. Also, they were only able to convert on one powerplay out of three and that was their only goal of the game. The Fenwick percentage for the Islanders was forty-seven percent while the Corsi percentage was forty-eight. Additionally, they snagged seventeen face-off victories. This Season, this Islanders team is at a record of eight wins, five losses, and three ties. They also have attempted four hundred and seventy-six shots and have racked up thirty-nine goals which have them at twenty-third in The National Hockey League for goals, where eleven of those goals came from power-play opportunities. While on the defensive side they have allowed thirty-seven goals and faced four hundred and forty-eight shots from their opponent. Even though The Pittsburgh Penguins beat The Islanders in their last skirmish and the Corsi is in favor of the Penguins.
Our Pick at www.AcePerHead.com to win this game, against the spread, is going to The New York Islanders.
NYI: PS/Total:5.5-105           
Pittburgh Penguins: 5.5-115
New Jersey Devils host The Buffalo Sabres
12:30 p.m. @ Prudential Center
This Saturday The Buffalo Sabres travel to New Jersey to battle the Devils for some afternoon hockey. Going into this matchup Mackenzie Blackwood and The New Jersey Devils are playing with a record of six wins, three losses, and two draws. In their last exhibition match, The Devils battled The Bruins and were able to come out victorious by a score of three-two. This Devils team had four power-play opportunities and were unable to convert on any of them, but they managed to put twenty-six shots on the net and get three goals to take the lead. Their Fenwick percentage was at forty-nine percent and a Corsi of forty-nine percent, this shows they have definitely had had worse games. The Devils got through this one by the skin of their teeth. This season, The Devils are 28th in the league for goals totaling thirty-one goals, with four of them coming off of the power play. As well as tacking on 14 points, The New Jersey Devils have taken three hundred and thirty shots and are only at thirty-first in the league aka the last place. On the defensive side of the ice, The Devils have allowed their challengers to take three hundred and fifty-six shots on the net. In effect, they have killed the opposing teams' powerplay sixty-four percent of the time out of thirty-seven powerplay opportunities given up.
Lastly, they only have given up twenty-eight goals, thirteen of them being a man down. In between the pipes, tonight for The Devils is Mackenzie Blackwood. He is very good at cutting off the angle and will present a hard target for The Sabres wingers to try to hit. In seventy-five games, Blackwood has a professional record of thirty-six wins, twenty-four losses, and nine draws. The Devils goalie has also started in sixty-nine games and has played a total of over four thousand minutes on the ice.
Lastly, with a save percentage of .918, Mackenzie Blackwood has made over two thousand saves and has only let up one hundred and eighty-nine goals. Then in net for The Buffalo Sabres is Linus Ullmark, he has faced over three thousand shots and has made 2891 saves. He has only let up two hundred and eighty-two goals with a current save percentage of .911. Ullmark has played in one hundred and five games for a total of six thousand minutes in professional hockey. In his career, he has matching forty-four wins and losses and twelve draws and is over .500 in his starts, so going into this game he is going to be a huge factor. In their last skirmish, the Sabres lost to The Capitals three-one.
Things they did well include the fact that they only amassed four penalty minutes and were able to score on a power play. On the negative side, The Corsi percentage for this matchup was at forty-six percent and the Fenwick came in at fifty-one percent. These stats showed that The Buffalo Sabres had a mediocre offensive showing in this L, only putting up twenty-three shots. Also, they need to work on possessing the puck better and win more face-offs because in my eyes, winning face-offs is almost as important as scoring. They only tacked on sixteen face-off wins and had a hard time keeping control of the puck. Going into this game The Buffalo Sabres are the favorites and have a total of ten points, and a record of four wins, seven losses, and two draws. As far as scoring goes with three hundred and eighty-six shorts, they have put up a total of thirty goals which has them ranked last in the NHL and have let up forty goals. Then with Power plays, Jack Eichel and The Sabres have scored fourteen goals on forty-five power-play chances, while on defense they have faced three hundred and seventy-five shots, and only let up six power-play goals to their opponents. Our Pick would have to go to The Buffalo Sabres to win ATS.
Are you interested to learn more about NHL betting and its generous profit margins? Well look no further www.AcePerHead.com has everything you need to know about being a bookie and getting into the NHL Lines. Here are a few tips from our experts on NHL betting.
Buffalo Sabres PS/Total: 5.5-110
NJ Devils PS/Total:5.5-110