NHL Picks & Previews – Feb 27th, 2021
February 27, 2021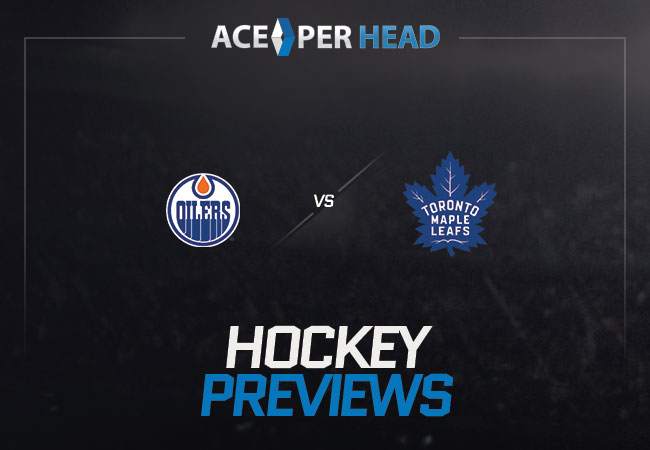 The Edmonton Oilers host the Toronto Maple Leafs
The Toronto Maple Leaf's head to Edmonton, Alberta, Canada to take on the Oilers for some Saturday Night Hockey Action. Conor McDavid and the Edmonton Oilers are playing with a current record of fourteen wins, eight losses, and zero draws. The Oilers have scored seventy-nine goals so far this season and are ranked first in the league for power play goals with 22 out of eighty-one opportunities. The Oilers are ranked third in the National Hockey League for shots with 679. This season the Edmonton Oilers have compiled twenty-eight points. On defense, they permitted fifty goals, gave up fifteen goals out of seventy power play opportunities. As well as letting 715 shots on their net, they have let up a total of sixty-five goals for the season. Get the Right Sports Betting Platform For Your Personal Investment Needs.
The last time the Oilers took the ice, they played the Vancouver Canucks and they came out victorious winning by the phenomenal score of three to zero it was a complete shutout. Edmonton was offered five power-play chances, and they were able to convert two times. The Oilers put thirty-four shots on the net and scored on three of those tries, Corsi rate of forty-three percent, and a Fenwick of forty-one percent. Edmonton's performance in this game was an average performance from them, but against the Maple Leafs, they are going to need everything they have in their arsenal. In net for the Oilers, you'll find Mike Smith in between the pipes, wherein his career, he has amassed 16,406 stops and has a save percentage of .912%. Smith's professional record is 268 wins, 248 losses, and seventy-four draws in a total of 617 games and 35,214 minutes. Mike Smith has had a good start in fifty-three percent of his 577 starts. He's only letting up an average of three goals per game against him for a total of 1,586. The Toronto Maple Leafs are going into this contest with a record of fifteen wins, four losses, and two draws. The goalie set to start for this matchup is Frederik Andersen as he has a professional career of 224 wins, ninety-five losses, and forty-seven draws in a total of 385 games. On average, he lets up 2.6 goals per game and has let up 970 in his career. Andersen has totaled 22,136 mins of playing time on the ice and has made 10,587 saves for a save percentage of .916%. In their last contest, the Maple Leafs beat the Calgary Flames by a score of two – one. The Maple Leafs won twenty-five at the face-off circle and lost sixteen times to possess the puck. The Corsi rate for the Maple Leafs was sixty-three percent and the Fenwick for them is sixty-five percent. College Student Tips on Becoming a Bookie.
The Toronto Maple Leaf's served ten minutes in the penalty box, which could use some work, and on the power play, they weren't able to convert a goal. They didn't have the best offensive performance because they only finished on two of thirty-nine shots. Toronto is ranked seventh in the NHL for giving up the power play with a whopping sixty-eight chances and has let opponents score fourteen power-play goals. This season the Maple Leafs have faced 599 shots on the net, and they have taken a total of 629 shots. On defense, the Maple Leafs have conceded forty-one goals. While on offense, they have had sixty-seven power-play chances and have converted on twenty-one chances. So far this season, the Toronto Maple Leaves team is second in the NHL for goals with seventy-four, while they let up fifty-five goals and have a save percentage of .908. Overall, this is going to be an action-packed Hockey night in Canada, as the Edmonton Oilers seek to remain on top of the National Hockey League and crush the Toronto Maple Leafs. Football Betting Software – 3 Popular Methods.
At AcePerHead.com our pick to win this game against the spread is going to the favorites, the Edmonton Oilers. With Auston Matthews still being day-to-day with a hand injury, this Maple Leaf's team has a big chunk of their offense injured. Additionally, the Edmonton Oilers have one of the best players in the National Hockey League being Conor McDavid, so this game belongs to Edmonton. The Oilers have the advantage of playing at home and they are simply the hotter team right now. With the introduction of a greater variety of hockey prop bets, live betting, and alternative lines, Ace Per Head is revolutionizing the way people bet on hockey.
The easy to use NHL betting software platform is available on all mobile devices and makes betting on the go safe and fun for all players. The gambling industry is changing every day, and Ace Per Head has the vision and experience to identify where the next big money maker is. TIPS ON BECOMING A BOOKIE.
We believe the uptrend in popularity in hockey is going to directly impact this business and become a sport where agents can increase their profits. When betting NHL with the best pay per head lookout for the underdog because the NHL salary has caps on their players, this contributes to an evening out the playing field at least in part between teams, so it is not uncommon to find value bets in underdog lines. As well as making sure you pick your games carefully, like with all sports, you don't need to have action on all of the games. Make sure you research, study the NHL and recent game stats because this is very crucial. Study the lines and compare them; at Ace Per Head we are so confident that we have the best NHL lines in the business. You should know no matter where you go, our lines will be the best and you'll want to place your wager with us.
Edmonton Oilers:
PS/Total: 6.5-110
Toronto Maple Leafs:
PS/Total: 6.5-110