NHL Western Conference Final – Game 1 Predictions
May 14, 2016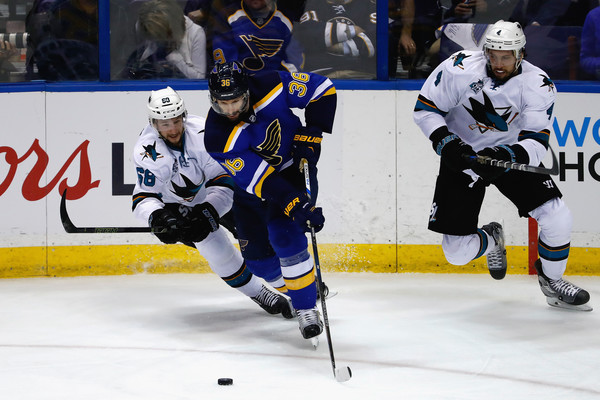 The battle for the NHL western conference final begins on Sunday May 15th, featuring two teams who have struggled over the years to get to this point.
The San Jose Sharks will be on the road playing against the St. Louis Blues. Both teams have achieved milestones during this post season. The San Jose Sharks have silenced their critics by eliminating their arch-enemies the LA. Kings in round one and eliminating the Predators in round 2. While the St. Louis Blues have had to battle it out to the bitter end in both rounds winning in 7 games each time.
Both Teams Have a Lot to Prove
The Blues have not made it to the Stanley Cup finals in 46 years, that's right the last time they were Championship contenders it was 1970, they are due. On the other hand, the Sharks have never managed to make it to the Championship Finals in their franchise history; they have participated in 3 conference finals in the last 12 years but never advanced.
The playing styles of these teams are very different, the Sharks are fast and have demonstrated they have a power play and that seems to be a problem for the Blues sometimes, however the Blues have a more structured game that has been very effective especially in long series.
For game one of this conference final series, the things that would normally give a clear advantage to one team are not necessarily true in this instance. St. Louis has the home field advantage and this is normally a big plus for any team, problem is St. Louis just came out of a second 7 game series and are bound to be a little tired, while the Sharks have what can be considered one the of the worst home record of the regular season so clearly they perform better when on the road.
When push comes to shove I believe the St. Louis Blues will end up winning game one. In my opinion their structured and detailed game play that has been their weapon in this postseason will wear and frustrate the Sharks enough as to where they simply lose control of the game. Do I think this tactic will work in subsequent games, no. I'm sure San Jose will rebound quickly and adjust their mentality but it won't be in time for them to take game 1 in this series.
If you care to check the latest lines in NHL post season visit AceSportsbook.com, they offer a wide variety of betting options and props.