Philadelphia Flyers vs New York Rangers
April 23, 2021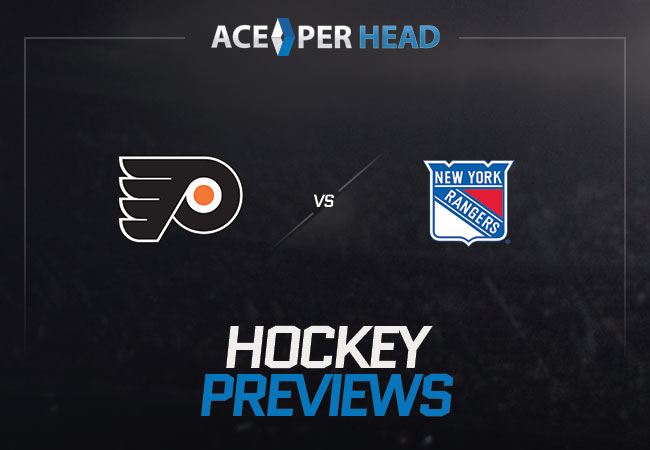 7:00 p.m. @ Madison Square Garden
This Friday the New York Rangers host the Philadelphia Flyers at the world famous Madison Square Garden for some Eastern Conference NHL action.
The Rangers are currently playing with a record of twenty-three wins, seventeen losses, and six draws. New York has scored 119 goals at even strength, and while on the power-play they amassed thirty-two goals which is the ninth best in the NHL. The Rangers have taken 1,340 shots on net this season, while they have given up 1,130 shots to the opposition. This season they have a total of 151 goals scored, and have collected fifty-two points overall. The Rangers have let their opponents be on the power-play 137 times so far, and have let their opponents scored twenty-one times on those tries while they were a man down. The Rangers themselves have been on the power-play 156 times, and they own a penalty kill of eighty-five percent, and a save percentage of ninety-one percent. Lastly they have let their opposition score a total of 122 goals overall this campaign. The last time they took the ice they played the New York Islanders and went home losing 6-1.
The Rangers have had way better performances on the ice, their defense and offense was pretty much non-existent. The Corsi for the Rangers came in at fifty-two percent, while the Fenwick wound up at forty-eight percent. On their two power-play chances they weren't able to find the net, but while at full strength they rocketed twenty-six shots on net and managed to dump 1 in. The man in between the pipes for the Rangers is Alexandar Georgiev, in his career he has only let up 251 goals total, and is currently letting in an average of three goals a game this season. He has played in ninety-three professional games, and has amassed a record of forty-two wins, thirty-six losses, and nine draws during his 5,076 mins served on the ice. Georgiev has got the starting assignment in eighty-six games, and currently holds a good start rate of fifty-one percent with forty-four successful starts under his belt. While guarding the net he has faced 2,830 shots and has stopped 2,579 of them giving him a save percentage of .911. The challengers the Philadelphia Flyers are currently playing with a record of twenty-wins, eighteen losses, and seven draws. The Flyers opposition have been on the power-play 137 times, and on those attempts they have converted thirty-six times while playing a man up. As far as shots go they have faced 1,315 shots and sit on a save percentage of .880, while they have rocketed 1,340 shots on net.at even strength the Flyers have ninety-nine goals, and their opponents have recorded 122 against them. The Flyers have scored twenty-seven times on their 140 power-play chances.
This season Philadelphia Flyers otherwise known as the "Broad Street Bullies" have collected forty-seven points, while scoring 126 and giving up 158 to their opponents. In their most previous outing the Flyers also lost to the Islanders, but by the score of 1-0. Overall the offense didn't produce efficiently during this contest. The Corsi for the Flyers came in at fifty-three percent, while the Fenwick for them this game was fifty-one percent. Philly had to serve two minutes in the penalty box, as well as losing sixteen opportunities to win the puck but they won twenty-five attempts. They were unsuccessful on the power-play as they couldn't convert on their only attempt, and out of their thirty shots on net they couldn't score once in this matchup. The man in net for Philadelphia is Alex Lyon, in his professional career he has let in a total of forty-two goals, and is currently letting in an average of three goals per game. In his pro career he has amassed a record of five wins, five losses, and 1 draw, seeing the ice in only eighteen games. Lyon has gotten the starting assignment in eleven games total, and has had a successful start in three of them, earning him a quality start percentage of .273. During his 768 minute tenure on the ice he has faced 386 shots while stopping 344 of them, granting him an overall save percentage of .891. These teams are fighters and aren't going to lose this one easily, and they are both trying to bounce back so it's looking like an exciting game.
The Flyers and Rangers look similar on paper, and they have both recently suffered losses to the Islanders. But at AcePerHead.com our pick to win this NHL game against the spread is going to the New York Rangers.
Philadelphia Flyers:
New York Rangers: