Vancouver Canucks vs. Montreal Canadiens
March 10, 2021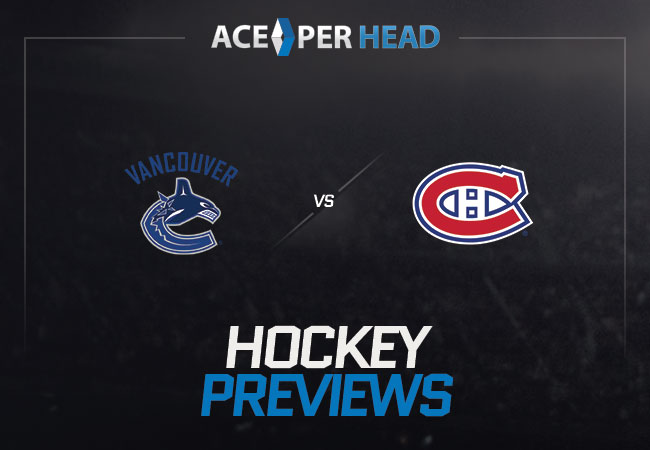 11:00 p.m. @ Rogers Arena in Vancouver, BC
The Montreal Canadiens head to Vancouver to face off against the Canucks for some Wednesday night hockey action.
The Vancouver Canucks are playing with a professional record of twelve wins, fifteen losses, and two draws, going into this game as the favorites. Vancouver has shot 899 shots on the net, which is first in the National Hockey League, while they have faced 955 shots from their opponents. They have awarded the opposition 102 power play opportunities and have a penalty kill that is effective eighty percent of the time, letting up twenty goals so far while a man down. They have been on the power play ninety-two times so far this season, and they managed to convert eighteen goals while playing man-up offense.
The Vancouver Canucks have amassed a total of eighty-one goals so far this season with twenty-six points this season while giving up ninety-four goals to the opposition. The last time the Canucks took the ice, they actually played Montreal, and Vancouver was able to walk away from this one with a victory. The Canucks had two of their twenty-nine shots hit the back of the net. Also, they had three power-play opportunities and weren't able to convert on any of these attempts. The Corsi percentage for this game was forty-two percent, and a Fenwick rate of Forty-eight percent. This showed Vancouver had a below-average outing and is going to have to get in gear if they want to stay on top of this Montreal team. In net for Vancouver is Braden Holtby, who is a dominant force in between the pipes, has recorded 12,680 saves out of 13,852 shots faced for a save percentage of .915. In his professional hockey career, Braden Holtby has accrued a record of 286 wins, 128 losses, and forty-seven draws for 27,486 of ice time with a total of 479 games played. He has started in almost every game except ten and has had a quality start in 269 of those games. Holtby has let in a total of 1,172 goals in his career, and so far this season he has been letting in an average of two goals per game. The challengers, the Montreal Canadiens, took a tough two – one loss to the Canucks in their last outing. They could have had a better offensive performance, but they were only able to convert one goal on the thirty shots on the net they took. Also, they need to take better advantage of the power play, as they had two chances and were only able to convert on one chance. More A Guide to Bookmaker Sports Book Software.
On the other hand, Montreal had to sit four minutes in the penalty box. The Corsi rate this game for the Canadiens was fifty-seven percent, while the Fenwick was fifty-two percent. At the face-off circle, Montreal was able to win twenty-two face-offs, while relinquishing twenty-eight face-off wins to the opposition. So far this season, the Montreal Canadiens knocked in seventy-nine goals which is the tenth most in the NHL, while they have given up sixty-five goals. They've earned twenty-nine points thus far, and are going into this game with sixty-six power-play chances, and have scored fifteen goals during these opportunities. Montreal has taken 802 shots and has faced 693 shots with an overall save percentage of .906. Whereas the opponents of the Canadiens have had eighty-nine power play opportunities and have been awarded twenty goals while Montreal is playing a man down, which is fourth in the National Hockey League. The man in net for this Montreal team is Carey Price, as he has played 41,142 minutes on the ice for a total of 679 professional games in his National Hockey League career. Price has a record of 355 wins, 254 losses, and seventy-eight draws. Also, he has started in 685 games, having 393 good starts for a great start rate plus .500. Price has let in 1,713 goals and is letting in an average of three goals a match. So far this season, he's seen 20,675 shots and has made 18,962 saves for a save percentage of .917. This is sure going to be one awesome Hockey Night in Canada, as these Canadien powerhouses face-off for a Coast to Coast battle on the ice.
At AcePerHead.com our bookie betting software pick to win this game against the spread is going to the Montreal Canadiens. Remember when betting NHL Look for underdogs. Because the NHL has salary caps on their players, this contributes to an evening out the playing field at least in part between teams, so it is not uncommon to find value bets in underdog lines. Also, you're going to want to pick your games carefully, like with every sport, you don't need to have action on all the games. YOU MUST do your research because studying the NHL game stats is vital.
Here at Ace Per Head, we want you to compare lines- yes you read it right. We are so confident we have the best hockey lines in the Bookmaker Software business that we don't mind if you check them out at other places, we know you will be back to place your wager with us.
Montreal Canadiens:
Total: 6-115
Vancouver Canucks:
Total: 6-105